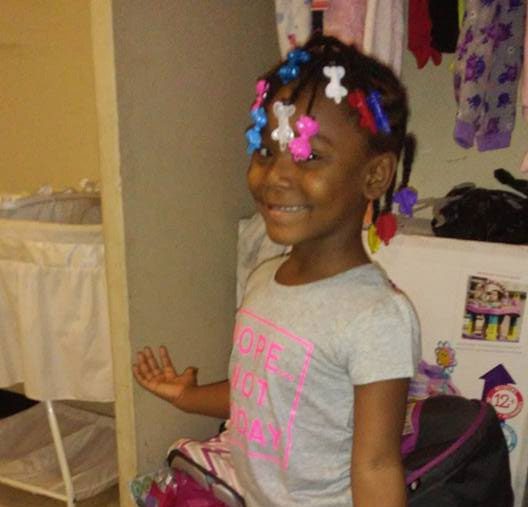 What should have been a precious moment for a 5-year-old girl on at her birthday party, instead turned into a wild melee. Police in Birmingham, Alabama, were called to a public housing complex after complaints of loud music from neighbors.
Although  Patrice Bozeman, 24, was holding a celebration for her daughter Zauriona, 5, but instead of children being the highlight of the day a police beat down of adults was the party entertainment. By all accounts, there was loud music and alcoholic beverages for adults that led to two 911 calls about the noise that caused police to respond. When police arrived the first time they warned the Bozeman and her guests to lower the music and moderate their behavior because it was causing a disturbance.  When they came back a second time a reportedly inebriated party guest instigated a verbal altercation with police that escalated into violence.
The Birmingham Police Department issued a statement to media that reads in part, "Officers approached the group which was outside and asked them again to turn the music down. [During] the course of that exchange, the citizens were not compliant so the officers made a decision to arrest the instigator. At that time the citizen resisted and even shoved the officer which led to the escalation. The primary officer used his spray on the one subject but other family members attempted to intervene and prevent her arrest. Eventually, four citizens were arrested for various charges including disorderly conduct, resisting arrest, and public intoxication. During the course of the struggle, a kid was knocked off his bicycle. Paramedics were dispatched to treat any injured parties and the four citizens were transported to the Birmingham City Jail.'
The decision to use pepper spray while young children were present has caused outrage since a 4-month-old baby was affected by the chemical. Local activists have called the encounter brutal and terroristic and even garnered the support of the local Black Lives Matter chapter and Democratic Socialists of America who paid the bail for those arrested.  A video of the incident was posted to YouTube with the title "Police Terrorism in Birmingham" and there are now demands for the two officers involved to be fired.
The parents of the young girl told the media that they did nothing to escalate the situation and they are calling for the police department to apologize and for their charges to be dropped. According to Bozeman, her daughter is upset and told her "Mama, they ruined my party."
Birmingham police are stating that the video posted to YouTube does not capture the entire encounter that resulted in adults being slammed to the ground and pepper spray being deployed. Police body-cam footage captured the melee but has not been released pending an investigation.