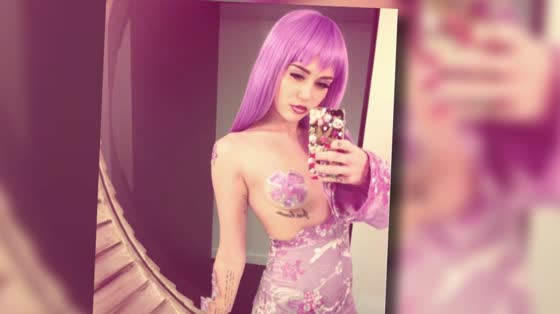 Miley Cyrus has finally returned from her exploration of Black culture. It was an exploration that occurred three years after Cyrus, at age 17, told a reporter that she had "never heard a Jay Z song," because she did not listen to pop music. But Cyrus was given a pass on her Jay Z slight mostly because she was a teenager at the time. Later, to shed the "good girl" Disney persona, Cyrus fully immersed herself in hip-hop culture by way of "ratchet" behavior and trap music.
Cyrus began making appearances with rappers Juicy J, Wiz Khalifa, Future, and French Montana. She twerked at a Juicy J concert, she twerked in her music videos, and she caused a stir when she twerked all over the stage at the 2013 MTV VMAs. Some perplexed members of the mainstream media even claimed that Cyrus invented twerking although the suggestive dance (where individuals bend over, grab their knees, and gyrate) had been popular in the New Orleans bounce scene for decades.
Her new image consisted of tongue wagging, scantily-clad outfits, and twerking, while her new music was reflective of trap.
Cyrus enlisted Atlanta-based producer Mike Will Made-It to orchestrate her new sound. Mike Will Made-It produced Cyrus' chart-topping hit, "We Can't Stop", "Real and True" with Cyrus and Future, and the two also collaborated on the song "23" along with Juicy J and Wiz Khalifa. There were even rumors that the two dated for some time.
Although Cyrus' entry into hip-hop and trap music came via a producer who garnered respect within urban music, many questioned her sudden interest in Black culture. Numerous media outlets questioned her motives.
Slate called Cyrus' performance at the VMAs the "White appropriation of black bodies"; the Guardian said Cyrus' "twerking was culture appropriation at its worst"; and Vice said Cyrus "Needs to take an African American studies class."
To some, Cyrus' view of Black culture and rap seemed to be reduced to strippers with big butts, gold teeth, and hedonism. If she was unaware of Jay Z songs 36 months prior, how could she have the context and experience with rap to present it in an authentic manner?
Her gravitation to rap resembled a suburban kid who ventured on a ghetto safari into the roughest neighborhood in her town. There was an excitement in the danger and rebelliousness of taking a journey into a low-income community. She could feel the adrenaline rush of spending the day in the trap or a dilapidated strip club without ever worrying about the potential repercussions of such dangers. Because there would always be a safety net of privilege and comfort to fall back on when the reality of ghetto life became too tough to bear.
But there is also an opposing argument that would suggest Cyrus, in some ways, helped to introduce trap music to a new audience. There is a good chance that some of Cyrus' fans became aware of music released by Future, Mike Will Made-It and Juicy J only after she became intrigued by the culture.
"Miley Cyrus is like my little sister, man," Juicy J told me during an interview I conducted with him in Los Angeles. "She is genuinely into hip-hop. A lot of these young kids love hip-hop. Anybody that's young is going to like all kinds of music. But she loves it man and she's having fun. I mean, it is what it is. Why not listen to hip-hop and spend money?"
Years after Cyrus' foray into trap music and ratchet behavior, she made her escape. In an interview with Billboard magazine, Cyrus revealed that she decided to move away from hip-hop. Although she praised Kendrick Lamar's song "Humble," she ridiculed rap and said that she could not listen to it anymore because of its materialism and sexist lyrics. The girl who twerked on national TV with her tongue out was suddenly offended by rap. She painted rap with a broad brush and detached the music from the environment that often inspires it. After receiving backlash on social media, Cyrus issued a statement on her Instagram page saying the article was truncated and did not represent her true feelings about rap. "So, to be clear I respect all artists who speak their truth and appreciate all genres of music (country, pop, alternative. But in this particular interview I was asked about rap). I have always and will continue to love and celebrate hip-hop as I've collaborated with some of the very best. At this point in my life I am expanding personally/musically and gravitating more towards uplifting, conscious rap," she wrote.
That statement would not have been so worthless had Cyrus initially embraced rap by way of "conscious" rappers such as Common, Talib Kweli, or Immortal Technique. She specifically delved into trap music, which often details the trials and tribulations of street life. Trap music and Black culture were a fetish for her and she wore it like a coat that she could take off when things got too hot.
Because Black culture is so powerful and ingrained in the fabric of American culture, there will always be a strong influence on other races and nationalities. But it's also important for Black artists to question the motives of White artists such as Cyrus, Kid Rock, and Katy Perry, because we've discovered that those who can mimic Black culture and Black music are not necessarily invested in Black people.