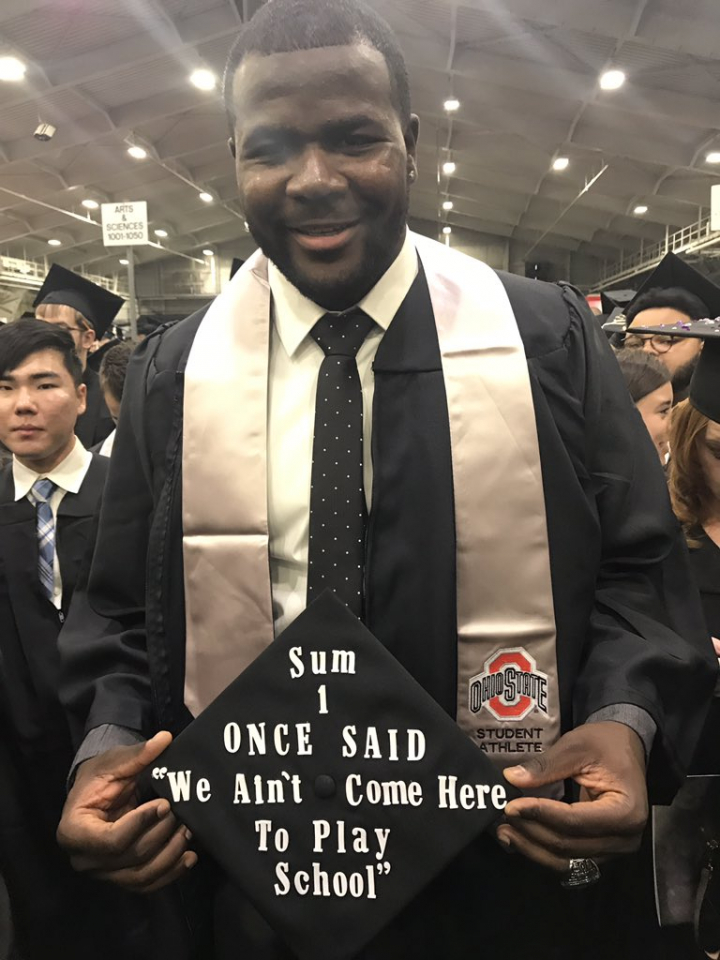 Buffalo Bills quarterback Cardale Jones graduated from Ohio State University this past weekend with a degree in African-American and African studies. Jones returned to school this past spring semester to finish two classes he didn't complete last year when he left school early to prepare for the 2016 NFL Draft.
Now only living through a screenshot, in 2012 the then-redshirt freshman Jones tweeted out his frustrations of being forced to participate in the academic side of a student athlete's routine.
#TBT In honor of #GraduationWeekend pic.twitter.com/w8obRQlXKW

— Cardale Jones (@CJ1two) May 4, 2017
The tweet caused some controversy initially and the Buckeyes punished Jones with a one-game suspension. However, in 2014 when Jones took over as the starting quarterback for Ohio State while Braxton Miller and J.T. Barrett were unable to play in the first-ever College Football Playoff, the infamous tweet resurfaced and solidified its place in viral internet history.
The University of Mississippi actually used the screenshot in the freshman yearbook on how to use social media appropriately. The six-foot-five quarterback's creativity and humor grew his audience even faster after building an entirely different account that focused on his profession; on Twitter he now has over 1.05 million followers.
I don't usually tweet but when I tweet, I tweet 🔥 stay thirsty my friend 😂

— Cardale Jones (@CJ1two) May 4, 2017
Jones jokes about the tweet now, but the mentality he had as a freshman is very relatable to a lot of current NCAA student-athletes. Growing up, a lot of athletes might not place a value on education — certainly not as much value as they put on athletics for a multitude of possibilities. Young athletes might not have grown up with a lot of exposure to anything else other than sports. Another reason, perhaps the most important reason, is that the NCAA makes some of the largest deals in all of sports. Every weekend, young athletes see stars from Auburn and the SEC on their television screens. Student of the Month promos aren't shown as much during college competitions as the latest Heisman race updates or the next biggest game for the University of Kentucky.
The mindset of sports over school starts at a young age and everyone involved in a child's life is responsible for emphasizing the importance of those priorities.