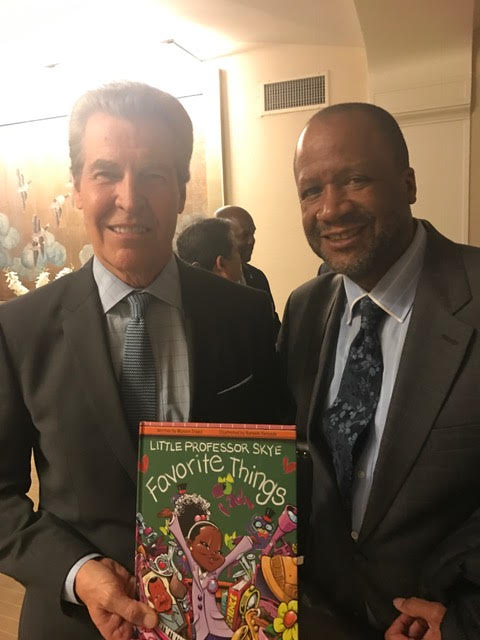 At Macy's headquarters on 34th Street in New York City, the company's chief diversity officer, William Hawthorne, hosted a celebration with powerful media, cultural and community leaders to share the retailer's continued commitment to diversity. Hawthorne toasted Macy's current CEO, Jeff Gennette; and former CEO, Terry J. Lundgren, for their visionary leadership of the flagship brand.
Hawthorne highlighted the three prongs that Macy's uses to create a cultural diversity strategy. Each prong represents their commitment to highlighting the value of diversity at Macy's.
One prong is the commitment to diversity in personnel showcased by Macy's ongoing efforts to recruit the top minds from Howard, Morehouse, Spelman and FAMU for their executive leadership team.
The second prong is evidenced by Macy's commitment to giving back to the community. Michael Lomax, the president of the United Negro College Fund; and Marc Morial, president of the National Urban League, were present to support Macy's vision for diversity.
The third pillar is its commitment to vendors. Macy's invests with diverse vendors to the tune of over $1 billion.
Macy's vendors include Sean John CEO Jeffrey Tweedy, and designer B. Michael, both of whom heralded their partnership with helping them grow.
Other partners included media partners like Debra Lee, CEO of BET Networks; and broadcast journalist Soledad O'Brien, whose foundation receives support from Macy's.
"We appreciate the partnership and leadership that Macy's has shared in their commitment to diversity throughout the years," said another media partner, Dr. Ben Chavis, president and CEO of the National Newspaper Publishers Association.
Munson Steed, CEO of Steed Media Group, and publisher of rolling out magazine praised Macy's for their support in marketing his best-selling children's book, Little Professor Skye: Favorite Things, which is available at key Macy's locations.
This Mother's Day, shop with a retailer that supports Black media, entrepreneurs and educational institutions and values diversity in its workforce, vendors and partners.
Congratulations to Macy's and the entire team for fostering inclusion at every level of their business and being a good corporate citizen.
Photos credit: Margot L. Jordan unless otherwise noted