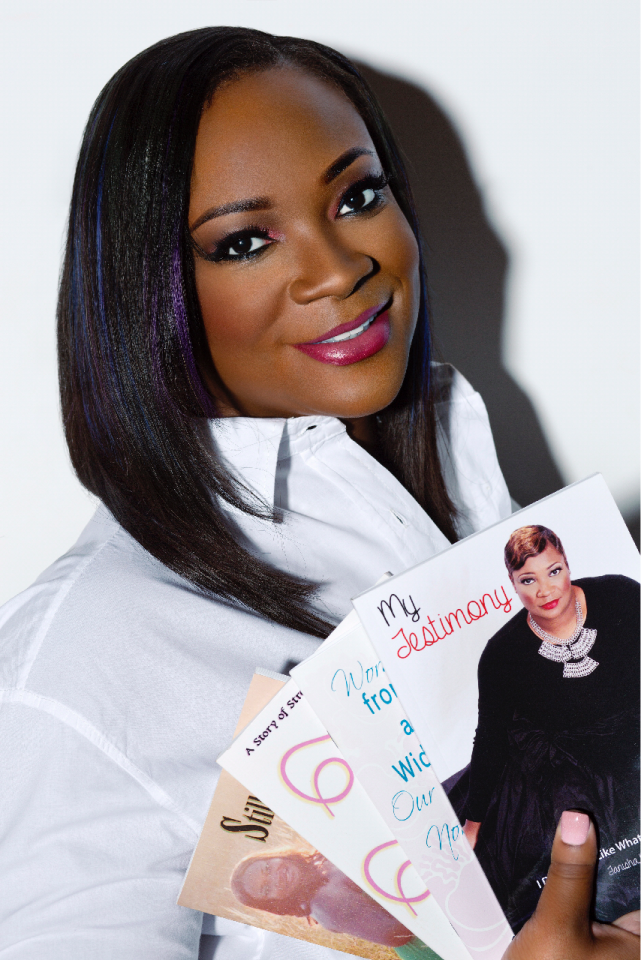 They were having their wedding anniversary celebration at the City Grill in Buffalo, New York, when an argument erupted between a group of people. The Mackins were casually walking to their cars when gunfire erupted. After the smoke cleared, Tanisha discovered Danyell had been shot while protecting her. She also lost a childhood friend that night.
Tanisha explains, "That was truly the darkest moment in my life. On top of losing my husband, who was my best friend, we had just had our second child, our daughter, and I'd just been diagnosed with colon cancer at only 31 years old."  With little to no resources on how to rebuild life as a widow or books that speak to the emotional toll of losing a spouse, Tanisha decided to write her own books with hopes to help herself and others who find themselves in a similar position.
Fast-forward seven years and her fifth book, My Testimony, gave her the title of award-winning author, garnered her the cover of the Spring issue of Writer's Life Magazine and tons of other celebrations that will culminate with a book signing party and celebrity supporters as her book project with actress and comedienne Kim Coles, Open Your G.I.F.T.S. 22 Lessons on Finding and Embracing Your Personal Power, makes its debut.
"Life will never be the same for my family and me with the loss of my husband and my children's father, but it is very humbling to be recognized for the things that I have done for the community and others that are facing adversity in their lives," she says.
The award-winning author owns a publishing company, is the founder of Mackin Miracles, a registered nonprofit that helps widows and children, and is the owner of The Destiny Collection, a popular stationery boutique in McDonough, Georgia.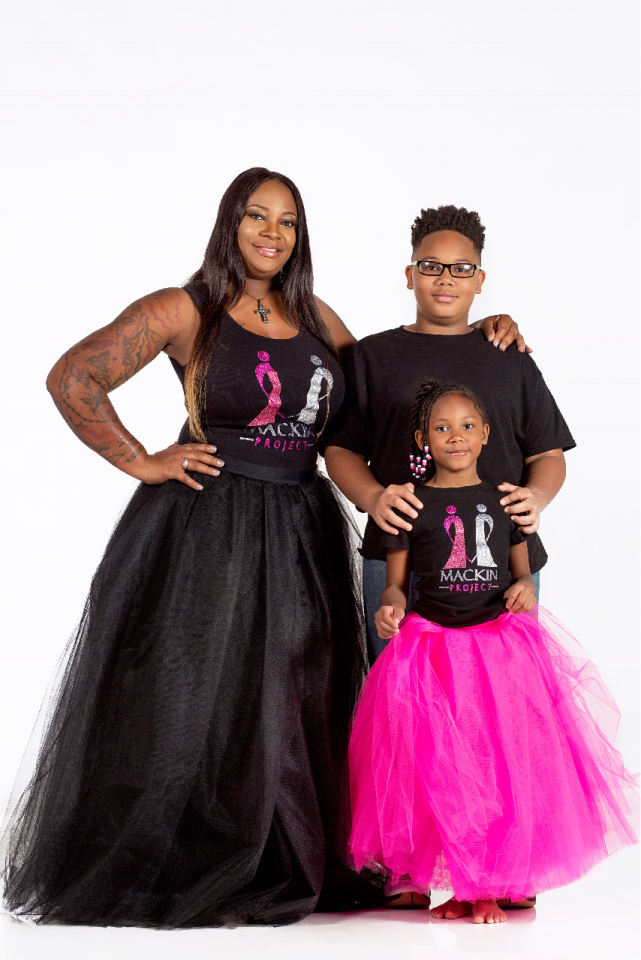 Why did you write this book?
I wrote this book to show my readers my new mindset from my first book, Still Standing. In this new book, My Testimony, I was in a different headspace from 2011 and dealing with the sudden death of my husband. I've grown, I've forgiven people and I have a new outlook on life.
What's the story behind the title?
The title was developed because people had their own assumptions on things that transpired in my life, but I wanted everyone to know My Testimony and I Don't Look Like What I've Been Through is one of my favorite gospels songs, so I incorporated that into my title because I feel I do not look like what I've been through. I've been through hell and back and I think I look pretty darn good.
What do you hope readers will glean from reading your book?
I hope readers will understand my life a lot better and understand that no matter what they are going through in life, things will get better.
How long did it take you to write this book?
A few months.
What was your regimen to complete this book?
With my fifth book, I have it down to a science. I figure out my angle, what I wanted to write about, I developed my outline, named my chapters and wrote each chapter out. Sometimes things will hit me in my sleep and I'll get up, grab my notepad and write it. Writing is my life, so it comes naturally to me.
How did you arrive at this career choice? Was it a deliberate decision or a gradual and natural evolution?
I did not choose this path, this path chose me. I started this career after my husband passed away. A friend of mine told me I should write a book about my experiences. I wrote my book and the rest is history. I did not set out to become an author, publisher or boutique owner.
What separates you from others in your field? What is unique to the experience that you create?
I listen and I work from the heart. I am not in this for the money, I am doing this to help others. I feel that everything else will fall into place.
For those considering entering this arena, what skill sets do you recommend mastering? What traits are most conducive to success?
You have to find something that makes you stand out from the rest and own that. I am not just an author, I am a publisher. I believe that everyone has a story and your story should be shared. I think in order to be in this field, you have to have people skills, writing experience and a knowledge of writing and publishing books. I am a people's person and I am very creative in the things that I do. I have so many ideas, so when the opportunity presents itself in the form of a client or in my personal writing, I go for it.
How do you stay at the leading edge of your craft?
I am always learning and thinking. I do a lot of research and I take classes in the things that I want to know and master.
Do you think that there are any widely held misconceptions about what you do? If so, what are they and how do you work to dispel them?
Some people think this is an easy field but once they start writing their book or publishing them, they realize that it was not so easy. It takes a lot of courage and strength just to tell your story, then writing it in a way that's engaging and finally publishing it.
How do you map out your goals? How do you measure your success?
Every month, I set a few new goals for myself. I want to improve my craft and skills, so I don't really measure my success. I am so humbled by my success and what I have accomplished.
Who do you consider to be your peers in your field? Who do you see/use as examples for you to emulate?
I consider my small group of successful girlfriends as my peers. We don't really see others as competition. We look at each other accomplish goals and use that as inspiration.
Name two of your top role models: one from your industry and one from outside of it.
Tamiko Pugh because I watched how she turned her story from tragedy to victory. And my father, because he is a businessman and he installed that in my sister and me. We are business minded people and we hustle for what we want.
Name three books, works, performances or exhibits that changed how you view life and/or yourself.
Still Standing (my first book), "Still Standing" (singer Monica's song) and the Bible.
Why do you consider continued learning important?
Things change on a daily basis, it's important to keep up on all the rules, regulations and guidelines, as well as continuing to educate yourself in your field.
What affirmations do you repeat to yourself that contribute to your success?
I have so many, but the one that stands out is, "Hustle until you no longer have to introduce yourself." –Unknown Author
What role does technology play in your day-to-day life? How do you utilize it?
Technology plays a very big role in my life. I use it every day rather its social media, inventory app, banking and etc.
What software, app or other technological innovation has made the biggest difference in your life and/or career?
Word document, of course, because I am a writer, but social media such as Facebook and Instagram has helped my businesses grow a lot.
Please define your personal brand.
My personal brand is all about inspiring and empowering with some sassiness. I am a straight shooter, what you see is what you get and I think a lot of people like that about me. I am here to inspire people to live life to the fullest and not worry about what others feel or think about you. We all have flaws.
What is your favorite vacation destination and why?
Right now it is Myrtle Beach. I love traveling and I love the beach, but when it comes to my children and their happiness, we go to Myrtle Beach.
If you could change one thing about the world, what would it be?
Stopping this senseless violence and losing family members to gun violence.
If you could change one thing about yourself, what would it be?
Having a big heart can be a strength and weakness. Sometimes I hate that I am too giving and that I think with my heart a lot. This world can be cold, and your heart can be taken for granted in any situation.
What does it take to be iconic? In your estimation, who has achieved that status?
I think it takes a lot of hard work and success to be iconic. You have to leave your mark in this world to be an icon. I also believe that it is your contributions to the world. I think if you look at people like LeBron James, he is a great basketball player who has made his mark in the NBA, but also, made his mark by giving 11 students a scholarship to attend college.