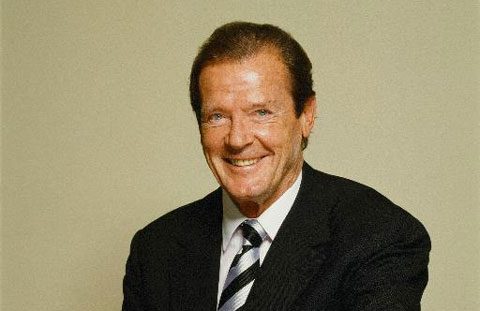 Sir Roger Moore, one of the best-known stars of the James Bond series of films, has died.  It is being reported that Moore, 89, died after a short battle with cancer. He died at his home in Switzerland surrounded by family.
Moore first took over the iconic role of 007 with the hit film Live and Let Die in 1973. That film featured the first Black super villain Kananga, played by Yaphet Kotto, at a time when Blaxploitation films were popular in Hollywood. The opening of the movie saw Bond in Black locales such as Harlem and New Orleans and is considered one of the most popular films in the James Bond movie franchise.
After the success of Live and Let Die, Moore went on to reprise the role of James Bond over 12 years in six additional films that included The Man with the Golden Gun, The Spy who Loved Me, For Your Eyes Only, Octopussy, A View to a Kill, and Moonraker.
Moore took over the role of James Bond from Sean Connery and his style of the suave and deadly agent of Her Majesty's Secret Service was especially well known for his gadgets and quips when outwitting danger and death. When he killed Yaphet Kotto's character Kananga in a graphic scene where the villain's body was inflated and blown apart, his character stated, "He always had an overinflated image of himself." Kotto would later say of his character's death by Bond in an interview, "That was a cold blooded."
Moore was a prolific actor outside of the James Bond series and starred in a number of successful action films as well as doing charitable work for UNICEF. His family released the following statement:
'It is with a heavy heart that we must announce our loving father, Sir roger Moore, has passed away today in Switzerland after a short but brave battle with cancer. The love with which he has surrounded in his final days was so great it cannot be quantified in words alone. We know our own love and admiration will be magnified many times over, across the world, by people who knew him for his films, his television shows, and his passionate work for UNICEF which he considered to be his greatest achievement. The affection our father felt whenever he walked onto a stage or in front of a camera buoyed him hugely and kept him busy working into his 90th year, through to his latest appearance in November 2016 on stage at London's Royal Festival Hall. The capacity crowd cheered him on and off stage, shaking the very foundations of the building just a short distance from where he was born. Thank you, Pops for being you, and for being so very special to so many people. 'Our thoughts must now turn to supporting Kristina at this difficult time, and in accordance with our father's wishes there will be a private funeral in Monaco."