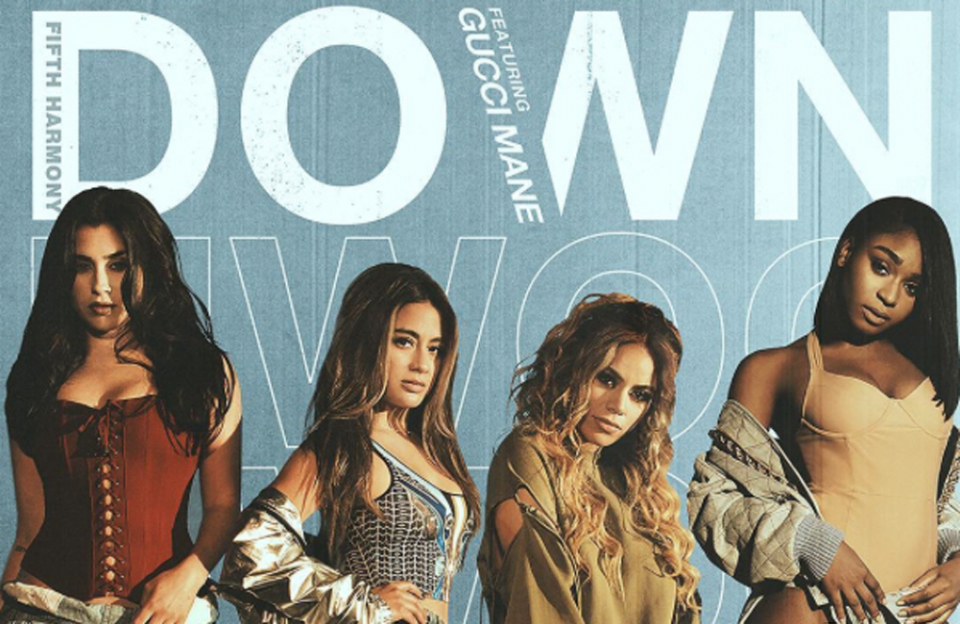 Fifth Harmony will release their first single as a four-piece on Friday, June 2, 2017. The song features rapper Gucci Mane.
The girl group, which is now comprised of Ally Brooke, Normani Kordei, Dinah Jane and Lauren Jauregui, have teased new track "Down," their first without Camila Cabello, who left the group in December 2016 to pursue a solo career.
Alongside the racy album artwork, which sees three of the girls flashing flesh in sexy corsets, posted on their official Instagram page, they wrote, "Our new single #DOWN ft. Gucci Mane @laflare1017 coming June Second. (sic)"
The song comes just two weeks after Camila, 20, dropped her solo single "Crying in the Club" and teased her next outing "I Have Questions" from her solo record The Hurting, The Healing, The Loving'.
Explaining how she wrote "I Have Questions" when she was feeling "broken," she previously shared, "The story behind the album starts with the second song that you'll hear called 'I have questions' which I started writing in a hotel bathroom on tour a little over a year ago. i was completely broken during that time, i was in the kind of pain that's uncomfortable to talk about, and it was the kind of chapter you never want to read out loud…. i couldn't write another song for 6 months because writing meant i had to feel everything, and i wasn't ready to do that yet.(sic)"
Camila recently admitted that she knew it was time to leave the group when she started to realize she had her own voice and wanted to "[sing] her own story."
When asked when she knew it was time to depart the band, she said, "I think it happened to me as I was discovering my voice as an artist.
"Especially as a songwriter. I felt like I needed to express that. And it was just time to sing my story and sing words that were coming from my heart as opposed to words that people were writing for us."