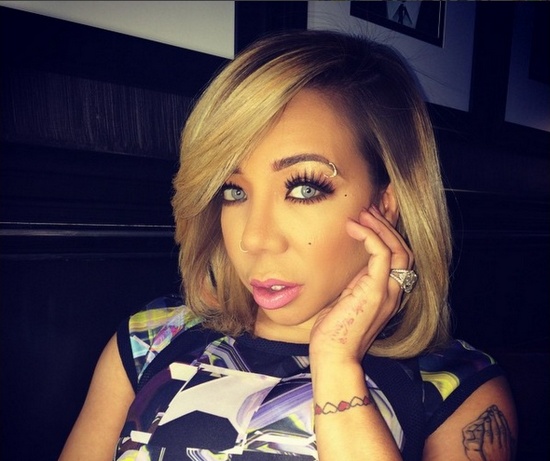 According to the rumors floating around in cyberspace, Bravo TV producers are considering a very famous wife to replace the ousted Phaedra Parks on the "Real Housewives of Atlanta." 
The person Bravo honchos are thinking about bringing aboard is none other than reality star veteran and musical artist, Tameka "Tiny" Harris, radaronline.com reported.
On the surface, this choice would make sense. Harris has just wrapped up the brutal ending to the popular reality show, "T.I. and Tiny: The Family Hustle," that left little doubt the Harris union is fractured and that divorce is imminent.
And, Tiny Harris is friends with longtime "RHOA" cast member Kandi Burruss. Together, Harris and Burruss made up half of the quartet Xscape which, along with TLC and Destiny's Child, was one of the most successful girl groups of the 1990s.
Moreover, there is real family drama and uncertainty in the Harris household, two characteristics Bravo producers and RHOA fans crave.
As "Family Hustle" fans know, Tiny Harris was having trouble serving her husband, rap superstar Clifford "T.I." Harris, the divorce papers, and she was conflicted about going through with the divorce from the man she still loves.
Speaking with her daughter, Zonnique, on a recent episode about the situation, Tiny Harris explained the divorce drama between her and the MC, by addressing the widespread media coverage it's received.
"You know, they put up today that the divorce is off or whatever," she said. "And you know, we're supposed to be going to court, but he hasn't been served yet." When addressing why she hadn't served T.I. with the divorce papers, she said, "That's been a job for me. We haven't been able to do that."
When Zonnique inquired as to what caused the hold up, the mother went into a bit more detail.
"Well, first of all, I'm not finna find out where he's at and then just like sic 'em on him," she said. "I just think that's not cool."
She also took the time to shut down the rumors that she changed her mind, with just one word: "False."
"Things are going nowhere so I'm ready to get things moving and if it's going in that direction then I'm ready to move in that direction," she said.
So, what do you think about Tiny Harris joining the cast of the "Real Housewives of Atlanta"?  Sound off below.