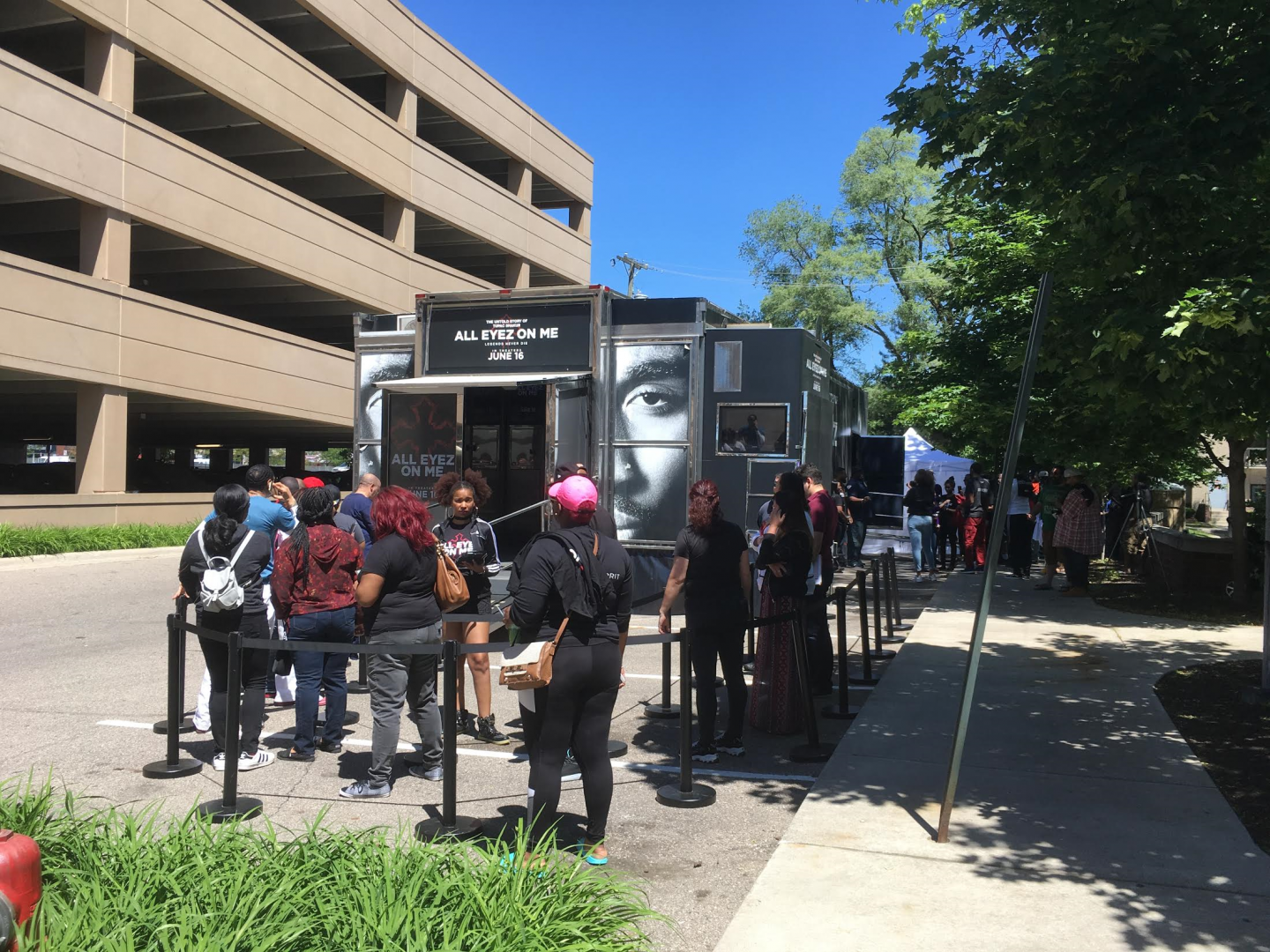 The Tupac movie tour for All Eyez On Me set up shop outside the Emagine Theater in Royal Oak, Michigan from 1 p.m. to 7 p.m. on Thursday, June 1. Eager Tupac Shakur enthusiasts got a sneak peek behind the scenes of his upcoming biopic set to be released on his 46th birthday, June 16.
Fans got a chance to check out a 12-minute extended trailer packed with snippets and interviews with All Eyez On Me stars, Demetrius Shipp Jr. (Tupac Shakur aka 2Pac), Kat Graham (Jada Pinkett), Tupac's lifelong friend/producer LT Hutton and director Benny Boom, inside a custom mobile RV featuring a 91-seat home theater. The exclusive free event dubbed the "Cine-transformer Experience" brought out countless Tupac lovers old and new along with local radio personalities, Deelishis and Kamal Smith of Hot 107.5 and comedian Spanky Hayes of MTV's "Wild 'N Out."  The local radio station broadcasted live while fans tested their Tupac trivia knowledge for a chance to win All Eyez On Me swag. The anticipation surrounding the all day affair was infectious.
A 60-year-old grandmother waiting in line to screen the trailer discussed her longtime admiration of the deceased rapper. "I've been a fan of Tupac for years. My grandkids are missing out," she said while enthusiastically displaying her All Eyez On Me branded T-shirt and bandana.
One self-proclaimed Tupac aficionado learned about the Detroit tour stop after following the tour city to city via the hashtag #alleyeztour on social media. "I have everything of Tupac's. A friend gave me an anthology book [Tupac: A Thug Life] about his life as a gift. It has different articles, music reviews, pictures about his career and even interviews surrounding his death," he stated. "I been keeping track of the tour on Instagram when it was in Charlotte and Atlanta so when I heard it was coming here, I had to come out."
Watch: Official trailer for Tupac Shakur's biopic, 'All Eyez on Me,' is here
Although some metro Detroiters stopped by after hearing the buzz on the radio, most were Emagine theater patrons curious to experience the 53 foot All Eyez On Me expandable mobile theater up close and personal. In between waiting in line, posting selfies and group pictures to Instagram and Twitter with the hashtags #alleyeztour and #alleyezonme, Tupac fanatics were treated to a special appearance by All Eyez On Me star, Dominic Santana (Suge Knight). Santana was there to promote the film and conduct an in-depth Q-and-A session. The laid-back actor was thrilled to spend the day engaging attendees in the spirit of Tupac.
"Out here doing this All Eyez tour and sending this transformer truck all around … getting close to the people, reaching out and touching the people, movies don't do that but that is in the vein of Tupac," Santana said between snapping pictures with fans. "Tupac was a man of the people. LT [Hutton] wanted to promote it in a way like 'Pac would and really touch the people on-site and have them close to the whole process. That's what these people are getting. They get to talk to people like me, like Demetrius and LT in person. None of us have to be out here doing this but we all feel the same way. We love 'Pac's legacy, what 'Pac brought to the world and the way 'Pac felt about and interacted with his people. That's how the promotions are going. We are interacting directly with the people like 'Pac would."
The All Eyez On Me tour kicked off in L.A. followed by screenings in 17 cities from Fresno, Las Vegas, Atlanta and Baltimore to Charlotte, Chicago, DC, Dallas and Philly just to name a few. Next stop? All Eyez On Me takes over Hot 97's annual Summer Jam in New York City June 10-12 before wrapping up in Miami at the American Black Film Festival June 15-17.  Check out all the Detroit love from the AEOM tour in the gallery below.
Want more All Eyez On Me tour madness? Keep track via the official website, www.alleyez.movie or via hashtag #alleyeztour on Instagram and Twitter. All Eyez On Me debuts in theaters June 16.