Erica Pinkett talks acting, challenges, and impact of 'All Eyez On Me' film
Rising actress Erica Pinkett appears in the new Tupac Shakur biopic, All Eyez On Me. The film will be in theaters nationwide on Friday, June 16, 2017. Directed by Benny Boom, All Eyez On Me tells the untold story of the West Coast rap legend.
While this is Pinkett's first major role, she has been acting and perfecting her craft for almost seven years now. Her determination, dedication and persistence have seen her through every obstacle and barrier in her life. Now on the cusp of achieving her wildest dreams, Pinkett talked to rolling out about what being cast in this film meant to her.
What are some of the challenges you had to face to become the actress you are today?
One of the biggest challenges of my life was going from being a domestic violence victim to a domestic violence survivor. It liberated me to feel like I'm so much more than cooking and cleaning. I'm much more than folding clothes or popping out babies. I used to be told by my abuser that I wouldn't be anything. I used to be told by my abuser that my dreams wouldn't come to fruition. For me, that was all the motivation I needed.
You're definitely strong for not allowing all of that to weigh you down.
It's still a process. It's hard but I'm a strong believer of God's power in our life. I do believe that there is a higher power. Many people call God different things but ultimately we all have this God's grace within us and God's grace will take us to places you've never been or think of going. And for me just my relationship with God, my daughter, all those things have made all of my dreams very possible.
Did you ever have a moment where you thought that acting in a major film could happen for you?
I can't really explain it, but I always knew I was destined for greater. I used to always dream bigger than anyone else around me and people would laugh, people would call me crazy, but I would always dream big. I would walk from the 'hood where I grew up in, to Beacon Hill, which is like an aristocratic neighborhood in Boston and just walk down the street to see how those people lived. There's a gap and I grew up trying to figure out what they had that we didn't have. The answer was education, and I pursued one.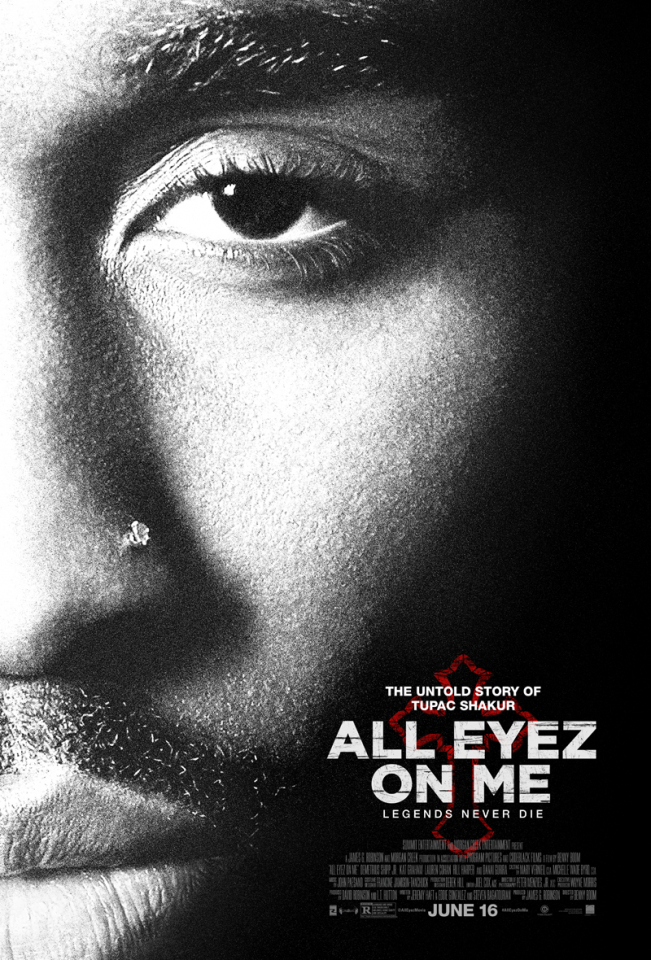 How did you land a role in this film?
I met a casting director in Atlanta, Winsome Sinclair. We met for five minutes and she discovered I was really into acting, then we exchanged information. I saw this painting in her office of her and Tupac and she revealed that she cast Juice. Fast-forward 10 months and she texted me "can you come in and audition for the Tupac biopic." I showed up for the audition and I just knew that I nailed it.
What role do you play?
I landed the role of Brianna. Her character portrays Ayanna Jackson, which is the woman who accused Tupac of rape and eventually sent him to jail. It's a very dramatic role and being that I really loved Tupac, it was a little hard for me to adapt to the character at first. I just remembered that my acting coach always says a real actress has to become whatever you are asked to become. With that, I became Brianna.
How was it working with the cast?
The cast is just phenomenal. Five years ago Benny and I were on a music video set, so it's great to see how we've developed. Boom has directed several films and I'm definitely honored, grateful and humbled to have worked with him. Demetrius Shipp Jr., who plays Tupac was amazing. I was surprised that this was his first major film. Seeing people like Kat Graham on set, Cory Hardrict, L.T. Hutton, all of these amazing, it people was great. It was a divine project. I feel like everyone who was a part of this project had a very deep love and respect for Tupac Shakur and his legacy. I saw that there was the dedication there and that commitment and boy it was an honor, it was just an honor.
What do you think the impact of this film will be on viewers?
I feel like when people see this film, it is exactly what we need right now in this country with a lot of the social issues going on right now. This movie touches on a lot of topics that we today still are battling. I do believe that this movie will wake up all of the activists and the revolutionaries and it will cause our young people to really think and to push the envelope and to understand the luxuries they have today. The freedoms we have, like voting, protesting, revolutionizing and organizing, this film is about that. I was really inspired to do more community work after this film. I just feel like Tupac Shakur was very young when he passed away and at the end of this movie you're kind of sitting there like "wow, what would the game be today if he was still alive?" He impacted so much in that short span that he was alive, and we all can do that. It doesn't matter how much time you are given on this Earth. What matters is the purpose that you served, and Tupac Shakur served his purpose without a doubt.