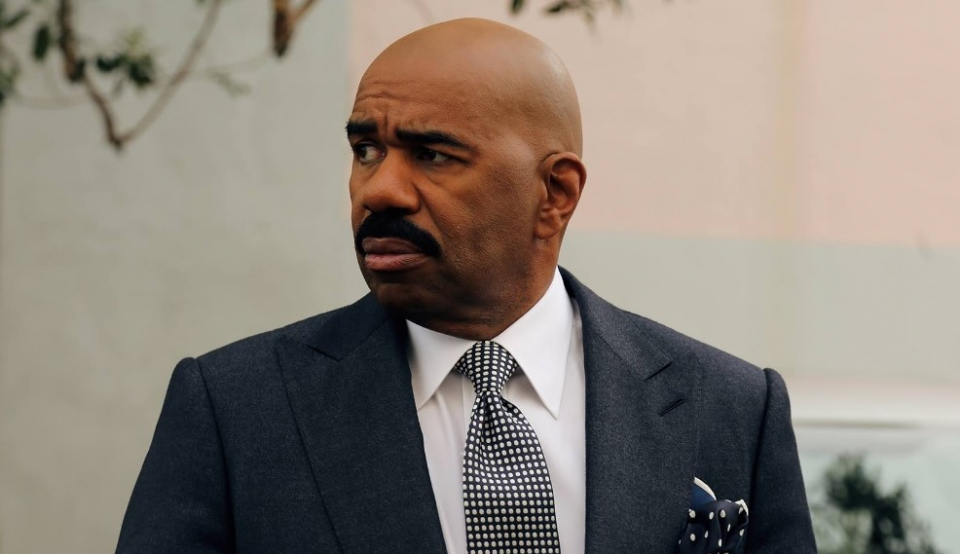 Comedian and talk-show host Steve Harvey found himself in hot water, once again, this week when he made a joke to a Flint, Michigan, resident about having to drink "brown" water. Ever since the joke aired on his radio show, Harvey has been receiving a barrage of criticism from fans who are demanding that he apologize for being insensitive in regard to the Flint water crisis. Now, Harvey has spoken up about the controversy and is defending himself amid the backlash.
As previously reported, Harvey got into heated debate with the Flint resident who was adamant that the Cleveland Cavaliers don't "deserve jack" after their loss to the Golden State Warriors in the NBA Finals.
"You from Flint?" Harvey asked the caller. "That's why y'all ain't even got clean water. When was the last time you touched water and it didn't have lead in it?"
Harvey then added, "enjoy your nice brown glass of water."
Well, understandably, fans were outraged at Harvey and have been blasting him all week for making a joke of the national controversy.
Recently, Harvey finally spoke about the controversy in a recent interview and explained that he was surprised at people's reaction to his joke.
"The uproar came. This is sort of crazy. It was out of context," Harvey said about the backlash to his joke. "I was just talking to this one guy."
During the interview, Harvey further defended himself by saying that when the Flint water crisis first erupted, he made it a point to devote an entire hour to shining a light on the atrocity. He also explained that he even invited Hillary Clinton on his radio show to share her thoughts on the crisis and how she felt the government should respond to the needs of Flint's citizens.
"I had city officials and city members for a whole hour," Harvey said.
Harvey then added that he felt like fans were taking his jokes too seriously and that he feels like he isn't free to say what he wants to say anymore.
"I don't know if I'll be able to tell jokes. I can't say nothin' about nobody!" Harvey said.
Well, what do you think about Harvey's response to the controversy? Let us know in the comments.