Allen Iverson, Ice Cube take over the summer with Big3 basketball action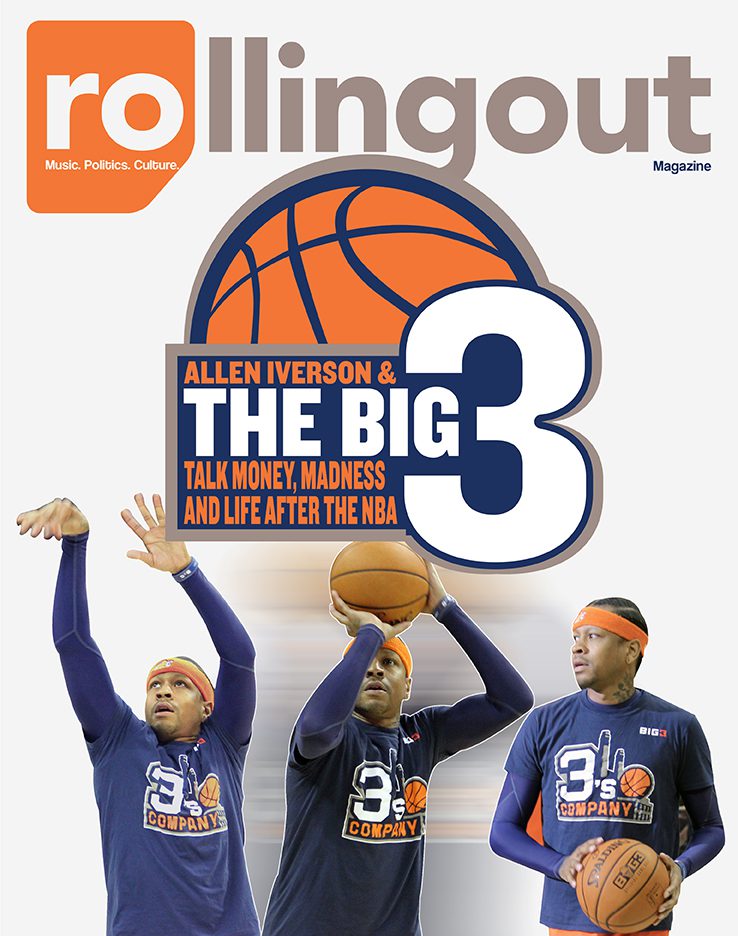 Allen Iverson had seemingly lost his love for the game. On the day before Halloween in 2013, Iverson revealed that he had taken his last shot as an NBA player. It came as a shock to fans who witnessed his spectacular feats on the basketball court during his days at Bethel High School in Hampton, Virginia, to his college days with coach John Thompson at Georgetown, to his heroics as an undersized shooting guard while with the Philadelphia 76ers. Iverson was the truth on every court that he stepped on and met all challenges with the fearlessness that was bred in him during his rough-and-tumble youth in "Bad News" Newport News, Virginia.
The cornrows. The tattoos. The swagger. Iverson embodied hip-hop and represented a generation that had yet to fully infiltrate the mainstream. If Tupac had been a baller, he would've been Allen Iverson. Iverson made us all believe that we could embrace our culture and still find a pathway to success. He influenced a generation of ballplayers to rock cornrows, throwback jerseys, and baggy jeans as if they were heading to a concert at the Tunnel nightclub in New York. He changed the game on and off the court. Who else could crossover Michael Jordan, drop 50 points as if it was as easy as breathing, prod the NBA to allow zone defenses, and take a subpar 76ers team to the NBA Finals?
But Iverson's journey also serves as a case study. Sometimes being the best isn't good enough. After all of the battles he fought, all the game-winning shots, and his culture-shifting moments, some want to reduce Iverson's contributions to a sound bite about practice. He also never earned a coveted NBA Finals title, mostly because he played in an era where players did not jockey to form super teams. Even on his final day in the NBA, Iverson was Philly to the core.
However, there are second acts in life. With the Big3 League, founded by Ice Cube, Iverson has an opportunity to approach the game on his own terms. But this time, he's equipped with more knowledge and knows what it takes to remain successful when the final buzzer sounds. If there was ever a question, Iverson is at the point where he has a better understanding of how to provide the answer.
Ice Cube's BIG3 league takes it back to the essence of neighborhood basketball with 3-on-3 hoops. The league, which features several former NBA players, made its way to the Spectrum Center in Charlotte, North Carolina, where week two action took place before a sold-out crowd of over 10K.
Allen Iverson proved to be the crowd's favorite and received a standing ovation when he was announced as player/coach for his 3's Company squad.
"I expected it [BIG3] to be what it had been thus far," Iverson said after his team fell to the Ghost Ballers, who were led by Mike Bibby. "Because of Ice Cube — he's not going to be involved with something and not put his all into it. I knew that it would be something intriguing for the fans to see the players play in a half-court league."
Iverson also revealed that he continues to work himself back into shape and expressed that he no longer has the stamina of his 25-year-old self that once dominated the NBA.
"It's going to take me a minute to get back into it," Iverson said with a smile on his face. "I've been out of the league for about six or seven years. I really think it's going to take me a minute to get my legs back to where I want it to be. Hopefully, this knee [issue] doesn't linger on because of my old ass age."
But while Iverson continues to work himself back into game shape, other players in the league have returned to game form. Al Harrington led Trilogy with 20 points in a victory over Rashad Lewis' 3 Headed Monster; Chauncey Billups scored 15 points and made his debut with Killer 3s in a losing effort to Power, and Derrick Byars scored 19 points for Ball Hogs in a victory over Tri-State.
Notable coaches included Julius "Dr. J" Erving (Tri-State), Clyde Drexler (Power), George Gervin (Ghost Ballers), Charles Oakley (Killer 3s) and Gary Payton (3 Headed Monster).
Notable celebrities in attendance included Big3 founder Ice Cube, LL Cool J, Michael Rapport, and Anthony Hamilton. The tour will head to Oklahoma City on July 9.
Story and images by A.R. Shaw
5 takeaways from Ice Cube's BIG3 tournament