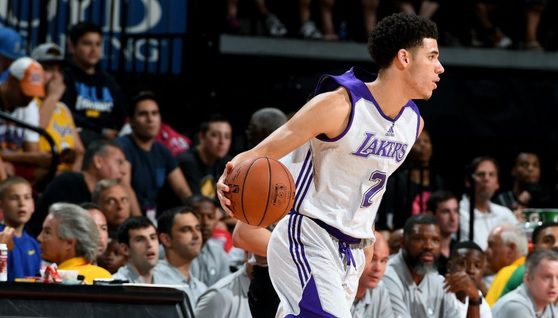 Not even a member of the Kardashian family could slow down Big Baller Brand headlines this past weekend. Los Angeles Lakers guard Lonzo Ball made his highly anticipated debut on July 7 in front of a near-capacity crowd for a Summer League game against the Los Angeles Clippers. On the first offensive play for the Lakers, Ball tossed a long lob to forward Brandon Ingram for a dunk that erupted Laker Nation. The rest of the game didn't go well for the No. 2 draft pick. Ball made headlines for not only the crowd he drew nearly four hours away from Los Angeles but finishing the night with five points on 2-for-15 shooting from the field.
Ball's second game on July 8 was more along the lines expected from the 19-year-old, as he finished with a triple-double of 11 points, 11 rebounds, and 11 assists in a loss against the Boston Celtics.
The Lakers didn't have a game on July 9, so Ball took some of the free time out of his day to tweet an opinion.
Issa > 4:44

— Lonzo Ball (@ZO2_) July 9, 2017
He was comparing 21 Savage's new album Issa to Jay-Z's newest release 4:44. Jay-Z's release had a central theme of addressing all of the rumors involving him over the years, including Solange kicking him in an elevator and cheating on Beyonce. He also addressed social issues like racism, homophobia and he emphasized the importance of Black wealth, giving listeners tips on becoming financially literate. 21 Savage's album contained the usual sounds from the Atlanta trap rapper, which concluded with a seven-minute freestyle that featured a minute of literal mumbling to end the project. However, Issa highlighted a new side of Savage, with a couple of autotuned-filled love tracks and one song detailing the toxic environment he came from. Supporters of both albums gave their thoughts on Ball's latest viral move.
this is probably why you're trash at basketball.

— ًben (@abstr_ctive) July 9, 2017
Boy 🙄 4:44 > Issa

— Josh Hart (@joshhart) July 9, 2017
https://twitter.com/KofieYeboah/status/884177766383570944
https://twitter.com/MillyMillz__/status/884269049538117634
Debates between the new-school techniques of trap and the more traditional methods of hip-hop live on, but the two aren't comparable. Issa was a decent project and 4:44 was very impressive as well. Chief Keef's 2012 Finally Rich album is considered a classic trap album and just because the bars on the project aren't more complex than the bars on Illmatic, it doesn't make his album any less of a trap classic. Just because the Migos rapped about club life, sex, and drugs on Culture as opposed to A Tribe Called Quest rapping about racial inequality on Midnight Marauders, that doesn't make the Migos 2017 album any less impressive in the trap category. One of the hottest artists in trap music today can't be compared to a top five MC of all time in Jay-Z because those are two different styles of music.
While this debate continues until the next big story from the Ball family arrives, the Big Baller Brand continues to grow.