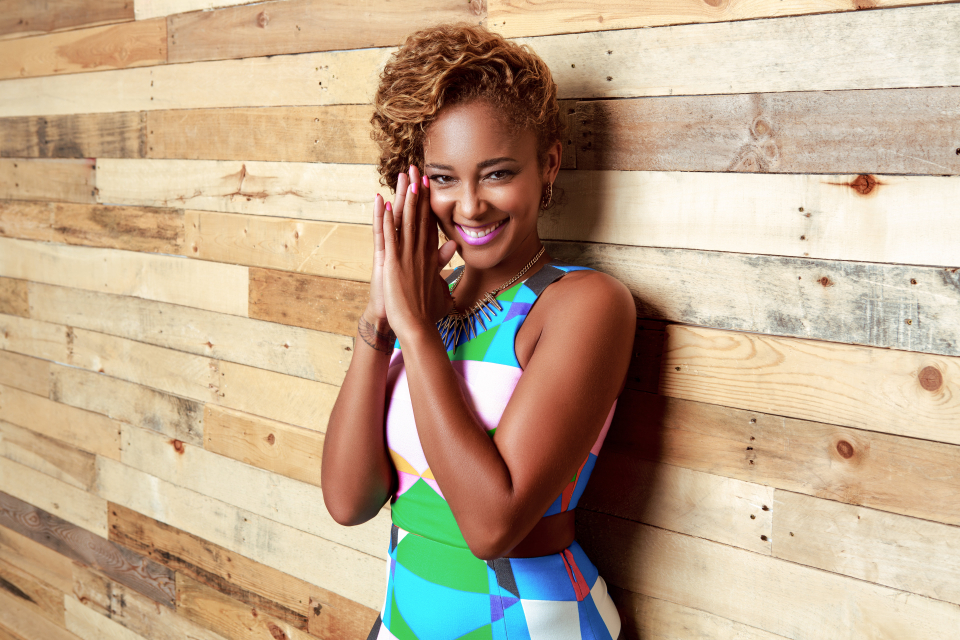 Actress and comedian Amanda Seales, formerly known by her stage name Amanda Diva, has discovered the essence of what it truly means to be "funny" but in her own voice, of course. The 36-year-old intellectual will make you laugh and have a "come to Jesus" moment at the same time.
Contrary to the hypersexualized route most female comedians take when delivering jokes during their stand-up routines, Seales provides her audience with the polar opposite. She is known for addressing controversial topics like cultural appropriation, police brutality and sexism.
The Columbia University graduate's approach to stand-up is witty and interesting.
"Here we are in 2017 where people now know if you want real, funny and information then you can find that with Amanda Seales," she says.
Seales is currently a series regular starring as Tiffany alongside Issa Rae, Yvonne Orji and Jay Ellis on HBO's "Insecure" a binge-worthy show that follows the awkward experiences and poignant tribulations of the modern-day Black woman.
"The fact that we are able to tell our own narratives in our own descriptive way with very little limitation is incredibly empowering," she says.
Make sure to check out the season two premiere on Sunday, July 23 at 10:30 p.m. EST.
You've thrived as an actress and music artist, but as a comedian, you seem to be most passionate. How did you arrive at this career choice?
A lot of people know me from hip-hop. Basically, when I turned 30, I realized that I wasn't going to be able to do what I felt I needed to do in hip-hop. I knew that hip-hop wouldn't be the conduit anymore. That's when I changed my name back to Amanda Seales. I started getting sharper in terms of what direction I wanted to go in with my message and my work. I knew that I needed to come back to television. I was doing "Best Week Ever" on VH1 and I was doing my own web show and so humor was very much a part of what I was doing. When I look a people like Chelsea Handler, Chris Rock, Ellen, I realized at the core of all their careers is stand-up.
Was it a deliberate decision or a gradual and natural evolution?
The beauty of stand-up is that it's a meritocracy in the fact that if you are funny, you will make progress. I really appreciate that because as a performer where you have to take so many no's at the core there is a very basic foundation of yes if you are fun. I set forth on that path and it just got clearer and clearer for me. I wrote a one-woman show called "It's Complicated" where I was doing press for it in 2013. I ended up going to The Breakfast Club. I've known them forever and when I was there something came over me when I left. These are all people I've known since I was like 21 and they have all found their place. It struck me that I didn't have that and I cried about it for a day because I always give myself 24 hours of tears. The next day I got to figure out what that was going to be for me and I created a web series called "Things I Learned this Week." We never got crazy views but what we get the opportunity to do was hone in on our comedy skills and over the next year I found my voice and my comedic footing.
For many female comedians, their on-stage humor is extremely hypersexualized. What made you decide to use your platform as a comedian to address political and racial issues?
A lot of the women comics of the '90s and 2000s came out on the heels of the Def Comedy Jam model which was a similar model to gangster rap where it was loud, hypersexual and egregious. It was like the Black voice being yelled, "This is our story!" For a lot of women, the only way to be heard in the space was like that. If you look at it in hip-hop, you'll see Foxy Brown and Lil' Kim using the same model. It was the same model in comedy with Sheryl Underwood and Mo'Nique. I was fortunate because by the time I started doing stand-up things had broadened out a little more thanks to Dave Chapelle and Chris Rock. They found a way to blend the intellectualism with the same ardent type of delivery. Those were the comics that I looked up to because I come from an intellectual space from graduate school at Columbia and a West Indian mother who was quizzing me at night on facts about the world. That's my natural place as Amanda.
Do you think that there are any widely held misconceptions about what you do? If so, how do you work to dispel them?
Up until this point, I think there have been people questioning what I actually do. Comedy helped me to create this umbrella over everything. That really clarified for folks that I'm just a multifaceted person that does all these things through humor. That's been very helpful to me in my career.
How do you handle the negative backlash from those who disagree with your usage of political humor?
I think sometimes I get White folks who say dumb s— to me like "You're racist because you're pro-Black." They're idiots so that misconception is misinterpreted because what it really is is that I am proud-Black. I don't base my Blackness against White, oppressive behavior. My pride of being Black has nothing to do with White supremacy. They don't understand our Black pride because they are looking at it based on the shame of White supremacy.
What kind of impact has social media had on your career as a comedian and how have you utilized your online influence to tell your story?
I've had a lot of misconceptions of my person and being that my art is so close to me I just am who I am as an artist. That's really where the work has come in. I had to find a way to deliver my message to people in a way that's not ignored because it's assertive or in a way that it's not misconstrued because it's not brutally honest. What the internet has done to fix that is that it's allowed me to deliver that message in such an organic way by just being in my house and people understand that it's not just being put on. It helps people naturally connect with you.
What affirmations do you repeat to yourself that contribute to your success?
Things are as they are because that is how they should be.
What advice based on the topic of self-confidence specifically with women of color would you have given to the younger version of you?
The best advice would have been to trust myself. A lot of times you have so many voices coming at you telling you who you need to be or what you should be doing. When I say trust myself I don't mean only listen to myself I mean trust that I can discern which advice is valuable and which is not. Even thought I was smart and intelligent beyond my years I needed to let my experience catch up with my wisdom. When I'm speaking about things now it's not theoretical it's factual.
How much of the script from the show translates into your everyday life?
Not much! Me and Tiffany are both hella honest but I'm not bougie. I like fancy things because I've been broke a long time so that's just what it is. I am Migos in my own way. I'm a certain kind of person in that sense but Tiffany is kind of pulled up and very heightened, extreme version of me. People kept telling me that they watched two episodes before they realized it was me because she is so different from me.
Why do you think "Insecure" is loved by Black women?
I always say I can write a White woman's story because I've grown up watching White women all my life. We were watching shows like "Friends" and "90210." This is a new Black Renaissance where we get to see Black women presented in a different way and through our voices.
What can fans expect to see from Tiffany in season two?
Tiffany gets to be a lot warmer because people felt she was stank last season. I am happy about that because I don't want to be the "negative Nancy" in the crew. You will get to see more of her and Derek. Anytime we get to see more of those two on camera I am here for it. I think that is really important because we get to see more examples of Black people in healthy relationships on camera.