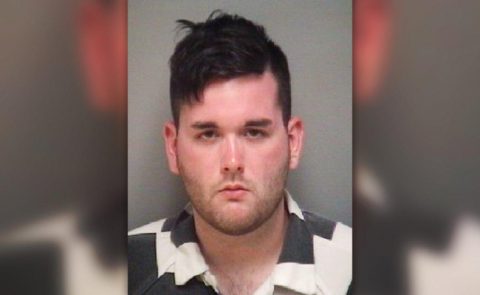 5 facts about killer driver at White supremacist rally in Virginia
The murderous driver who police say deliberately plowed his Dodge Challenger into a crowd of peaceful counter-protesters in Charlottesville, Virginia, is an avowed member of a White supremacist group from Ohio and he brandished their racist emblem just hours before the deadly rampage Saturday.
James Fields Jr., 20, was seen on the front lines of the volatile rally about 10:30 a.m. — flanked by other White men in polo shirts and tan slacks clutching the racially charged black-and-white insignia of the Vanguard America hate group. He has been arrested and charged with second-degree murder after running down a woman and injuring 20 others with his car, some critically.
Southern Poverty Law Center spokeswoman Rebecca Sturtevant told the media that the logo — two white axes — is a variation of imagery used by the white supremacists. They also said Fields' outfit is standard among the hate group's ranks.
Similarly, the Anti-Defamation League depicted Vanguard American as one focused on White identity, but noted that its members have "increasingly demonstrated a neo-Nazi ideology."
Fields' Facebook page is saturated with alt-right and Nazi imagery, including a baby photo of Adolf Hitler. He also has a tourist shot of the Reichstag in Berlin and a cartoon of Pepe the Frog, the anthropomorphic frog hijacked by right-wing groups.
Fields, of Maumee, Ohio, gave the page the title "Conscious Ovis Aries," using the Latin word for sheep. There was also a picture of him posing with the car that authorities say caused so much mayhem in downtown Charlottesville.
Fields' mother, Samantha Bloom, said she did not know of her son's apparent involvement in the deadly wreck.
She said Fields left his cat with her on Friday as he took off for an "alt-right" rally, according to the Toledo Blade.
She thought the rally "had something to do with Trump."
"I told him to be careful," Bloom told the Blade.
Fields also spent time living in Union, Kentucky, where he was a quiet student but had "radical ideas on race," history teacher Derek Weimer told the WCPO news channel in Cincinnati.
"He was very infatuated with the Nazis, with Adolf Hitler," Weimer told WCPO. "He also had a huge military history, especially with German military history and World War II. But, he was pretty infatuated with that stuff."