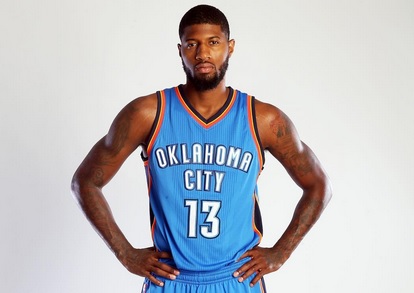 With football season kicking off and fall on the horizon, the NBA finally released its schedule for the season that starts in about two months. This past offseason a few more stars decided to join other stars in an attempt to finally bring parity back to the league. The attempts, at least for this year, won't work but it's still interesting to watch. Here are the Top 5 most intriguing games to watch in the NBA this season.
Philadelphia 76ers at Los Angeles Lakers on Nov. 15
The 76ers have expectations this season for the first time in over half a decade and the Lakers have the force that is Lonzo Ball. 76ers' center Joel Embiid gave Philadelphia 31 of the most exciting games a city can see from a rookie last season. Ben Simmons' first season is highly anticipated coming off of a 2016 injury. Sharpshooter J.J. Reddick, budding young star Dario Saric and 2017 No. 1 pick Markelle Fultz also join the 76ers roster that looks to make the playoffs for the first time since 2012.
Cleveland Cavaliers at Los Angeles Lakers on March 11
With Kyrie Irving trade talks existing, the rumors of LeBron James leaving in 2018 to play for a team in L.A. becomes more believable. Last season in March, James had one of his worst months with a team in the regular season. If Cleveland is struggling again around the same time next season, this could be a huge recruiting trip for someone who openly called Los Angeles "home" this week.
Golden State Warriors at Oklahoma City Thunder on Nov. 22
Russell Westbrook versus Kevin Durant was one of the most entertaining games to watch last year. With the breakup of Durant and OKC still being fresh, so is the drama. By this time of the year, Durant would have his first physical NBA Championship ring for a couple of weeks. Oklahoma City would have new star Paul George on its roster for a couple of weeks by the time of this matchup. An underrated rivalry in the league though is Stephen Curry versus Westbrook. The two premier guards have slowly but surely traded smart comments and crossovers against one another in the last few seasons. Last season, Curry said he believed James Harden was the MVP over Westbrook. Westbrook's response to the comment from the two-time MVP Curry himself? "Who is he?"
New Orleans Pelicans at Sacremento Kings on Oct. 26
Pelicans center DeMarcus Cousins gets to visit his old team early this season after an uncomfortable break up last season. About a month before he was traded to New Orleans in a post game win over the Detroit Pistons press conference, Cousins took a media member's microphone and asked reporters if they wanted him to stay in Sacremento. One reporter declined to comment and another said no. The return Cousins admitted he was itching for during the week of the NBA's Africa game should be just as exciting off the court as it is on.
Cleveland Cavaliers at Golden State Warriors on Dec. 25
Until proven otherwise, the Cavaliers and Warriors rivalry remains the current king in the league. This first match up on Christmas Day comes with some uncertainty this year. Cleveland doesn't know if star point guard Kyrie Irving is still going to be on the team by that time or who they're getting in return for him in a trade.
Honorable mentions
Oklahoma City Thunder vs. Houston Rockets on Christmas Day, Wizards vs. Celtics on Christmas Day, Celtics vs. Timberwolves on Jan. 5, Hornets vs. Wizards on March 31.