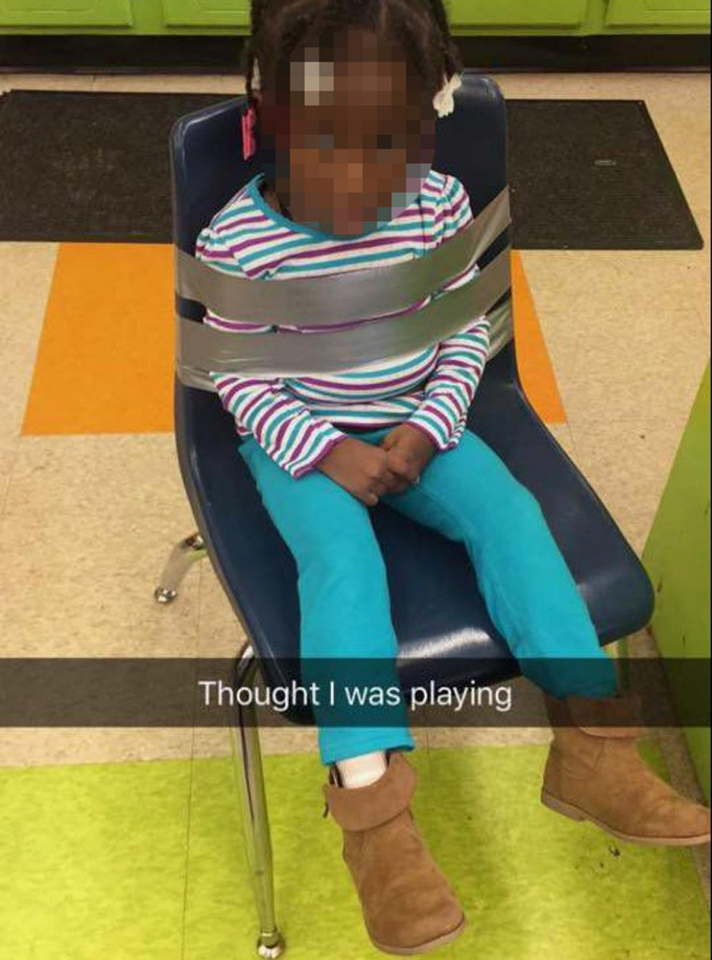 A little girl, 4, was photographed duct-taped to a chair at a day care center in Missouri, enraging her parents.
Elysha Brooks said in a Facebook post that one of the teachers at her daughter's day care, Little Learners in Florissant, duct-taped the child to a chair and then posted the picture on Snapchat.
The disturbing image was captioned, "Thought I was playing." According to Brooks, the incident happened in March and the day care center never contacted her about it.
According to KFVS, the mother learned of the photo because someone from the Department of Children and Family Services sent the disturbing photo to her.
"I'm looking at a picture of my daughter duct-taped to a chair, and her facial expression, I can only imagine how she felt," Brooks said.
The girl's father, Christian Evans, told the outlet that he won't be happy until the center is shut down and the person responsible is jailed.
"Seeing your child duct-taped to a chair, seeing the anxiety, seeing how scared your kid is, knowing for one that you're there to protect them and knowing for two that you have people around that would stoop to that level to hurt your child puts you in a crazy mind state," Evans said.
Brooks also accused the day care of failing to properly document an alleged incident of a rock being lodged in her daughter's ear. In a Facebook post, she said the rock "almost damaged her eardrum."
Little Learners has not commented on the incident.
The Department of Children and Family Services is currently investigating the incident and no charges have been filed against anyone.