Makeup artist Samuel Paul possesses the magic hands and raw talent that brought SZA's serious #beautywithanedge to the MTV Video Music Awards on Sunday night. Here flirty lashes and pouty nude lips had the cameras begging for more.
Paul says about inspiration, "SZA's makeup inspiration is a play on her current look — her makeup needed to feel subtle and fresh to go with her vintage Chanel outfit. The look consisted of rosy cheeks and glitter liner above her usual black eyeliner, to give it a fun, younger appeal."
Here's the step-by-step application guide.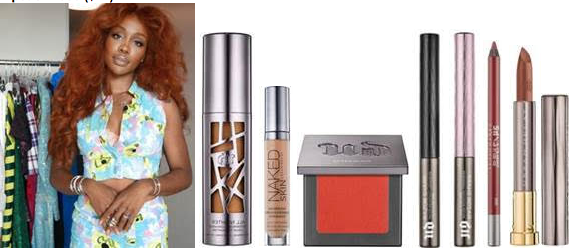 STEP 1: Apply All Nighter Liquid Foundation ($40) and blend it out with a foundation sponge
STEP 2: As a concealer and subtle highlight, use the NAKED Skin Concealer ($29)
STEP 3: For a natural flush, apply the Afterglow Powder Blush ($26) in Bang high on the cheek bones and blend upwards.
STEP 4: Use the Razor Sharp Longwear Liquid Eyeliner ($22) in Perversion for a sleek cat eye, followed by the Razor Sharp Longwear Liquid Eyeliner ($22) in Intergalactic right above it and into the corner of her eyes for a sexy, shimmery effect.
STEP 5: Outline the lips using the 24/7 Glide-On Lip Pencil in 1993 ($20) and top it with a sheer coat of Vice Lipstick 1993 ($17).
All Urban Decay products available at UrbanDecay.com