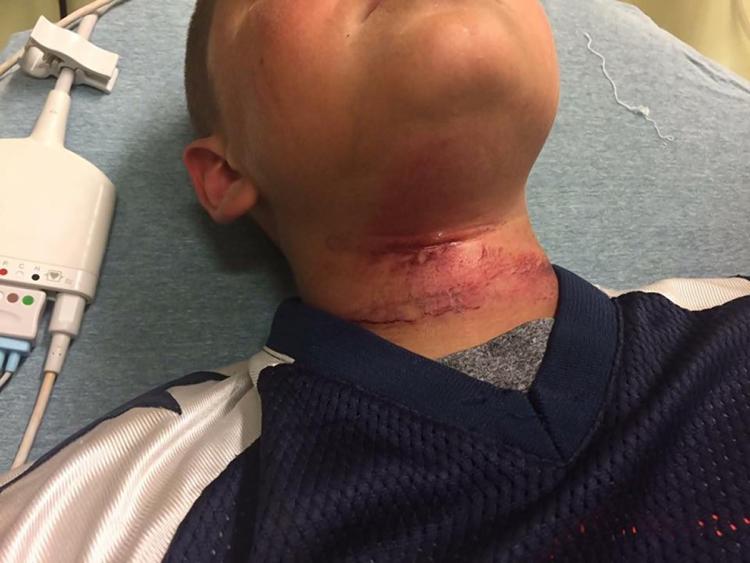 A biracial boy in Claremont, New Hampshire was nearly lynched by White teens. According to NH1, Cassandra Merlin shared the story of her 8-year-old son's attack on Facebook.
"My son is being flown to Dartmouth after a 14-year-old kid decided to hang him from a tree. I don't care if this was a so called accident or not. My son almost died because of some little s— teenage kids," Merlin posted on social media on Aug. 28.
The boy's grandmother said he was hung from a tree while playing outside with kids he thought were his friends. A group of White teenage boys began taunting the boy and yelling racial slurs at him. They also threw sticks and rocks at his legs.
At some point, the teens stood on a picnic table and grabbed a rope that hung from a tree that was once used as a tire swing. Somehow, the teens put the rope around the 8-year-old's neck and pushed him off of the picnic table. The boy swung back and forth three times before he was able to pull the rope from around his neck. The kids who were around him did not help or give him assistance. The boy's 11-year-old sister ran home where she told her parents. He was rushed to a nearby hospital where he was then transported to another hospital in Dartmouth. He sustained severe cuts around his neck, but he did not suffer any internal injuries. He's currently recovering at home.
Since the incident, the boy has been less talkative while trying to find ways to deal with the trauma. He will likely have to speak with an expert who can help with his mental health.
The incident occurred in a town that is 96 percent White, 0.6 percent Black, and 1.8 percent biracial. It also speaks to the current climate of America. While racial acts of violence have always taken place in this country, it has increased over the past several months due to the White supremacy ideology of Donald Trump. When the President of the United States pushes an agenda that exudes racism and hate, it provokes racists of all ages to believe that they can get away with committing hate crimes.
Police have yet to arrest anyone and have not revealed if any of the teens will be charged with a crime.