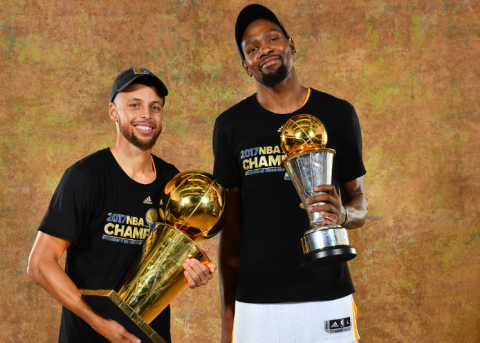 Kevin Durant owned up to making fake social media accounts to respond to fans on Twitter. It was discovered just a day ago that Durant forgot to switch accounts when arguing with a fan about why he left the Oklahoma City Thunder. Durant said in a couple of tweets to the fan that he didn't like the Thunder organization, he didn't want to play for Thunder head coach Billy Donovan and that the team wasn't going to win a championship due to a lack of talent after reigning league MVP Russell Westbrook. In Durant's last playoff series with the Thunder, the team was one game away from making its second finals appearance in five years leading his current team, the Golden State Warriors, 3-1. Durant's former teammate and current Thunder center Enes Kanter responded to the Twitter comments.
Okla-Home 💙 pic.twitter.com/54JqtM4c5S

— Enes FREEDOM (@EnesFreedom) September 19, 2017
At a TechCrunch Q-and-A session, Durant said that he uses his other Twitter accounts to interact with fans and the time he got caught was a time he said that he went too far. The shots that he took at the Thunder organization is what usually happens when he gets into debates about his move, Durant said.
"I don't regret clapping back at anybody or talking to my fans on Twitter, I do regret using my former coach's name and the former organization I played for. That was childish, idiotic, all of those types of words. I regret doing that and I apologize to him for doing that, but I don't think I'll ever stop engaging with my fans. I think they really enjoy it and I think it's a good way to connect us all," Durant said.
Whether or not Durant's apology was genuine remains to be seen, as this very well could've been a case of being sorry because you were caught. However, as many players who supported Durant's move have said this past off-season, the NBA is a business. Just like how the Boston Celtics traded Isaiah Thomas the summer after he played the same week that his sister died. Just like how the Atlanta Hawks traded Dwight Howard, who previously said that he wanted to end his career in his hometown, the league is a business. Durant has every right to make what he felt was the best business decision for him.
By far it wasn't the best decision for him to make when discussing his legacy or his competitive nature. If he didn't like the Thunder organization he could've signed back home with the Wizards and competed with John Wall and Bradley Beal in the Eastern Conference. The Wizards are a playoff team looking for a piece to take them to the next level and Durant fits the description. What hurts Durant's legacy is he joined one of the greatest teams in NBA history that was only minutes away from winning the title in 2016. Reigning MVP at the time Moses Malone was traded to the Philadelphia 76ers in 1982 after the 76ers lost in six games during the finals to the Los Angeles Lakers. Malone's legacy isn't ridiculed as much as Durant's will be because Malone isn't casually considered to be one of the greatest 10 players of all time and Durant has the talent to become that one day.
Durant took the easy route. However, as a 28-year-old man, he has the right to choose whatever route he desires.