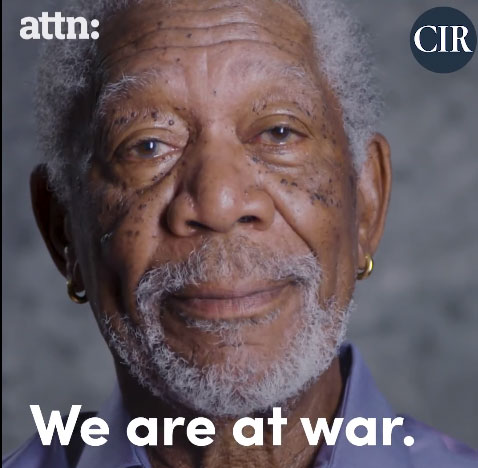 Actor Morgan Freeman has perhaps one of the most well-known voices and exudes a calm trusting demeanor. So it comes as a surprise that he is using his talents in a political ad that calls for the investigation of Russia and a dark plot of the villainy of Russian President Vladimir Putin.
Freeman appeared in a video for the Committee to Investigate Russia, which also includes as members liberal Hollywood players in the political game.  According to media Outlet Daily Mail, Russian Foreign Ministry Spokeswoman Maria Zakharova wrote in a Facebook post translated by TASS Russian News Agency: 'Morgan Freeman has been roped in, just like Colin Powell.'
According to its website, The  Committee to Investigate Russia (CIR) "is a non-partisan, non-profit organization and resource provided to help Americans recognize and understand the gravity of Russia's continuing attacks on our democracy. All relevant information is aggregated in one place to provide context and allow users to see the full picture of what Russia has done and will continue to do unless we start paying closer attention."
It's advisory board consists of Max Boot, military historian and foreign policy analyst; James Clapper, former director of National Intelligence; Norman Ornstein, American Enterprise Institute resident scholar; Rob Reiner, director, actor, and activist; and Charles Sykes, a conservative commentator.
In the video, which can be seen below, Freeman declares, "We are at war":
https://www.youtube.com/watch?v=XMm6vFOzCWQ
c