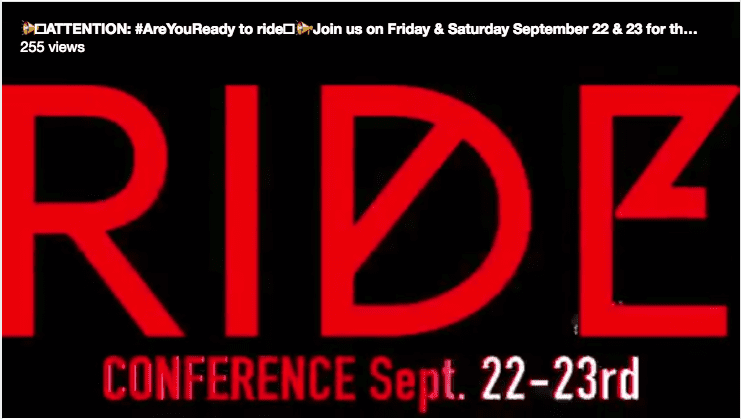 Today marks a week since rolling out presented its inaugural RIDE Conference 2017 in Atlanta. Though the conference is over, many lessons still linger. Check out the seven most valuable lessons I learned at RIDEcon17.
It's not about who you know, but who knows you
It's safe to say that many people understand the power of networking. However, a common theme among many of the panelists was that many of their biggest and best opportunities were from a third party suggesting them for it. When someone recommends you for a position, before or without an application, you have a stronger chance of receiving that position or opportunity.
Failure doesn't mean the end
Almost every panelist featured during RIDE spoke of some type of failure they experienced. John Singleton, one of the most highly respected directors in the industry, shared how many of his failures fueled him to grow and be better. He spoke about how his film Rosewood, though it wasn't quite successful monetarily, was a necessary project and the effect the story had on the community. 
Black people steer American culture
It's no secret that people look to the internet and social media to follow trends and to know what's next. But who is setting those trends and leading the conversation of what's popular? "Social media wouldn't be where it is without Black culture," said John Singleton. It's obvious that Blacks control what's cool or not, the next step is understanding how we can control that narrative for our community's benefit.
Multiple sources of income are vital for true success
Though Pandora Radio director Shayla Forte gave tips on how to navigate in the "new" music economy, her tips apply to any industry. "… I've seen [clients] go from one, two, three sources of income to numerous areas of making money and becoming successful." Depending on only one or even two sources of income can limit the possibilities and flexibility of an entrepreneur. 
The key to successful entrepreneurship is providing a product that is needed
How can an individual stand out among the masses of self-employed people? The answer is to provide a product or service that can only be provided by you. With the help of social media, markets have become oversaturated with merchants. To attain true success, it is imperative to provide not only a product or service but an experience that makes consumers loyal to your brand.
Time is money
It's true that when you're investing in your dreams, you have to put in work, and sometimes that work isn't always paid. Sometimes you're paid in experience and the knowledge you gain. But know your worth. Know when it's time to demand money, because if you're an expert in a field, your expertise is valuable, and so is your time. Time equals money, and the time you're spending not making money, you're losing it.
The internet provides the biggest opportunity for wealth creation in the Black community
Black Moguls CEO Swan Simpson talked about the myth of the digital divide and how Black Americans have been tricked into not seeing the monetary power we could have using the internet. "Since slavery [and] beyond the Civil Rights Movement, this right now is the biggest opportunity for wealth creation that we've had in our community and we are just not using it," Simpson said.