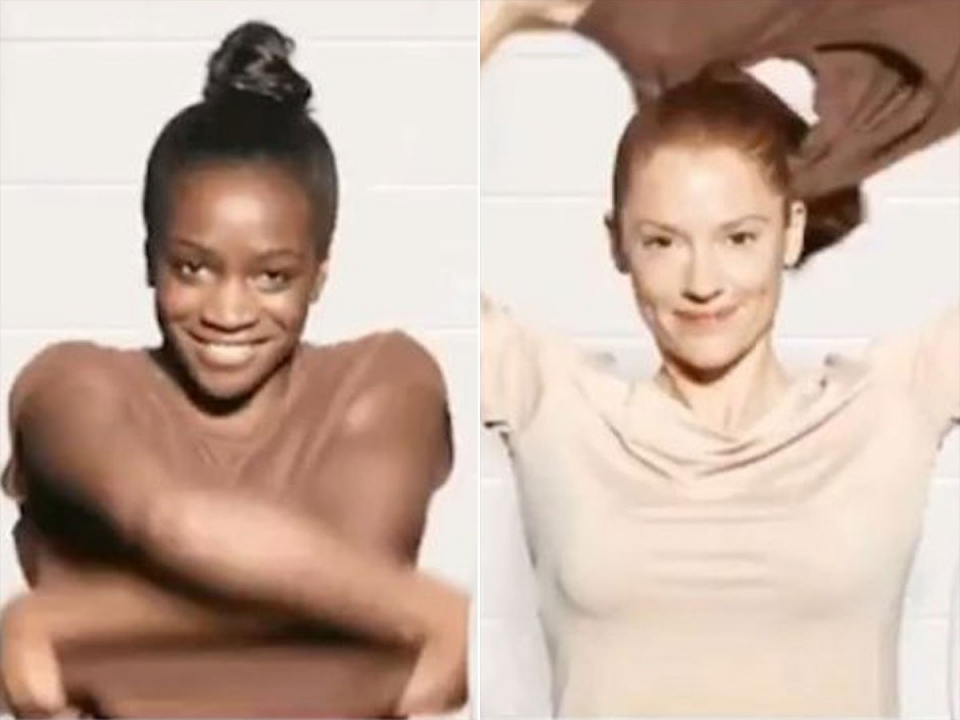 Earlier this month, Dove posted (and pulled) a commercial featuring a Black woman stripping down to reveal a White woman.
Needless to say, it was a total miss, as many people considered the ad racist. Now, Lola Ogunyemi, the beautiful model featured in the ad, is taking aim at racism in the beauty industry in an essay she penned for the Guardian.
"I am a Nigerian woman, born in London and raised in Atlanta. I've grown up very aware of society's opinion that dark-skinned people, especially women, would look better if our skin were lighter," began Ogunyemi.
Aware of this "repressive narrative," Ogunyeni jumped at the chance to be featured as one of the faces of Dove's new body wash ad. "Having the opportunity to represent my dark-skinned sisters in a global beauty brand felt like the perfect way for me to remind the world that we are here, we are beautiful, and more importantly, we are valued," she said.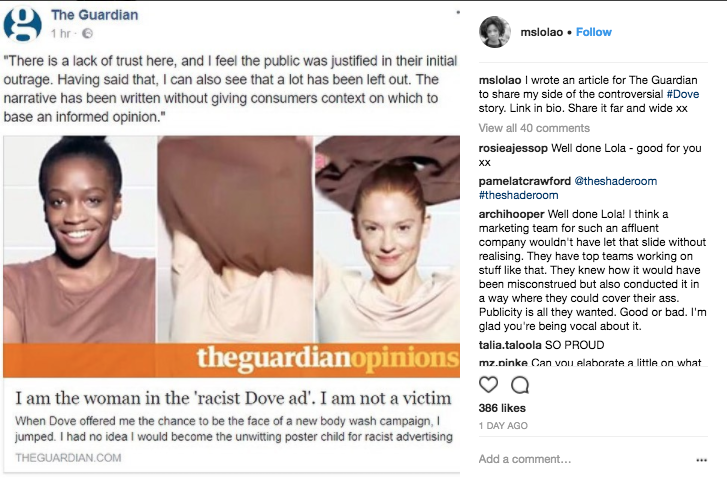 According to the model, she was unaware of what the final product would be. In fact, Ogunyemi admits that regardless of the once in a lifetime opportunity to work with the iconic beauty brand, she would never have signed on if she had known the outcome.
"Then one morning, I woke up to a message from a friend asking if the woman in a post he'd seen was really me. I went online and discovered I had become the unwitting poster child for racist advertising. No lie," wrote Ogunyemi. "If you Google 'racist ad' right now, a picture of my face is the first result."
She added, "If I had even the slightest inclination that I would be portrayed as inferior, or as the 'before' in a before and after shot, I would have been the first to say an emphatic 'no'. I would have (un)happily walked right off set and out of the door. That is something that goes against everything I stand for."
While Ogunyemi has taken a stand against the controversial ad, she revealed she had a positive experience working with Dove: "I had an amazing time on set. All of the women in the shoot understood the concept and overarching objective to use our differences to highlight the fact that all skin deserves gentleness," she recalled.
"I remember all of us being excited at the idea of wearing nude T-shirts and turning into one another. We weren't sure how the final edit was going to look, nor which of us would actually be featured in it, but everyone seemed to be in great spirits during filming, including me," she continued.
In an effort to do a little damage control, Dove has since released a statement apologizing for the commercial clip.
"An image we recently posted on Facebook missed the mark in representing women of color thoughtfully. We deeply regret the offense it caused," the company tweeted.
"While I agree with Dove's response to unequivocally apologize for any offense caused, they could have also defended their creative vision, and their choice to include me, an unequivocally dark-skinned black woman, as a face of their campaign. I am not just some silent victim of a mistaken beauty campaign. I am strong, I am beautiful, and I will not be erased," Ogunyemi concluded.