The Hathaways, Gays, O'Jays, Jacksons, DeBarges, Ross/Gordy are the most important families in our music history. Their legacies influence and impact, generation after generation. One member of the aforementioned dynasties continues to wow us. Her government name is Eulaulah Donyll Hathaway, with her forename meaning the highest praise when spelled backwards. And to us, this legend is affectionately known as "Lalah." She's collaborated with eminent talents like Pharrell Williams on the Hidden Figures soundtrack, and Kendrick Lamar, to name a couple. Her performance history, meanwhile, has seen invitations to the stage from epic artists including Prince; Stevie Wonder; Herbie Hancock and Anita Baker. With her new album honestly now available online and in-stores, there are no limits.
Hathaway has shaped a career so impressive; having an autographed CD of hers is enviable. It's a collector's item, real memorabilia that won't escape your history box; a selfie as currency isn't enough. It's industry veterans like Hathaway who detest social media during live shows for many reasons.
"When it comes to social media, Hathaway's wish is for fans to enjoy the moment, the live experience. She shares, "When I am trying to connect with people in the crowd and I'm seeing iPads instead of faces, it's this reminder that people don't feel like it's real unless it's in their phones now. I really hate it for them that they pay for a ticket and basically come to look at YouTube. They are missing the real life experience!"
A five-time Grammy Award winner, including wins as Artist and Producer for 2017's Best R&B Album Lalah Hathaway Live, Hathaway recently completed a six-week run with the "Strength of a Woman" tour opening for Mary J. Blige and as she sits in our studio at rolling out headquarters in Atlanta's West Midtown section, she opens up about her yearning to sleep in her own bed, cook a meal and play with her 11-year-old Bichon Frise, Boston, while she catches up on her favorite shows that she's TiVo'd – especially HBO's "Insecure."
Her newest offering, honestly is an invitation to go on a "journey that is intimate, disruptive and, time-appropriately, honest."
The Chicago native is a Bears fan, but has decided to ride out this season of the NFL, i.e., she won't be watching. Protesting Sunday, Monday and Thursday Night Football and the NFL are a show of support for Colin Kaepernick, it's her mode of resistance. Her famous father, Donny Hathaway, who delivered political soul offerings long before Marvin Gaye (What's Goin' On).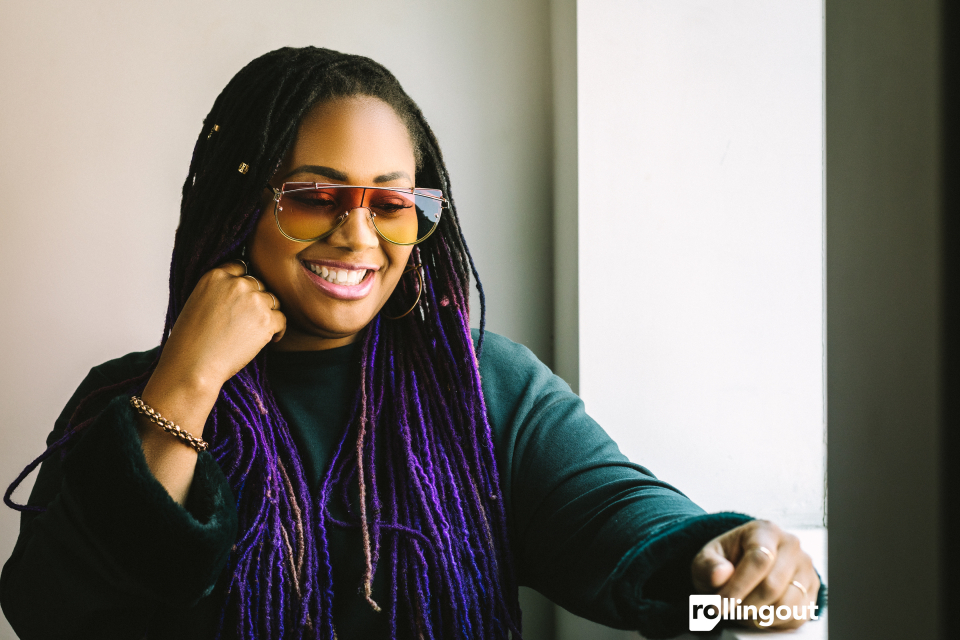 What will be one of your best memories of 2017?
Just last week I participated with Esperanza [Spalding]. She streamed a live record, off the cuff, for 77 hours on Facebook. She [completed] 10 songs and I am on a couple. That's one of the most exciting things I have done in a long time.
She's awesome. She's a genius and I don't use that word ever. I feel there are very few of them. People throw that word around. She is an actual musical genius, a very smart woman, and very inspiring. She is in the moment with her art and it inspires me to be that way.
What was the moment of connection like for the two of you, two very well respected females in your industry?
I have known her for some time and have worked with her off and on. I met her when we both opened for Prince one night. I love working with women. I love the synergy of working with, particularly, women of color. I cannot explain that other than to say it. The fact that she is so young, so evolved and so musical, for me, just lights a fire.
When speaking of being in the moment, I am sure there was nothing like opening for Prince…
He has been one of my 'standards' of life since I was probably 11 or 12 years old. To talk with him about music or to be on stage with him, and have music conversation with him was amazing.
What did you learn or glean from Prince?
It would be hard to say what it is. He was through and through a musician. Aside from the a** less chaps, the puppet in the Purple Rain movie or the finger waves, he was a genius. He took his craft very seriously.
You joined Mary J. Blige on her SOAW tour, how was it?
It was awesome. Watching her right now during the period in her life, watching her evolve through this super public, twisted pain she's in. We are watching her grow again. It was inspiring and nice to take that show to women, empowering [them]. We asked how many people in the audience had seen me live. A lot of people in that audience had not seen me live. It was another indication that I was in the right place, in front of those people. It was a blessing. I am thankful to her for allowing me the opportunity.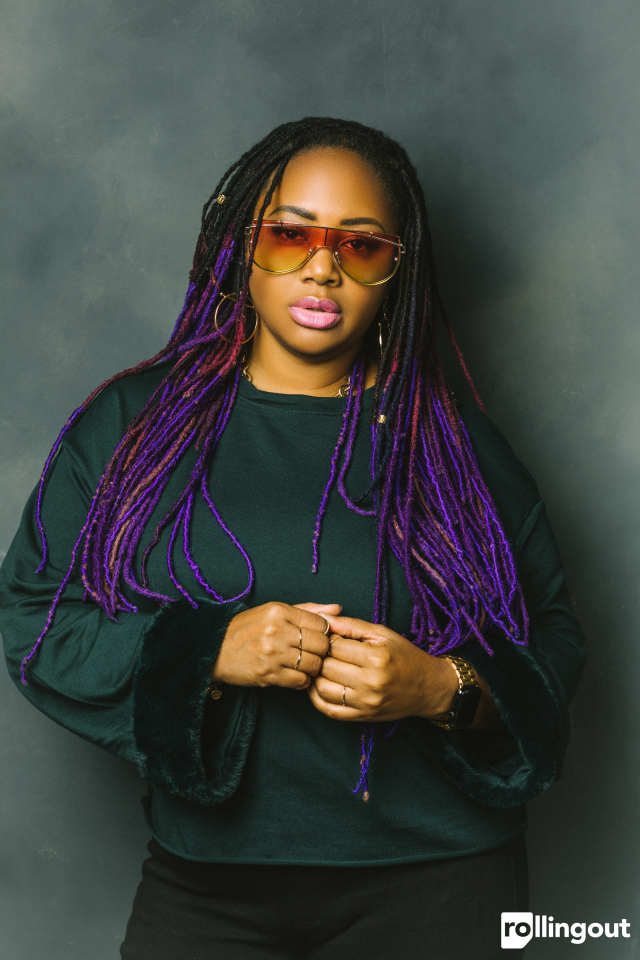 How do you communicate with fans?
I am on social media compulsively. Right now I am doing a lot of cussing on social media. I started a website in 1998, which was like Twitter and Facebook. People from all over world would comment and let us know what was happening in their world musically, culturally, artistically and politically. I have transitioned to Facebook, Twitter, Tumblr and Instagram. I manage all my social.
What space are you in musically? How do you fuse your medium with your message of resistance?
I am in a feel good space as a mode of resistance. The news takes me out every single day. I gave my life to music in a way that I hadn't in a while. My record is not an actual protest record, it is a resistance record. Finding joy in music and the mode of creating is a mode of resistance for me. It's a super stinky time right now. It's really, really bad and I don't know that people get how bad it really is. I feel like as people of color, we are so used to oppression and racism, that fascism looks like something over there but it's really something in our laps that we are going to have to confront. It's not going to be pretty.
What international travel are you expecting to take?
We are putting together a tour for Europe and Asia. We haven't done any in six months or so there.
Do you like traveling to Asia?
I do. I really love Japan. It's one of my favorite places.
Is the reception warm?
Oh yeah. I remember going to Japan in 1992 or 93, before any of my dad's records were on CD. People would come to the show with the Vinyl still in the plastic. There was such a love for him and such a love for soul music in those places.
Do you carry the weight of being a legend?
I don't feel that I carry a weight. There have been times, interestingly, where I felt like a weight was lifted … if that makes sense. I do represent for both of my parents and it is very important for me to be the greatest that I can be and carry that legacy on. The fact that I have that name and it is associated with such greatness. I continue to aspire to be great.
Describe your mom.
My mom is crazy, number one. She is hilarious. She travels with me. She was [on the road] the whole six and a half weeks with Mary. She is a spitfire. Most of what I know, I learned from her, whether or not I knew at the moment that I was learning. I am turning into her. She's super smart. I really feel like she missed her calling in some ways. She really could have been an attorney or a debater or a scientist. To me, she represents a lot in terms of how to be a Black woman in this world.
How do yo be a Black women in this world?
There are no words for it. I can't even tell you. I am trying to carry myself with a certain grace and not let the world steal my joy. And the music is a big part of that. Being able to create music that is meant to uplift my people is a big part of that resistance and carrying myself as a woman of color in this country. You have got to resist. I have a little bit of trauma looking at the news everyday, watching my folks get shot down in the street. The music is my only escape.