Miley Cyrus calls church shooter 'White terrorist,' gets blasted by Whites
If Miley Cyrus keeps this up, she won't have any friends on either side of the racial divide.
Cyrus had already been soundly bashed for allegedly appropriating rap and Black culture for her self-aggrandizement, but that has hardly deterred her from speaking out. Monday, the singer had the courage to say what even the president of the United States refuses to say: she called the White psychopath who gunned down nearly 50 people at the Sutherland Springs, Texas, church — killing 27 of them — a "White terrorist." She also called the man who shot an astronomical 500 people in Las Vegas, killing at least 50 of them, a "White terrorist" as well.
Predictably, and sadly, many White people lost their minds and ripped into Cyrus with fiendish fervor for having the audacity to articulate the extremely obvious. 
Devin Kelley, as we now know, opened fire inside First Baptist Church in Sutherland Springs, and Cyrus took to Instagram to highlight that the "terrorist act" was performed by a "WHITE AMERICAN MAN."
Fans commented on Cyrus' post, bashing the pop star for putting emphasis on the race, nationality and gender of the shooter, but Cyrus said that was her intention.
"The Voice" judge was met with more horror when she looked at the comments on the post. This is just a tiny sampling: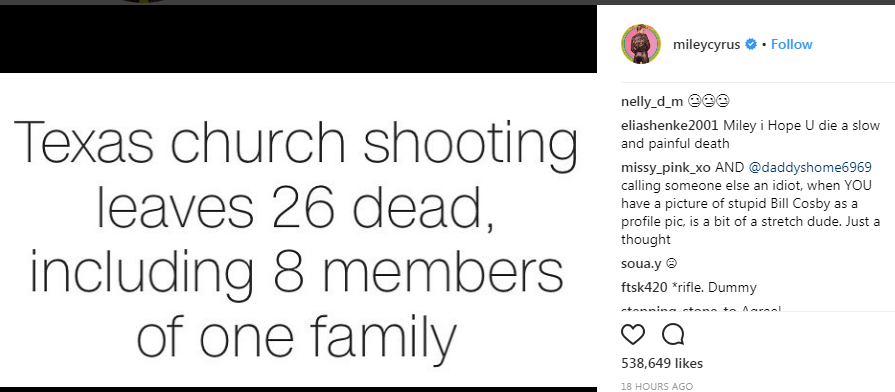 This is how Cyrus countered the vile and vulgar comments that accompanied her first Instagram posting on this subject:
"I am aghast by the reaction of my latest post, it is completely amazing to me how defensive and in denial this country really is!" she wrote. "You are not focused on the horrific tragedy I addressed but more angered that I am putting a BIG bright spotlight on the fact it was a 'WHITE AMERICAN MALE' terrorist that walked in & killed 26 people (including children) leaving 20 severely injured! All of a sudden…. 'we are all equal' 'human is human' 'skin color doesn't matter' (NOW neither does gender) 'makes no difference if they were male or female."
On this occasion, Cyrus channeled her inner Eminem in accurately pinpointing her people's hypocrisy on, for example, using the words like "terrorists" and "thugs" on people of color but failing to use those terms on themselves when they are applicable. But she was not done clapping back at her fellow whites: 
"BUT those things absolutely matter when … someone completely legitimate is running for president (versus someone who isn't), when a car runs over innocent people while professing their love to a GOD different from yours, it sure matters to the cops when they beat or even kill innocent people of color, it even matters at the airport/on an airplane or in immigration when folks are completely profiled & judged for their background," she continued. "NOW it doesn't matter if someone is a man or woman? Well, that's news to me and the HH foundation because it's been years of fighting for gender equality and the right to be the sex you identify with or marry the one you love! There has ALWAYS been an issue with these subjects until NOW."
Here, Cyrus really cracks her verbal whip: 
"So since this tragedy has occurred (coming off the cusp of Vegas, another terroristic act by a white American male) DONT START to be all innocent!" she concluded. "Gender, race, & religion HAS and continues to matter for all the wrong reasons & that's only the beginning of how backwards this country is! All of you are so focused on protecting yourself, you've completely forgotten that you're not the only one that has to live in this country or on this planet! Aren't you exhausted? Because to be honest I am f—ing sick and tired of starting everyday with tears and in mourning! Let's unite! Trump never needed to build a wall for us, we've done it ourselves! Love!"
Cyrus then shared photos of "a few of [her] favorite White American males," including her dad, Billy Ray Cyrus (pictured below) and her brothers, Braison Cyrus and Trace Cyrus.
She then captioned the photo showing her as a toddler with her father: "You are all correct to believe every human deserves the same respect," she wrote, "but please keep that in mind when you're judging others. NOT just with the race, religion, gender, or sexuality which YOU identify with. Deal?"
What do you think about Cyrus' comments — and is she right in calling the mass murderers in Vegas and Sutherland Springs "terrorists?"