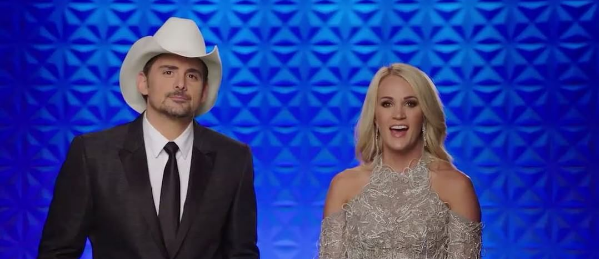 First it was Eminem completely eviscerating Donald Trump at the BET Hip Hop Awards with laser-sharp dissection of Trump's policies and philosophy. Then singer Miley Cyrus snatched off a piece of Trump's flexible hairpiece after the bloodbath at Sutherland Springs, Texas in which he blamed "mentally ill" people instead of guns.
Now it is country singer Carrie Underwood of "American Idol" fame and Brad Paisley blasting 45 during the Country Music Awards for his infantile inability to reign in his emotions on Twitter.
I can't wait to see what they'll do at the Soul Train Music Awards.
At the show in Nashville, Tennessee, Underwood and Paisley couldn't resist poking fun at President Donald Trump Wednesday night. The co-hosts ignored the Country Music Association's plea to make the awards ceremony apolitical, and sang a parody song about Trump's Twitter habits.
"Now Brad, I don't know if you've heard about this, but the CMA has given us some guidelines with specific topics to avoid," Underwood joked as they opened the televised event. "So we can't be doing any silly little songs because this year's show is a 'politics-free zone.'"
"Are you kidding me? That's not fair," replied Paisley, who suggested singing tracks with lyrics including "She wrote a memoir, Hillary's Back", "Stand by your Manafort," and "Hold me closer, Bernie Sanders."
Paisley eventually persuaded Underwood to join him in performing a spoof version of her Grammy Award-winning hit "Before He Cheats."
The words to the reworked "Before He Tweets" were:
Right now, he's probably in his PJs, watching cable news, reaching for his cell phone. Right now, he's probably asking Siri, how in the hell do you spell Pocahontas.
In the middle of the night from the privacy of a gold-plated White House toilet seat, he writes liddle Bob Corker, NFL and covfefe. And it's fun to watch, yeah, that's for sure, 'til little 'Rocket Man' starts a nuclear war. And then maybe next time he'll think before he tweets.
Below, see how social media reacted:
Wait a minute. The #CMAawards are going after Trump? I never thought I'd see the day. pic.twitter.com/OtHjWPmsaA

— REPUTATION 🐍 (@RufusDeWayne) November 9, 2017
Me watching carrie underwood and brad paisley roast trump at the #CMAAwards pic.twitter.com/A2nJJ4qc6g

— Heather (@hgunn23) November 9, 2017
Both are #AntiAmerican #FlagBurner #Commies. #CMAs #BradPaisley #CarrieUnderwood https://t.co/W7ke8MjnfX

— Old-Skull 🇺🇸MAGA (@OldSkull65) November 9, 2017