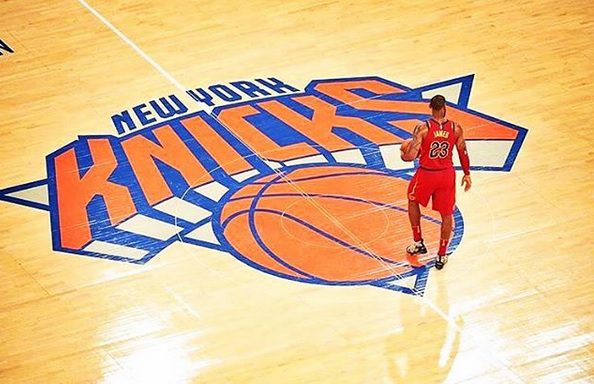 The trash talk between New York Knicks center Enes Kanter and LeBron James is real. During the Cleveland Cavaliers 104-101 win against the Knicks on Monday, Kanter had a few words with James on the court after James was seemingly pushing Knicks rookie Frank Ntilikina around on the floor.
"This team is really special," Kanter said after the game. "You ain't coming to my house playing that water bottle flip game again, you know what I mean? I don't care who you are, King, whatever you call yourself. King, Queen, Princess, whatever you are. You know what? We're going to fight and nobody out there is going to punk us."
James had the opportunity to respond when a reporter told him about Kanter's statement.
"Well I'm the King, my wife is the Queen, and my daughter's a Princess, so we have all three covered," James said.
James then took it a step further and posted a picture on Instagram proclaiming himself the "King of New York" and Madison Square Garden his "playground."
Kanter got another opportunity to respond once again after a team practice.
"Sorry about that, we already got a King and it's Kristaps Porzingis," he said.
Porzingis is currently the third-leading scorer in the NBA, averaging 29.5 points to go along with 7.3 rebounds, and 2.2 blocks per game.
As far as all-time visitors go, Michael Jordan averaged 31.8 points per game at Madison Square Garden, Kobe Bryant averaged 29.9 points per game, and LeBron James averages 28.4 points per contest on the road against the Knicks. Wilt Chamberlian scored the most ever points in the arena, dropping 73 points in 1962. He also owns six of the 14 highest scoring nights in the arena's history. Bernard King once finished a season averaging 32.9 points per game for the Knicks, scoring 60 on Christmas Day at home. Elgin Baylor scored 71 points to go along with 25 rebounds in a game at the Garden during the 1960-1961 season.
So while James is one of the best performers in New York, he isn't exactly the "King" of the city, whether that be past or present.