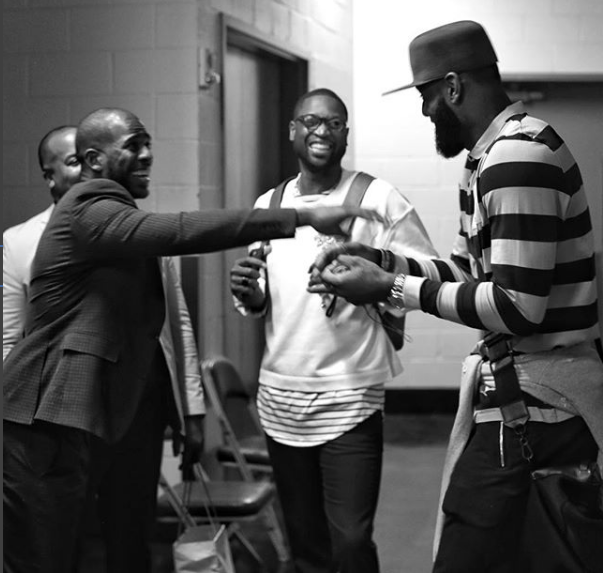 The Cleveland Cavaliers are seemingly monopolizing the sports reality show market. First, there was the Cavs' Tristan Thompson making a seamless entry into the world of reality TV when he began dating Khloe Kardashian and appearing on "Keeping Up With the Kardashians." And there is Iman Shupmert and his wife Teyana Taylor who are going to do a show on their blossoming marriage for VH1 beginning in early 2018. Now it's Dwyane Wade's turn. 
D-Wade is bringing a docu-series to Facebook's Watch video platform that will follow the Cleveland Cavaliers star off the court and into other countries.
The five-episode series titled "BackCourt: Wade," premieres Monday, Nov. 20, at facebook.com/backcourt, with new episodes to follow each Monday, according to Variety.
Facebook cameras will follow the three-time NBA champion as he goes on intercontinental excursions to Paris and Milan for Men's Fashion Week and takes up new hobbies such as golfing and taking care of his new dog, Tre.
Other episodes cover his mindset going into his 15th season in the NBA and provide an inside look at his business ventures, including his Way of Wade brand and Wade Wine labels.
Facebook funded the series, which is produced by Bob Metelus Studio.
"BackCourt: Wade" expands Wade's presence on Facebook, where he already shares content and connects with his community of more than 11 million fans.
"I've enjoyed partnering with Facebook to share some of my off-the-court moments in this five part series," Wade said in a statement. "I hope by sharing some of these candid moments that it helps inspire others to follow their dreams, take risks, challenge yourself to get through life's obstacles, and take the time to appreciate and enjoy the life you work so hard to build."
The launch of Wade's show comes after Facebook has seen traction with "Ball in the Family," following the family of Los Angeles Lakers rookie Lonzo Ball, from Bunim-Murray Productions. Other Facebook-funded entertainment projects include unscripted show "Bill Murray and Brian Doyle-Murray's Extra Innings" and drama series "Five Points" with "Scandal" star Kerry Washington on board as executive producer.
For Facebook, the show represents the social media giant's latest attempt to push users toward Watch to consume longer-form video (and see TV-style advertising) — and in this case, it's banking on the star power of Wade to draw a crowd.