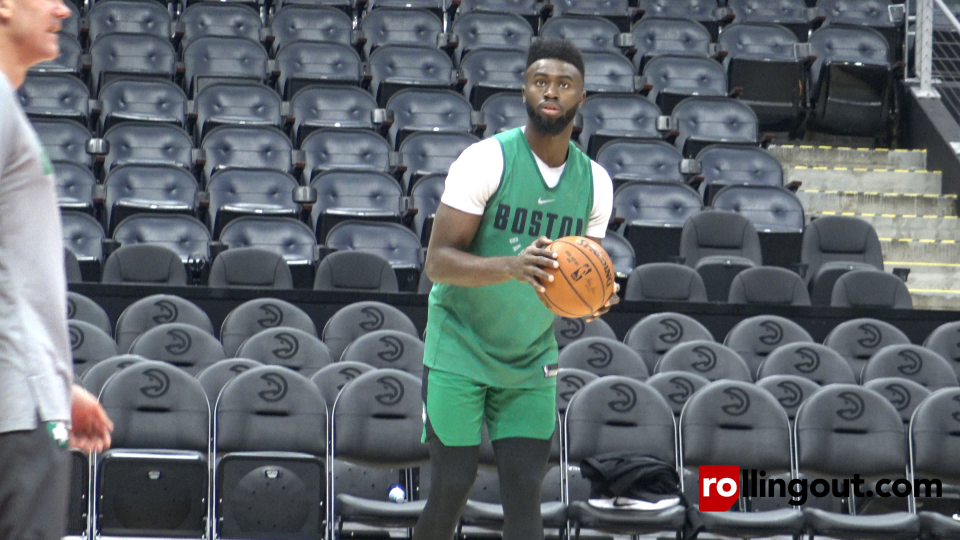 Jaylen Brown is playing the best basketball of his professional career. In the Celtics' last five games, he's averaged 19.6 points, five rebounds, and 1.6 steals per night. At 21 years old, he also lost his best friend, 22-year-old Trevin Steede, a day before this five-game stretch.
In the first game since Steede's death, Brown led Boston to a comeback victory over the defending champion Golden State Warriors with 22 points, seven rebounds, two blocks, and two steals. He then took the earliest flight to the next game, which was in his hometown of Atlanta, the same area he met Steede as a young transfer student at Wheeler High School in Marietta, Georgia.
Brown requested to not speak with any members of the media on the day the Celtics played in his hometown. He was one of the first players on the court for morning shootaround. Knowing that all eyes were on him, Brown wore his hoodie and focused on only the steps in front of him with a stoic look on his face as he walked onto the court at Philips Arena.
"There's no right answer," Celtics head coach Brad Stevens said at the shootaround about Brown's decision to continue playing. "There's no right emotion. There's no correct way of how to go about it. There's no right or wrong decision, right? I just think to be able to be on the court, spend time with your teammates, get a chance to compete, maybe it was a good distraction for him and certainly was inspiring to a lot of people."
Brown scored a career-high 27 points that night in Atlanta. Only superstar point guard Kyrie Irving had a case against Brown for being the hottest player on the hottest team in the league during the tail end of the Celtics' 16-game winning streak.
"He's not alone," Irving said of Brown after the team's 110-99 win over the Hawks. "That's spirit in the truest form, he understands that and there's no disconnect. Like I said the other night, the physical presence of his best friend was lost, but I know his energy still exists and he's still playing with an unbelievable burden and it might not be saying much, but we're all here for him."
Brown was one of the first Celtics players to leave the locker room in Atlanta. He placed his earphones in, adjusted his hoodie and then headed to the only place where he smiled all night. About two rows of guests awaited Brown to come back out after the game and they all greeted him with smiles and hugs. Brown sat with the guests as they exchanged stories and conversations that were filled with laughter. After the few moments of socializing, Brown took pictures with the guests and headed back into the tunnel, where he was greeted by Irving. After briefly catching up with Irving, Brown's smile slowly returned to the stoic look he'd shown the rest of the day. He placed his earphones in and adjusted his hoodie again as he left the arena.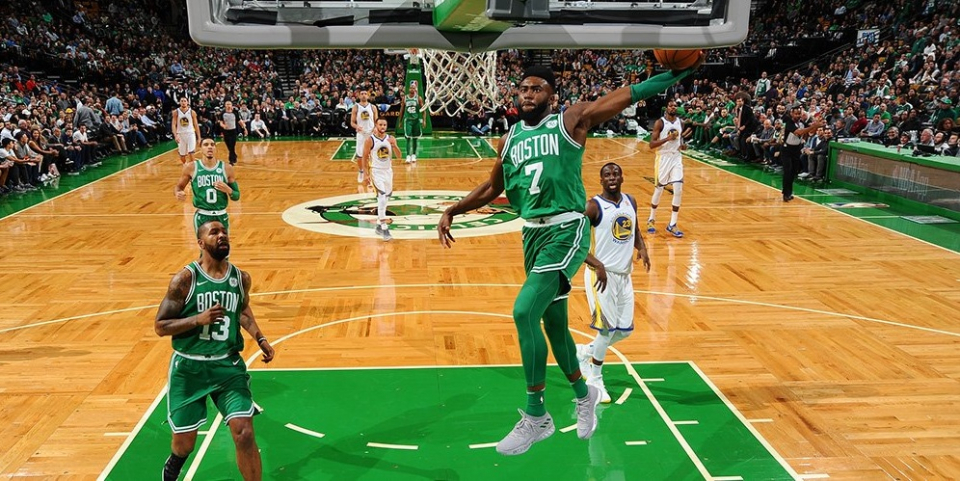 Steede's personality has been described as funny, happy, and energetic by some of his closest friends. One of Steede's former Ju-Co teammates at Chattahoochee Technical College in Marietta, Arthur Bennett, said that he'd remember Steede as his hype man.
"Trev used to always Hit Dem Folks," Bennett said in an interview with rolling out. "He was always the hype man. I like to Hit Dem Folks too, so if I were to Hit Dem Folks, Trevin would always be my hype man. He'd always be the dude yelling like, 'Yah!' Yeah, that was my guy. People don't know that Trevin could dance. Trevin could jump, but Trevin could also dance."
Steede committed suicide, which is the third-leading cause of death for Black people between the ages of 18-24, according to Fans Favorite FAN founder and mental health advocate Dawn Montgomery-Greene.
The mental health advocate has many sessions with student-athletes on the high school level in metro Atlanta and she said that she sees about one or two teenage boys a week who are dealing with depression or are struggling with their identity. In many cases, she said a lot of those student-athletes expressed that her counseling sessions are the only place where they feel comfortable sharing their true emotions.
"The biggest thing is that you just start to pay attention to routines and mannerisms," Montgomery-Greene, who was diagnosed as bipolar 18 years ago herself, said in an interview with rolling out. "Because I can sit here and put a smile on my face and go on about my day, but depending on if I'm not doing things that I love like I'm very fit, I love fitness, I love music. So people know that maybe if I'm not attending a local concert, then there's an issue. If people know that I'm not out and about or if I say that I haven't worked out in a couple of days, then that's a major red flag for some of my friends."
Steede created many secondary social media accounts where he dropped perhaps subtle messages in the months leading up to his death. In September on his second Twitter page, he posted a picture of him and a young woman with "our last picture together" in the caption. He then posted the link to a YouTube video, which has since been removed, with the caption "our last time being together." His Instagram bio read "make sure you keep that same energy when I'm gone." The day before his death, he uploaded a 17-minute video on YouTube talking about the same young woman he previously posted and how he wished things worked out between the two.
Simultaneously, Steede spent his final weeks on Earth posting comedy and basketball videos to his social media accounts and videos where he appeared to be happy, including the YouTube video of him playing Brown 1-on-1 before the regular season started.
Montgomery-Greene said it's easy to build a mask to hide your pain if you're suffering from mental health diseases. She said that a lot of mental health problems still get pushed aside initially in the Black community because the first piece of advice is to pray it away.
"It doesn't matter if you think he's been emotional if you think he's just trying to put on a show, take it seriously," Bennett said as advice to Black people who fear a loved one might be battling mental health issues. "Ask him if he needs anything, ask him if he needs help. Don't take anything for granted. Don't take anything he says for granted. Especially if that's someone you care about, one of your loved ones? Take it serious. Now that I know personally, now that it's happened to me, suicide's nothing to play with."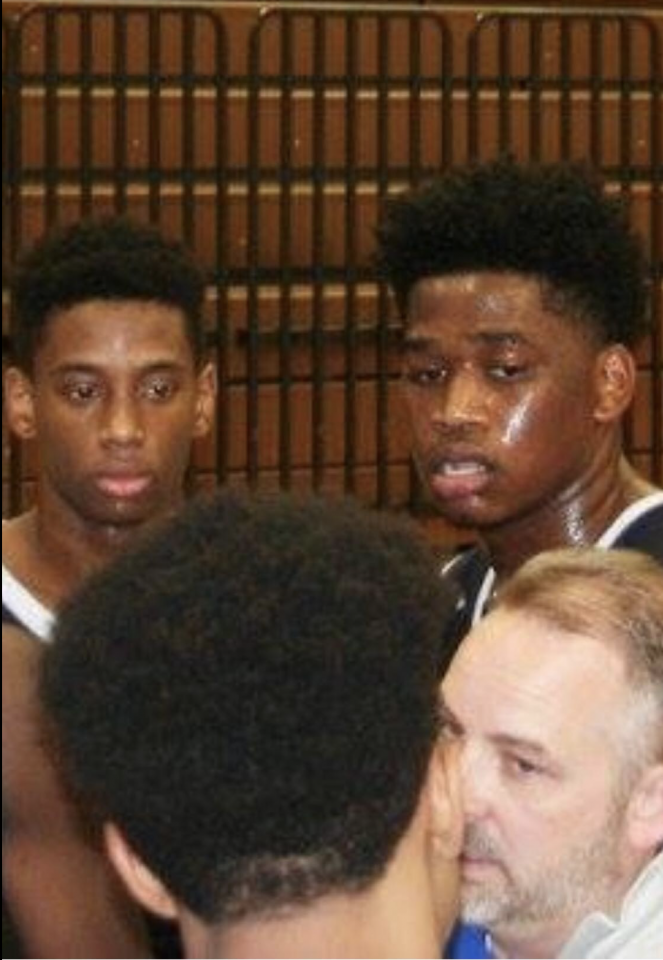 Bennett has dedicated his shoes this season to Steede's memory. He's a 6-foot-7 senior forward at Johnson C. Smith University with hopes to play professionally upon graduation.
Montgomery-Greene also added her challenge to family members.
"As Black people, especially parents, we're quick to tell our kids 'I don't want to hear that,' " Montgomery-Greene said. "Don't do that. We've got to figure out a way to listen to our kids and be there for them and when we start opening up that door where we're listening, we're creating a space where they can talk, we're making them face us and be engaged? That's where you'll really start breaking some ground with them in finding out what other issues are there that you need to assist them with any other help outside of the house."
Greene said that she welcomes anyone who seeks advice to contact her on social media. She can be found on Twitter and Instagram @BreakofDMG.