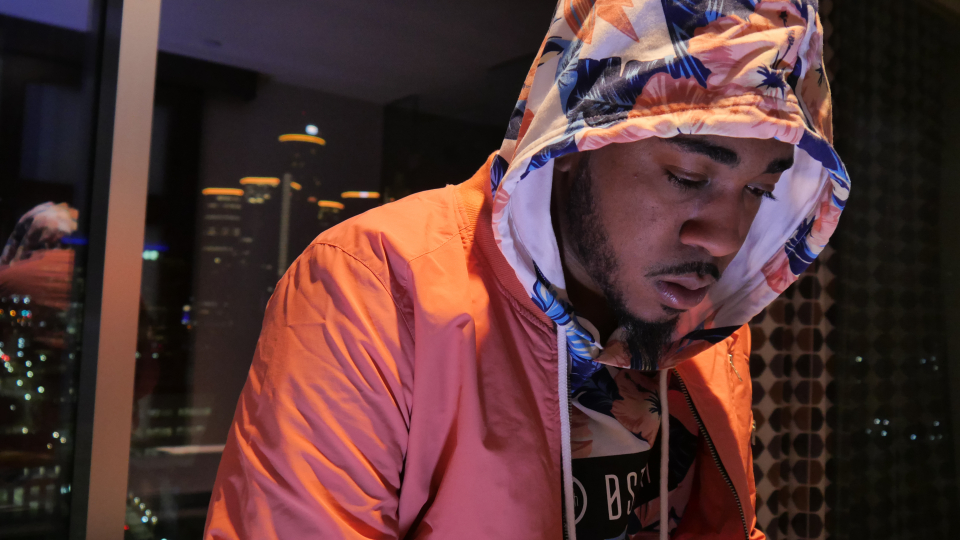 Gaining a mass amount of YouTube viewers was not on the radar of 27-year-old Deonte "Polo Frost" Grantham when launching his music career. This Ypsilanti, Michigan native has made an impressive transition into the music industry, creating a viral movement named the #BestEverChallenge from his debut single "Best Ever," featuring Ayo & Teo. Deemed a hit dance single, scores of home-made dance videos uploaded on social media and YouTube were choreographed on the strength of the song's catchy hook and raunchy verses. Before his hot single, Polo Frost was voted Rookie of the Year in 2014 on Dat Piff, a music website for indie artists. Along with Detroit's Zay Hilfiger's "JuJu on that Beat," both artists have conjured hits all affiliated with the dance challenge category. Frost's success from the single gave him the push he needed to continue pursuing his career, and to cook up his commercial-like sound, giving industry tastemakers something to nod on.
Frost mentions that making marketable music is very important in today's music culture.
"I like to make industry commercial music; that's just my style; it's easy to make more money that way," shared Frost. Usually when people think of Detroit rap, it's the thought of gun violence, strip club bangers, Cartier rockin', fast talking Detroit lingo, but Polo Frost likes to put himself in a different category. Read below to see what Polo Frost shares with rolling out on his insight into today's music industry, finding the right management and more.
How did you begin rapping? Did you expect the single to go that viral?
I've only been rapping since 2013, 4 ½ years, not that long at all. I used to be a party animal, out partying, and drinking all the time. I don't party at all anymore unless I'm paid to be there. But, when I'm in the studio or when I'm riding in my car I want to hear feel-good music. I don't want to talk about killing people. I wouldn't want to talk about things I 've done in the past that could come and get me indicted. I just feel like all of that sh*t is stupid! Best Ever was very vulgar, and I didn't even plan to put it out. The guy who produced the song made me put it out, then boom…it went viral. The song was supposed to be a joke. I got a lot of backlash because kids were dancing to it, to a song about sex. Technology is so advanced nowadays and kids love technology. My intentions were though to never put it out.
How did you land the opportunity to open up for the Big Show in Detroit with Jeezy and Chris Brown on Dec. 28?
So after I went viral, I was presented the opportunity to work with a lot of people. A lot of record labels was hitting me up trying to sign me…my previous managers are colleagues with my current management, and when all these labels were calling, they called Mikey (current manager) in to help when I went to LA meet with all these labels and so forth. From there, me and Mikey always been cool, keeping in contact staying in touch etc. He manages Trick Trick as well… I'm blessed to even the have the opportunity to work with him off of me going viral.
Throughout your journey, what are some things you wish you could change?
I find it interesting that the internet has taken over the music industry. The footwork doesn't need to be put in like it used to be. I still do it. I don't cut corners. I'm not a big fan of social media. I do it because I have to do it, you know? … but I just find it interesting how YouTube numbers and followers can alter one's ego. I'm not a big fan of the popularity thing. You can literally suck at what you do, and have a lot of followers and you're loved. Real talent gets overlooked by popularity. Record labels will sign the popular before they sign the talented. If I could stay independent, I would, then again if the numbers are good then I may reconsider. I don't like the fact that popularity overshadows talent … I hate that. I like to think of music more in a business aspect. Yeah, you have your hood music, that's cool but, wouldn't you want your music to get played in a commercial? During an NBA or football game? People don't think ahead like that.
Where do you see yourself in five years in the industry?
Honestly, in five years, I don't want music to be my end-all be-all. Don't get me wrong, I love music, but there's a business side to it as well that I think most rappers should get into. Making music is cool but I'd rather make investments, business moves, and be happy about it than actually chasing after the industry.
Where can our readers find you on social media?
You can find me on Polo Frost on all social media platforms.
Polo Frost takes the stage as the opening act for Young Jeezy, Chris Brown and Tee Grizzley tonight at the Little Caesars Arena in downtown Detroit.