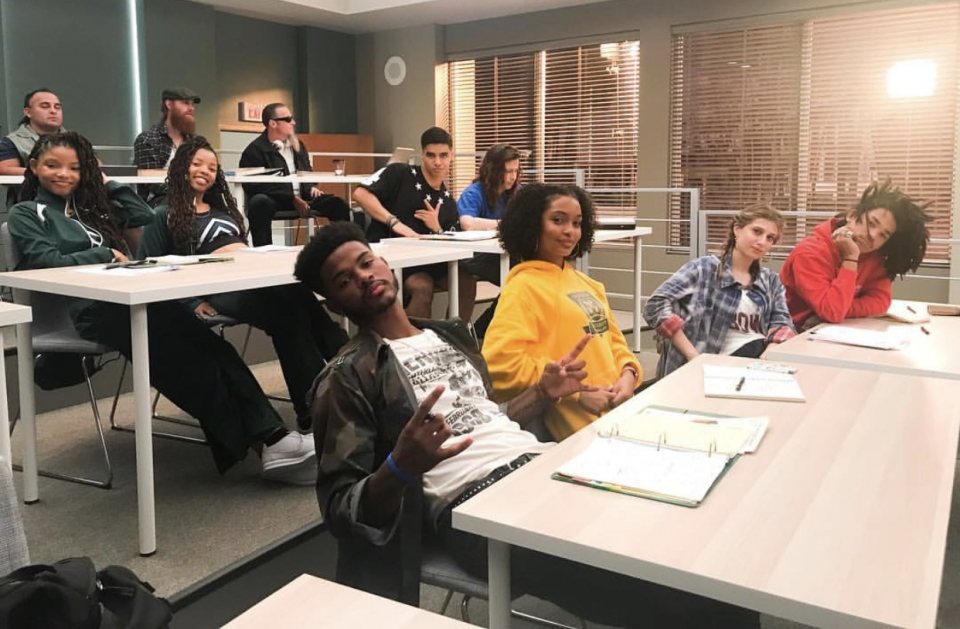 "Grown-Ish" cast via Instagram – @grownish
Going off to college is one of the major milestones someone can embark on in life. However, discovering who you are in the midst of attending college is one of the toughest experiences you will ever go through. And that is exactly what Zoey (Yara Shahidi) learns in the one-hour premiere "Grown-ish," a new show on Freeform, which is a spin-off of "Black-ish."
The show opens up showing Zoey's dad, Dre, experiencing a major meltdown fearing what his daughter might fall into (wait until he hears she tried adderall … thrice), in which she tries to convince him that she has everything under control. She truly believed that, until she realized she didn't.
As a rookie mistake, she signed up for a midnight class taught by a crazy professor who has an obsession with drones. But luckily, this is where she meets her own "breakfast club," a group that is rather diverse and quite reflective of what many college students are like today.
Aaron (Trevor Jackson) is the smart, "woke" guy with the #BlackLivesMatter buttons whom Zoey falls in love with immediately. Sky and Jazz are the picture-perfect (secretly not-so-picture-perfect), sassy track-stars who are "btdubs" played by Chloe and Halle Bailey who actually sing and produced the theme song.
Zoey also meets Luca (Luka Sabbat), an aspiring fashion designer who also happens to be a stoner; Nomi (Emily Arlook), an atypical Jewish princess who swings both ways; Vivek (Jordan Buhat), a merit scholar, part-time drug-dealer; and finally, Ana (Francia Raisa), her devout Catholic, Republican roommate.
In high school, Zoey was the cool girl who would never be caught drinking alcohol or taking "academic steroids," but her desperation to impress people, get Aaron's attention, and complete her assignments on time leads her to make decisions that are far from who she really is.
"Grown-ish" explores the rough terrain that most freshmen who enter college experience and reminds people of the gory details of early college life all too well. Kenya Barris, the creator, captures the essence of young adulthood in a refreshingly humorous and socially conscious way that makes the show so relevant to present culture.
And Shahidi's magnetic presence makes you love her as if she was your best friend, and will make you want to jump in the screen and save her from responding to a 2 a.m. "U up?" text from Aaron.
"Blackness, exciting characters, weed, alcohol, lit college parties, multicultural friends, diverse cast, real conversations, with a sprinkle of wokeness and the comedy. Oh yeah, #grownish is that show," said @YoungBlackBrokeWoke from Twitter.
From the looks of it, "Grown-ish" will surely find its way into millions of hearts across the nation.