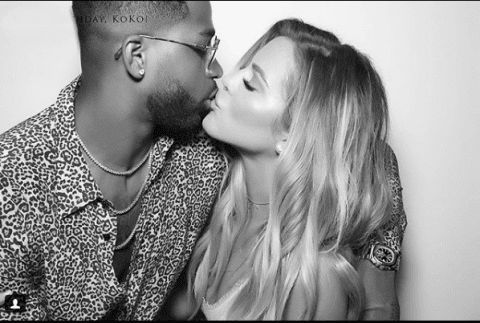 Khloé Kardashian's assistant found out she was pregnant before her family did.
The "Keeping Up With The Kardashians" star has revealed it was her assistant Alexa and the crew of the family's E! reality show that knew about her happy news – that she is expecting her first child with her partner Tristan Thompson – before she had told her mother Kris Jenner, her sisters, Kim, Kourtney, Kendall and Kylie and her brother Rob.
Speaking on "Jimmy Kimmel Live," she said, "[Tristan] kept saying, 'You're pregnant,' and I was like, 'Be quiet, I'm not pregnant.' I was nauseous, not feeling well and then he had to leave the country. I took a pregnancy test and I was screaming. It's so weird and surreal! …
"So it was Alexa, my assistant, Tristan and I – we were the only ones that knew for a few weeks, until I was able to tell my family. It's actually all caught on 'Keeping Up with the Kardashians', which I'm excited about. They get to see all the stuff I was going through without them knowing!
"They [the crew] did [know first]. I've known the crew since 2007. We've had pretty much essentially the same crew. They've been a part of so much, the best and the worst, in our lives – and they keep quiet."
Meanwhile, Khloe previously revealed she is focusing on having a "healthy mind, body and soul" in the run up to her baby's arrival.
She explained, "For me, health and wellness resolutions are especially important this year. Being pregnant, it's a whole different type of self-care. I still exercise to maintain my sanity and also to feel good about myself, but my workouts are not as intense as they once were. I'm also eating differently – of course, I have cravings, but I want to make sure I'm supplying my baby with the proper nutrients. I'm focused on being healthy mind, body and soul for myself and the baby. But, man, I can't wait to be a beast in the gym already, LOL! … Still, as active as I have been during my pregnancy, I feel great. So my New Year's resolution will be to stay as mentally and physically healthy as I can! (sic)"