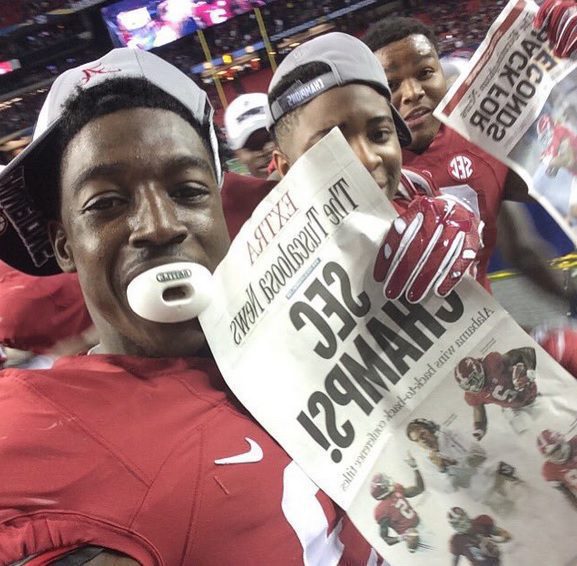 It happened again.
A lead that would perhaps be perceived as comfortable felt anything but on Monday night in Atlanta. When it comes to major sports, the state of Georgia has a well-documented, extensive history of heartbreak.
Seeing the Braves dominate the regular season for a decade and a half, only winning one title, the only title going on the last 23 years now. The Hawks trading the franchise's last true bona fide superstar toward the end of his prime. The height of the heartbreak, of course, came last February when the Falcons not only blew a 28-3 lead but were forced into playing and losing in the first overtime in Super Bowl history. It didn't seem like it could get worse for major Georgia sports fans, until Monday, Jan. 8, 2018.
The UGA Bulldogs had the edge on Alabama the entire night. The Crimson Tide even sat the long-standing quarterback down during the second half. Little by little in the fourth quarter, the momentum began to swing and Alabama had a prime opportunity to end it. Even with that opportunity, Alabama gave Georgia another chance to come back in overtime. Senior running back Nick Chubb could never seem to get it going all game, contrary to the majority of his collegiate career. So only a field goal shielded the Dawgs. The Georgia defense relentlessly chased the freshman quarterback from Alabama for a huge sack that took the team out of field goal range. All Georgia had to do was hold the team for two more plays- and, of course, they didn't.
After a huge play came a huge letdown, a wide open touchdown catch for Alabama. Another season over and another title for the Crimson Tide. Another heartbreak for the state of Georgia.
Now, of course, the state does have winners. TitleTown USA is Valdosta, Georgia, home of some of the best high school football and Division II programs in the nation. The Georgia Swarm just won the NLL championship for the sport of lacrosse in 2017, but everywhere else, including with the Dream and United, great regular seasons have ended up in crushing postseason heartbreaks.
Meanwhile, the UCF Knights already declared themselves the national champions of 2018. The team finished an undefeated season by beating Auburn, a team that beat both national championship game finalists this season, in the Peach Bowl. UCF took a trip to Disney World and even held a parade at the Happiest Place on Earth to celebrate its season.