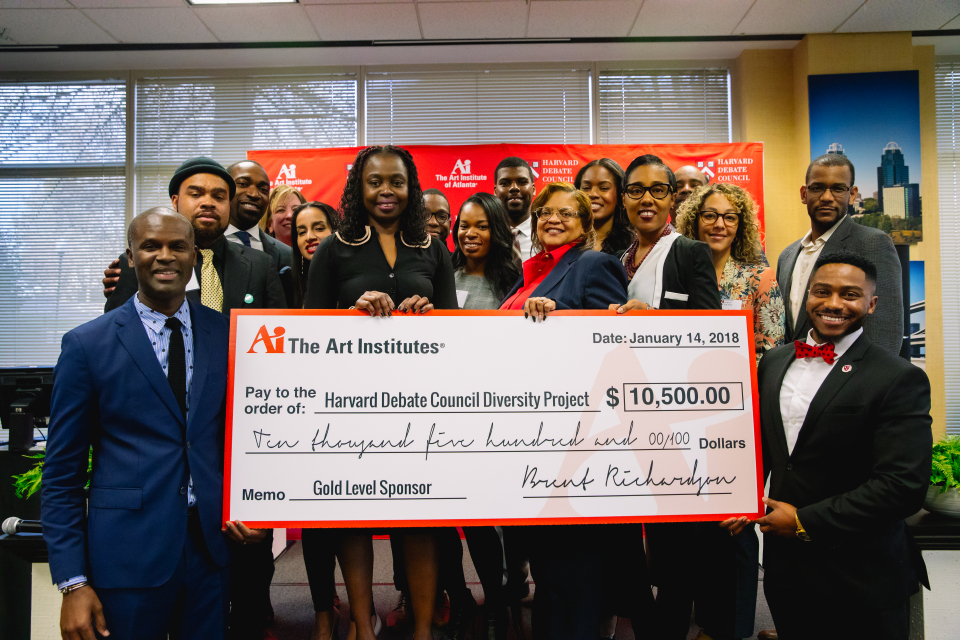 On Sunday, January 14, 2018, Harvard Debate Council held it's inaugural Harvard Debate Council Diversity Project Surprise Reveal, which was held at the
Art Institute of Atlanta
.
 At this event, 25 African American high-school students were rewarded with scholarship money to join Harvard's prestigious residential Summer Program.
Harvard Debate Council Diversity Project is an Atlanta-based diversity pipeline program created to raise the young social and political voice in urban Atlanta and to matriculate African American students into the Harvard Debate Council's residential summer program for high school students at Harvard College in Cambridge, Massachusetts.
"The 25 students we selected were surprised with the news of their acceptance and were rewarded with scholarship money from The Art Institute of Atlanta to attend Harvard Debate Council's residential summer program at Harvard College," says executive director of the Harvard Debate Council, Brandon Fleming in a statement to press.
The event's recipients initially believed that they were coming to be interviewed for admission. But at the end, the students were surprised with news of their acceptance and scholarship. With the program, student participants will not only study debate at Harvard, but also gain academic excellence, leadership acumen, and cultural pride. This program is also designed to provide students firsthand experience of residential life at Harvard college and an opportunity to learn from accomplished debate professors and coaches.
Between January and June 2018, students will receive intensive training by Harvard instructors in preparation to study at Harvard college during the summer. The Art Institute of Atlanta has offered its facility as the program's headquarters where training sessions will be held.
"We know that education, in all its forms, is a transformative force for the common good. We also know that it does start with a dialogue that uplifts, energizes, motivates, and enables young adults to embark on a path that will lead them to achieve their dreams," says Newton Myvett, president of the Art Institute of Atlanta. "We are unleashing creativity, empowering people, and impacting the places where we live, love, and learn in unprecedented ways—giving shape to the boldest dreams and noblest causes."
The Art Institute of Atlanta, a private, accredited, nonprofit institution, contributed a total of $10,500 towards the inaugural class of 2018. The Harvard Debate Council is still seeking individuals, corporations, and organizations to join in their efforts to raise $88,000 scholarship dollars to cover tuition, room & board, and travel for the recipients.
Harvard Debate Council Diversity Project's Inaugural Class of 2018 List:
Olivia Justice
Tyler Simon
Ahmari Whitehead
Ralston Welch
Tiera Prince
Mayay Hadley
Saxton Phillips
Jordan Thomas
Jamilla Badji
Evanne Casimir
Sa'Mya Ivy
Allison McInnis
Audrey McNeal
Ann-Marie Abunyewa
Adetomi Oderinde
Niles Boyd
Payton Gunner
Jada Sweeting
Amari Manning
Osazi Al Khaliq
Sherrod Crum
Tyra Grant
Olivia Green
William Mosley
Matthew O'Stricker
Mahlon West
"No other activity [outside of academic debate] imbues young people with a skill set that will train t hem to be effective students, communicators and citizens. Debate combines competition with advocacy, making it rewarding and worthwhile for even the most reluctant students to learn to research, read, speak and write successfully," says Tripp Rebrovick, Ph.D., head coach of Debate at Harvard University