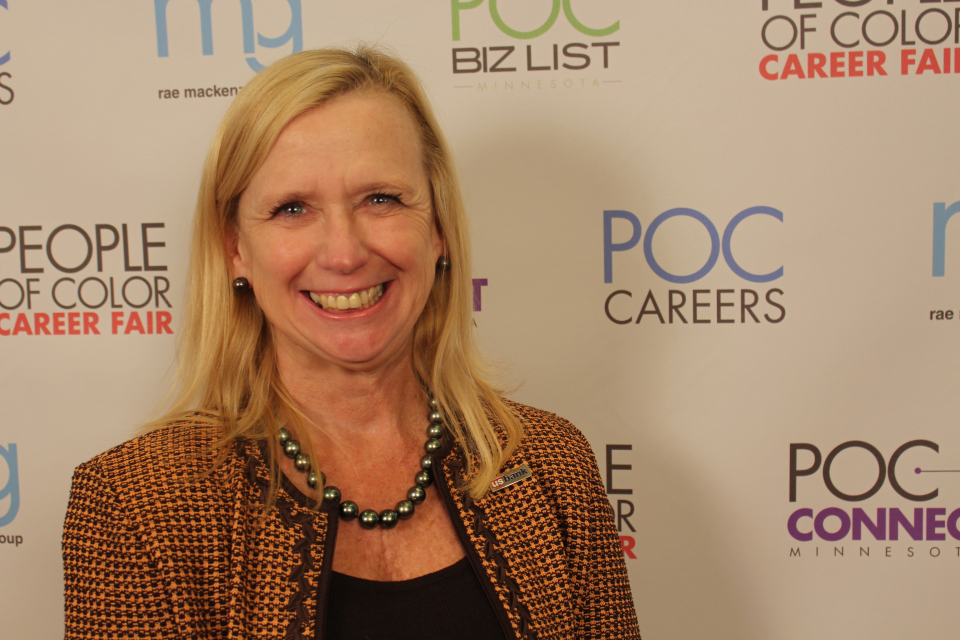 Jennie Carlson is executive vice president of human resources and chief human resources officer (CHRO) at U.S. Bancorp. With over 25 years of experience at U.S. Bank, with the last 15 as CHRO, she oversees compensation, employee benefits, employee relations, payroll and all other human resources-related activities. She is also a member of the U.S. Bancorp Managing Committee.
Carlson recently attended the People of Color Career Fair in Minneapolis, where rolling out had the opportunity to talk with her about diversity and inclusion.
Why was it so important for U.S. Bank to get involved with this 2017 People of Color Career fair?
We're here because diversity and inclusion are business imperatives for U.S. Bank, and for every business. We want our employees to understand and reflect the diverse customers we serve, so we recruit and hire employees from different communities. Career fairs, like this one, are one of the many tools we're using to reach out and connect with a large group of people with a variety of backgrounds, skill sets and experiences. And we've seen incredible success through this approach. We've hired employees at all levels within the organization following this event, so it's a wonderful resource for us. We also have great volunteers here from our Business Resource Groups and our recruiting team. It's a fun event that they love to attend.
What are some of the key things U.S. Bank is looking for in the diverse and inclusive candidate?
Our business is all about people; we help people achieve their dreams by providing the financial support they need during important times in their lives, whether it's through a home mortgage, a loan, or a new checking or savings account. When our employees feel comfortable and safe bringing their whole selves to work, they are in the best position to reflect and serve our customers and the communities where we live, work and play. We value every individual's unique perspective and want to make sure everyone here has a strong sense of belonging. We want to attract people who value the ideas of others, want to be part of a team and who do the right thing.
How was technology used in discovering that you were leaving people out before partnering with the career fair?
In Minneapolis, studies that other groups have done show that many local companies have an opportunity to attract and hire more professionals of color. This community has a great graduation rate and a great employment rate for the large population. However, the employment rate drops when it comes to professionals of color. We are, and want to continue to be, the best place to work for all people, regardless of race, ethnicity, gender, sexual orientation, or background. We will continue to attract a diverse talent pool by connecting with professionals of color at events, such as this one.
Is there any particular goal that U.S. Bank is trying to reach as far as diversity and inclusion are concerned?
We are proud of our ongoing efforts to attract, hire, and retain more women and professionals of color. However, there is always work to do. What made us successful in the past is not necessarily what will make us successful in the future. We do look at the diversity in the top 50 companies to help us with ideas. We have a great leader of diversity and inclusion in Ken Charles, who leads our global talent effort; and Greg Cunningham, who leads our D&I efforts. So, we're looking at all kinds of measurements, but overall, we want all of our employees to feel good about being at the bank, and to feel like they belong.