The specter of a Michael B. Jordan and Lupita Nyong'o romance has pop culture observers dizzy over its possibility.
The off-screen sparks between the Black Panther co-stars just smolders far too hot for the folks who have seen the pair up close and in person, as PopSugar.com and Elle magazine write, with the latter publication stating that "Elon Musk could fuel his next space car with the power of their mega-watt smiles coming into joyous collision."
Lupita Nyong'o and Michael B. Jordan are receiving rave reviews for their roles in Black Panther, yet folks are paying more attention to their obvious and charismatic chemistry off-screen.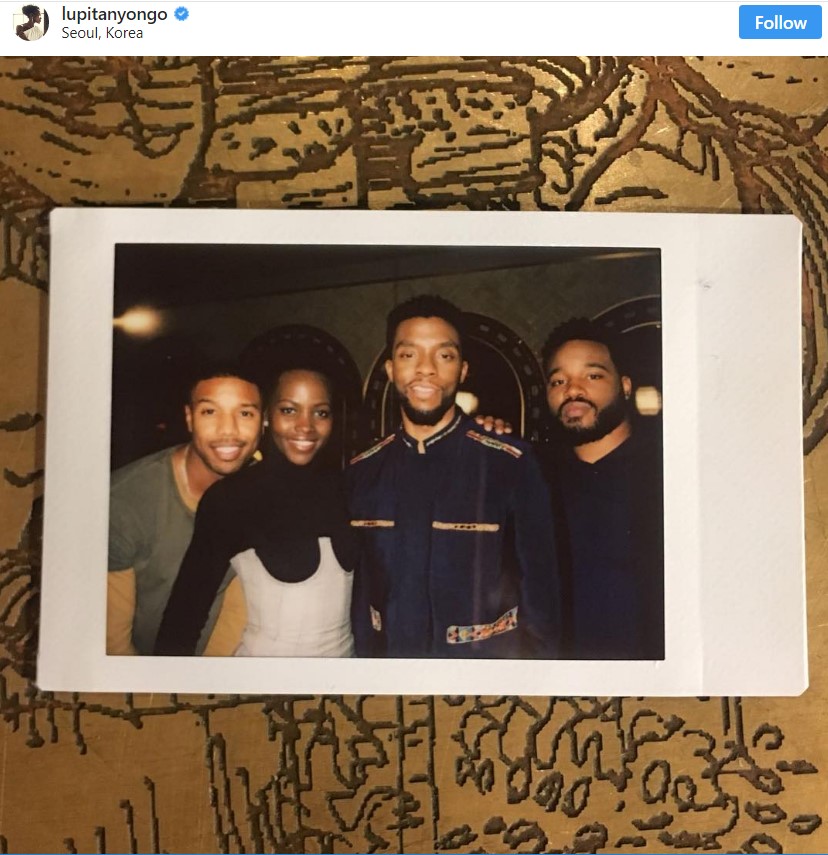 About a month ago, folks were trying to open up and dissect Jordan's private life like a medical school frog. Despite the fact the Creed star initially said he was "technically single," he later backtracked on his proclamation to admit that he's dating a woman named Ashlyn Castro, according to BET.com.
Nyong'o is very private about her love life — even though the paparazzi linked her to GQ fashion editor Mobolaji Dawodu. When the subject of her romantic life was broached in Vogue's January issue, Nyongo'o was classy in her evasiveness.
"You can ask, but you definitely won't get an answer. There have been rumors and rumors and rumors about my love life. That's the one area that I really like to hold close to my heart," she said.
The rumor mill went from third to fifth gear when they were spotted at a Marvel Studios event and Jordan lifted Nyong'o into her seat onstage and she planted a kiss on him, as you can see below, according to Marvel Entertainment.
They know how to make an entrance! 😎

Follow our Instagram Stories for more from the #BlackPanther @tumblr Q&A: https://t.co/lODeyvaDzj pic.twitter.com/Vva1lsEbRm

— Marvel Entertainment (@Marvel) February 13, 2018
The speculation ratcheted up even higher when Nyong'o delivered this heartfelt message to Jordan on her Instagram page:
"Imitation is the best form of flattery: @michaelbjordan, I admire your focus, your ferocity, your vulnerability and even your struggle to accept compliments. You work harder than you show, and you give us a window into your beautiful soul. Happy Birthday, from someone who loves you! And congratulations on the awesome @britishgq cover! #CoverCosplay."
Check out the folks who feel — or better yet, are trying to bring into existence a Jordan-Nyong'o power pairing.
"Every photo of the two of them together is so perfect, you would have thought it was painted by Amy Sherald and Kehinde Wiley."https://t.co/7kHRsyCgBQ

— R. Eric Thomas (@oureric) February 14, 2018
I know I'm a delusional shipper most days, but someone else had to have caught Michael lifting Lupita into her seat and her kissing him, right? I'm not crazy am I? 😩 https://t.co/ikdVmIgoin

— Ashley of Tribe Jabari (@WrecklessLove) February 14, 2018
I SHIP Michael B Jordan and Lupita Nyong'o and have spent way too much time evaluating their chemistry via social media posts 👀 it all started with this Instagram. pic.twitter.com/3cHQSFuNdy

— Kristina Rodulfo (@kristinarodulfo) February 14, 2018
i would DIE FOR LUPITA AND MICHAEL pic.twitter.com/3XFDy389bM

— nay 🤙🏼 | missing bp (@tomicksgard) February 18, 2018
Me waiting for Lupita and Michael to confirm the relationship pic.twitter.com/PJQ2SofSlE

— okoye's moon child 🌓 (@KillaKiaa___) February 14, 2018
Lupita Nyong'o and Michael B. Jordan are dating.

— #GetDreiTo22k (@AndreiDamane) February 15, 2018
I'm sure they're just friends but this picture of michael and lupita has me feeling some type of way 😩 pic.twitter.com/QrAslga2rD

— C. (@mindctrI) February 13, 2018
Michael B. Jordan and Lupita Nyong will give us a Wakanda baby…and I don't gaf about his Instagram gf or her z list bf pic.twitter.com/GFEspbbC5o

— broadband bloods (@brookcty) February 16, 2018
Michael B Jordan is only gonna use Lupita to squash the rumours that he doesn't date black women and when that happens and black women start to Stan him again,he'll drop her for his his white/Latin a queen

— #MORELIKEKILLTHISKOOCHIE (@themusiccypher) February 14, 2018
the romcom isn't dead it's just evolved into every single picture of Lupita Nyong'o and Michael B. Jordan in the same room pic.twitter.com/9O2GqFf1zU

— Angie J. Han (@ajhan) February 15, 2018
don't know what's going on but lupita nyong'o and michael b jordan would make a beautiful couple pic.twitter.com/1QQz9y6r9K

— s (@meratlants) February 14, 2018
I ship Lupita & Michael❤
They would make a beautiful couple 🙌

— Ebony Parks (@Derikaperrlie) February 17, 2018
The #BlackPanther costars have become really close friends. https://t.co/tCK7oI8r2F

— POPSUGAR (@POPSUGAR) February 19, 2018