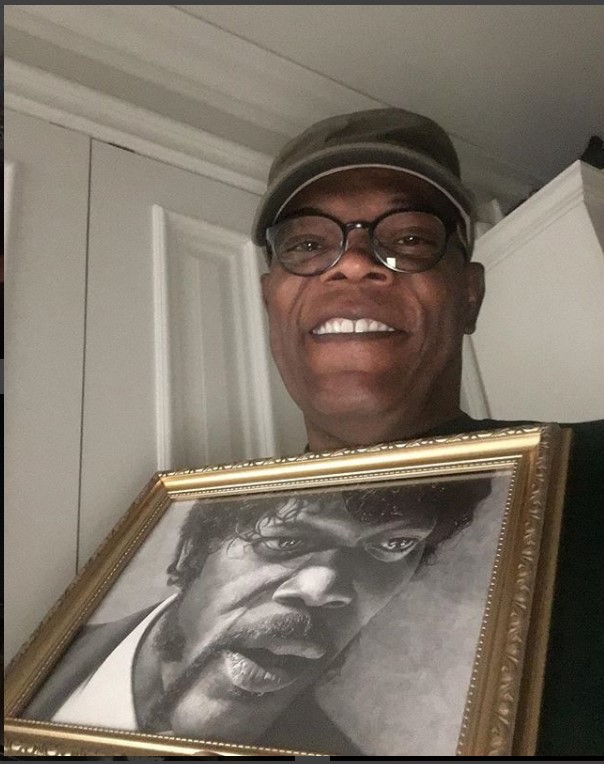 Oscar-nominated superstar actor Samuel L. Jackson channeled his iconic Jules assassin character from the brilliant but violent Pulp Fiction film when he bluntly and profanely responded to Donald Trump's assertion that we should arm teachers to prevent future school massacres.
"Can someone that's been in a Gunfight tell that M*thaf**ka that's Never been in a Gunfight, the flaws of his Arm The Teachers plan??!!," Jackson posted on his Twitter account.
Jackson is as famous for being an outspoken actor and spitting the phrase "What's in your wallet?" in Capitol One commercials as he is delivering the goods in each enthralling acting role he undertakes. As per his T-shirt below, the Do The Right Thing and Jungle Fever star already was feeling some kind of way about the 45th commander-in-chief before the tragedy in South Florida this month.
Jackson is but one of a throng of detractors denouncing Trump's backing of a proposal to arm 20 percent of teaching staff at schools. It's worthy to note that the proposal has long been championed by the National Rifle Association, which donated over $30M to his presidential campaign in 2016.
The Donald made the remarks during a White House listening session after deranged Nikolas Cruz used a wartime assault rifle to bludgeon 17 people at a high school in South Florida this month.
Lily Eskelsen García, the president of the National Education Association, told Education Week that solutions are needed to "keep guns out of the hands of those who want to use them to massacre innocent children and educators."
"Arming teachers does nothing to prevent that," she said.
Trump's daughter Ivanka Trump, however, told NBC News on Sunday that her father's suggestion of arming teachers is an option worth discussing.
"To be honest, I don't know," Ivanka said. "Obviously, there would have to be an incredibly high standard for who would be able to bear arms in our school. But I think there is no one solution for creating safety."