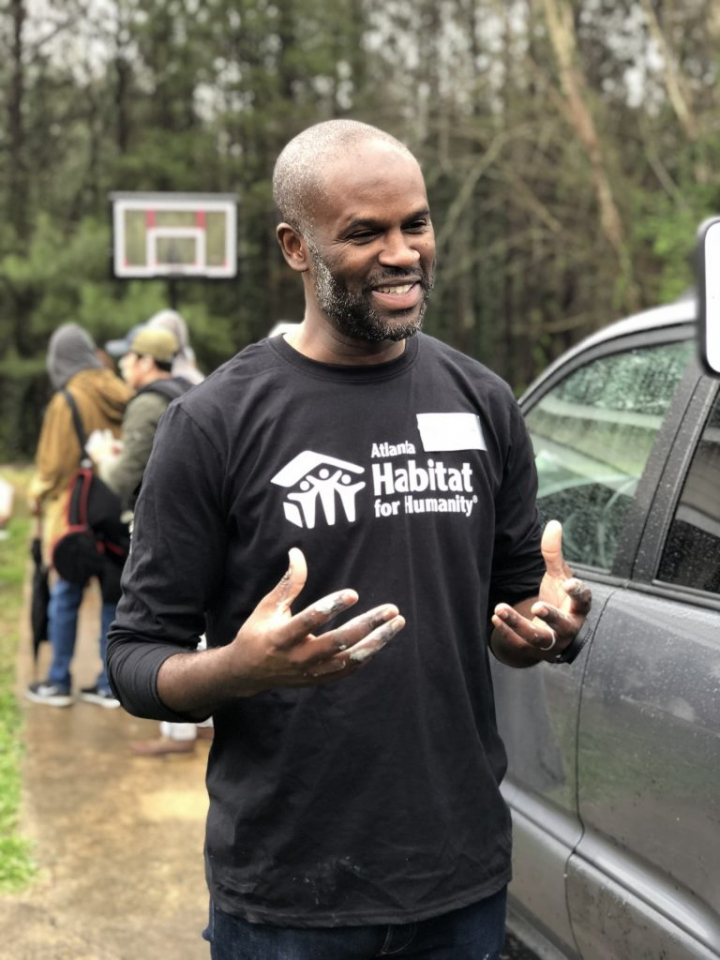 Two weeks ago, the Art Institute of Atlanta teamed up with the Atlanta Habitat for Humanity Brush with Kindness program to help homeowner Catherine Chandler. Not only did students and faculty of the institute meet at Chandler's home to paint the exterior and perform minor repairs, but so did the president of the institute, Newton Myvett.
"The Art Institute of Atlanta's key focus is demonstrating that being exceptional is the rule here," said Myvett. "The Art Institute of Atlanta now prides itself on being a nonprofit institution — and leaving an impact on our community and the world. It is our driving point."
Newton said the "exception" is about being "uncommon" and tied to the endeavors of the students making a difference in the community.
Read Myvett's interview below.
How long have you been at the Art Institute of Atlanta?
Well, I've been with the Art Institute for 15 years. I'm the institutional president for the Art Institute of Atlanta and its four branches, which are Charleston, [South Carolina]; Washington, [D.C.]; Nashville, [Tennesse]; and Virginia Beach, [Virginia].
You teamed up with the Atlanta Habitat for Humanity for their Brush with Kindness initiative. Why was it important to join this effort?
It was extremely important for so many reasons. It has always been my focus — even before the Art Institute became a nonprofit college— from the leadership standpoint to ensure that not only are we providing the right level of education for students so that they can graduate and be great citizens, but it's an important factor to make sure that they're engaged in the community and giving back.
We've always been involved in the community but now more than ever. It was so important in the story around Ms. Chandler and what she represents was really intriguing for us and very inspiring for us. We wanted to get out there and provide as much support as possible to ensure that we give her a better living platform.
What was that day like when you were out on the scene actually working on the property?
Some of my students were joking and they said, "Wow, [president] we didn't know you had that type of skills." It was a very inspiring day. I think the day started out where I always talk with my students about living through adversity.
So we got up that morning. It was raining and it seemed like an impossibility. We persevered through that. We stood in the rain and went through all of the prepping, and as fate would have it, the rain stopped long enough. We were able to dry the house off and then we got to work.
Ms. Chandler, she stated that … she was quite worried that morning. She just felt that she was not going to be able to get her house painted. She started looking out her window and she saw one car showed up and so many cars showed up [at] her home. She was quite happy about it. She's such a wonderful woman, so we're glad that we did that.
You grew up in the Caribbean?
Yes, I grew up in Belize, Central America and also in London.
Why did you choose this career path?
From a very young age, I've always felt that my mission in life was always to give back and make a difference. So when I became an admissions counselor over 20 years ago, it was very clear to me that this was the path for me where I could really make a difference and do something that I love.
I've been able to impact so many lives specifically because of my service mentality. I approach being a college president very different than the traditional perception of a president. So I know every single student on my campus. I have an open door policy. I'm engaged with them every single day. I always share with them that they're chronic for my soul, and so we have an authentic relationship. Such an inspiring way for me to live my life. There's nothing else I could see myself doing other than exactly what I do today.
Where did you develop that service mentality?
I just grew up in a household where the focus was always, "Hey, you know we've been privileged but there [are] many others that don't have that same privilege. So let's give back. Let's make a difference." But I think also that has to be built inside of you. That's what I try to do every day with these young students, making sure that they understand that part of building their brand is not just necessarily them becoming the best photographer or fashion designer but — "What do they stand for? What's their character?"
Those are some of the things that we teach outside of the classroom. So these community projects have been very instrumental in really driving that message.
If there was one thing in the world that you could change, what would it be?  
Well, you know that's a good question, right? I always feel like if there's one thing in the world that I could change I would say it's more so that if I could allow every single person that has the ability and talent to be successful in a certain area for the doors to be open for them. For them to have the resources necessary to accomplish their goals. I think for me the toughest part of my job or my career is when I meet a young creative and they're doing everything they can to be successful but then the financial part of it makes it difficult and they can't afford to stay in school. So I want to see everyone reach their goals and for those doors to be open for them.