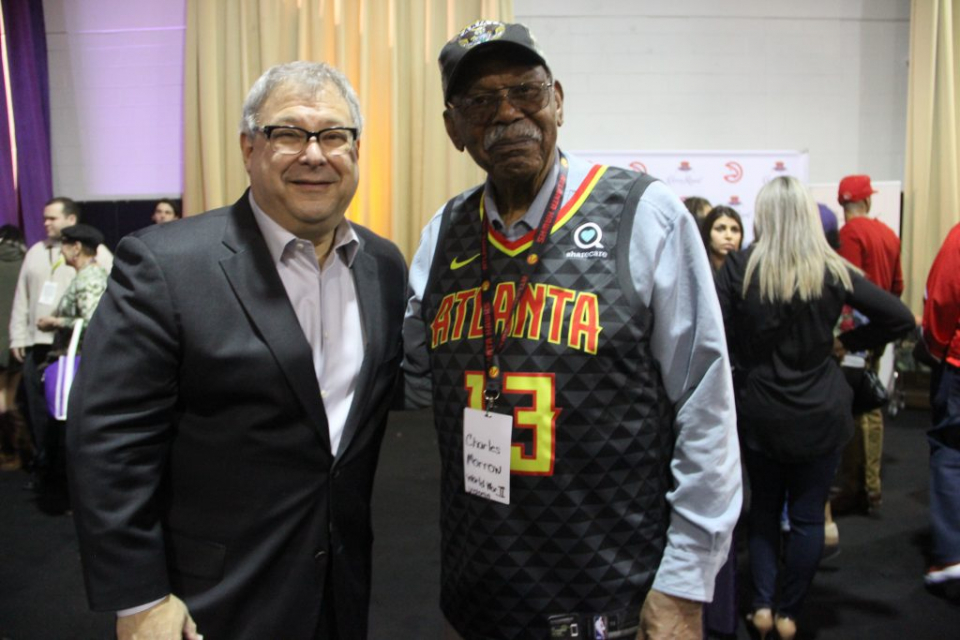 The Atlanta Hawks recently teamed up with Crown Royal to honor 60 veterans and active members of the military. Entitled Crowning Courage, the event featured a private ceremony where veterans were treated to a toast following an eye-opening discussion between Sgt. Wesley Hillis (US Marine Corps) and Stephen Wilson (director of Whisky Engagement for Crown Royal).
Following the ceremony, each veteran received a customized jersey and was able to witness the Hawks defeat the Phoenix Suns while sitting in court side seats that were donated by season ticket holders.
"Crown Royal has always had a long-standing tradition of honoring the men and women of our nation's military," Wilson said. "And it's one of the things on a personal note that has really touched me over all of the years I've worked on the brand. We partnered with the Atlanta Hawks for our second annual Crowning Courage celebration and we were able to invite veterans and also raise a glass to the memory of those who have made the ultimate sacrifice. It's important to say thank you. At Crown Royal, we believe that when you live generously, life treats you royally. And there's no greater act of generosity than serving your country. We say thank you and raise that glass and say cheers and celebrate everything that our brave men and women have sacrificed in order to protect our freedom."
See photos below taken by A.R. Shaw.