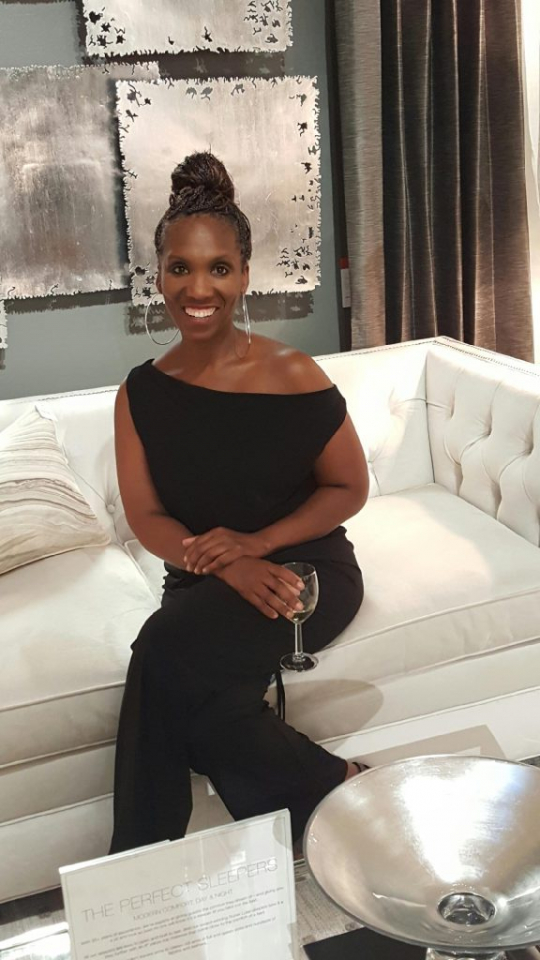 Melody Vaughn is the founder of Melody Vaughn Interiors, a full scale design firm born from a need to create spaces that heal. In addition to being an interior designer, she's also an experienced kitchen and bathroom designer, renovation specialist, art consultant and writer. Her work has appeared in New York Times, New York Post, Domino Magazine, and Luxe Magazine.
Vaughn's journey started in 2003 after she was laid off from her corporate job. She then went on to work for Home Depot where she became a certified kitchen and bath designer. After her stint there, she went on to start her own company, Harmonize Your Home, strictly designing kitchens and organizing closets. Following her passion to reach further in her career, she moved to New York, where she was afforded the opportunity to work for Mitchell Gold + Bob Williams as their interior designer and sales manager. And after proving to the world and herself that she could do it, she then started her own unique business journey, Melody Vaughn interiors.
Vaughn believes that every home has its own rhythm, which the décor should beautifully reflect. She prides herself on designing each project to become a human sanctuary for its owners.
Rolling out spoke with Vaughn to discuss her personal thoughts on being a successful woman of color, what she considers her special superpowers to be and other successful tips. Check out her interview below.
As a Black woman/woman of color, what do you consider your super power?
As a Black woman, my super power is faith. Sometimes, it's as small as a mustard seed. But sometimes that's all we need. Each day, I wake up knowing I have purpose, I have the faith to live my purpose and that my purpose matters.
What key skillsets or qualities makes you unique as an African American female leader? 
My key qualities as an African American female leader are optimism, positive attitude, passion, courage, accountability, stick-with-it-ness — being willing to change things but never giving up, and always seeing the beauty.
What thoughtful/encouraging piece of advice would you give to your younger self? 
I would tell my younger self that she is enough: smart enough, pretty enough, strong enough. She is enough. No need to force it, no need to doubt, just be and know she is enough.
Why is it important for women of color to lead and/or work in leadership roles and decision making capacities?
It is important that Black women lead because we naturally advocate for others. We are trendsetters. We play a vital role influencing mainstream culture. We need a seat at the table and our voice needs to be heard.
If you could thank any Black woman history maker for her contributions to society, who would it be and why?
I would thank B. Smith (Barbara Elaine Smith) she has done it all from [being a] model, restaurateur, author, television host product designer, [and a] lifestyle maven. She was the first Black women that I saw in my field of interior design that continued to reinvent herself and stay relevant. She showed the world that Black people want beautiful homes and want the products in their homes to be designed by other Black people. I want to thank her for her grace and elegance. In spite of her personal heath challenges, she continues to reign.
Why is it important for the more matured, seasoned and experienced Black women to reach back and help younger women of color?
It is important that we as seasoned, matured experienced Black women reach back and teach because it is our responsibility. We must continue to share our gifts and our lessons with young black women.  We must break the stereotype of not caring and supporting each other. We must help create a pathway for future black women leaders.
How do you feel about the hashtag #CollaborationOverCompetition? Great hashtag. I've had the misfortune of being in a competitive situation where I thought it was a loving collaboration. The lesson I learned from that experience was to be extremely clear, choose your words and actions carefully. Collaborations are key ingredients to consistent success but must be handled with extreme care.
What qualities or values do you deem indispensable in your business partners/collaborators?
Clear communication. It's a must.
What are your thoughts on taking risks? Risks make faith possible.
What about making mistakes?
Mistakes will happen. Own them. Take responsibility. Learn and recover. It's about growth.
What are three success habits you implement into your daily routine to maintain your success/sanity/peace of mind, etc.?
My three success habits are practicing mindfulness through prayer, meditation, journaling. Exercise and seeking beauty in everything!
As a successful woman in business, what is your greatest/proudest achievement? My greatest/proudest achievement as a successful businesswomen is that I've established a business that heals homes through design [named] Melody Vaughn Interiors. I feel blessed to do what I do.
Who is your biggest inspiration? Why?
My father is my biggest inspiration. He used his gift to create beauty.
If you could have any person in the world become your mentor, who would it be and why? I would love for Carla Harris of Stanley Morgan to be my mentor. Many small business fail because they have the passion, but not the business sense … Carla has the business sense/ knowledge that would balance my passion and creative spirit. She has played the game well and won. She makes no excuses for being strong black intelligent, spiritual, creative woman.
For more information on Melody Vaughn Interiors, please visit https://www.melodyvaughninteriors.com/