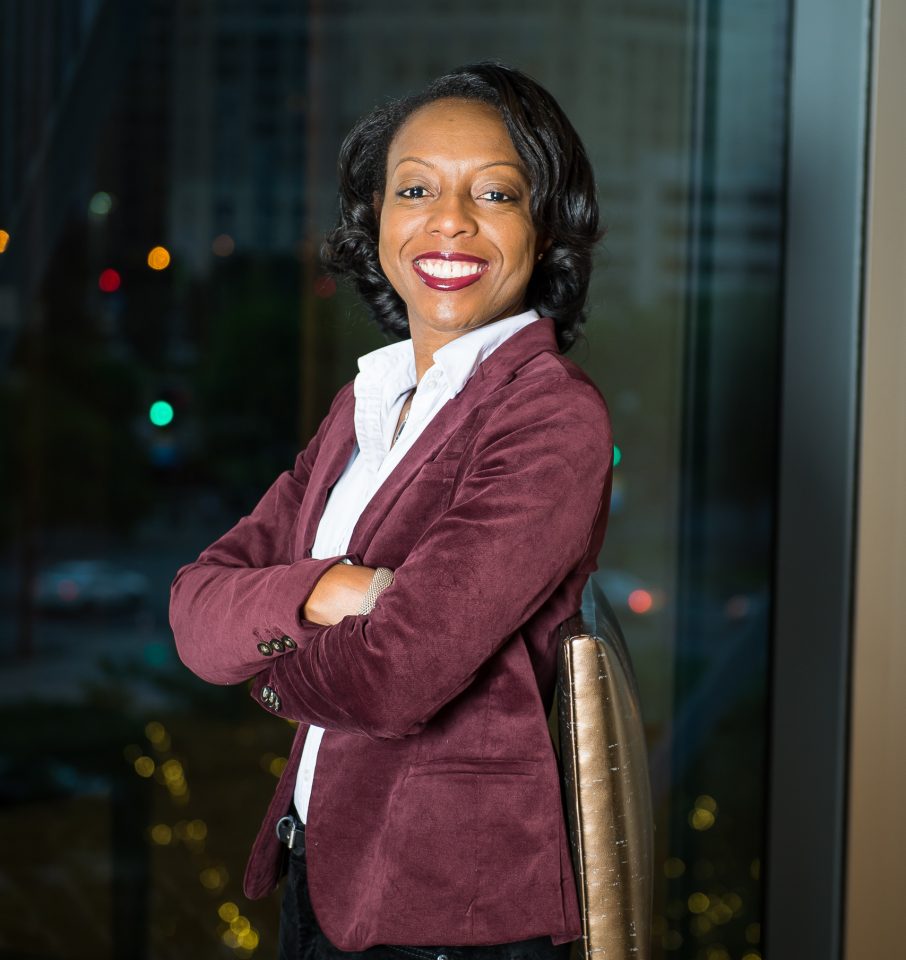 Marachel Knight has worked her way up through the ranks at AT&T over the past two decades from a "fresh-out-of-school dreamer", to her current role as senior vice president for wireless and access engineering, construction, and operations. When it comes to the race for 5G, she's at the front of the pack as she spearheads the company's path to even faster network speeds. In addition to leading the efforts towards being the first network being born in the cloud (5G), Knight serves on the board of directors for the National Action Council for Minorities in Engineering, Inc. and on the advisory board of After School Matters. The Florida State and Carnegie Mellon alum continues to find time to give back to her community by volunteering to mentor professionals and work with the youth.
Knight, who holds two patented inventions, one for Systems for Use with Multi-Number Cellular Devices, and another for Messaging Forwarding System, has also earned many industry accolades, including recognition as a 2018 Rising Star in Wireless, and Black Enterprise's 2018 Top Tech Influencers. Knight also co-established and is a national advisor for Advocates for Women in Tech, an AT&T employee resource network.
We talked with Knight about her time at AT&T, their partnership with the Essence Festival, their Dream in Black Campaign, which "was born out of a brand desire to inspire and connect with the Black segment," and so much more.
Briefly describe your journey to becoming a top African American female leader at AT&T.
My journey, which began as a fresh out-of-school dreamer on the doorsteps of corporate America, would never had blazed this path without all the tremendous people along the way. This includes peers, supervisors, sponsors, mentors and teams: all people that have been critical in my career success. Building strong relationships is an intentional process and doesn't always come easy. It begins with showing vulnerability, gaining trust and bringing your whole and real you to work every day. Hard work, focusing on delivering results the right way and embracing new, and sometimes scary, opportunities, has proven to be invaluable in my career. Especially when combined with never losing sight of my dreams. Of course, I'm also fortunate to work for, grow and develop at a company like AT&T that holds diversity and inclusion as a core value. It hasn't been easy, however that has made the journey all the more worthwhile.
How important is it for African American women to pursue a career in STEM?
What's most important than any specific field is to first pursue your passion. Now, if your passion lies in the STEM field, even better because we need you. The shortage of women and women of color in STEM is no secret, and it's something we have to fix. The culture and business results across all technology fields only gets richer and more vibrant with a diversity of voices, ideas, perspective, and insights. Embracing diverse minds helps us think through challenges and lead in new and innovative ways.
Why is it important for seasoned African-American Woman to reach back and help younger women of color?
It's not just important, it's a responsibility. Even beyond the tangible impact of mentoring and guiding others down their own chosen path, it is the powerful example you set as a visible role model. The art of the possible becomes solidified when you look around and see someone that looks like you in a leadership role, career or specific position for which you aspire.
What do you consider your superpower to be?
Perseverance with grace. That reference covers a few things, including having the strength of practicality, and who really wants to tout the superpower of being practical! However, it does provide an underlying confidence that is tied to a willingness to take on challenges, an ability to learn, apply and do so in practical and graceful manner. Perseverance with grace also includes owning your destiny, others will help me along the way, but I own it.
Talk about your partnership with the Essence Festival. How long has AT&T been involved?
AT&T has been a major sponsor since 2017. Last year we expanded our corporate presence with more executives attending and even our business team hosting a session for entrepreneurs. I've attended this event several times and I'm proud to represent our brand. There's a vital connection that underscores this isn't just a story we tell, but a demonstration on how we walk the talk.
What is AT&T's Dream in Black campaign? 
Our Dream in Black campaign was born out of a brand desire to inspire and connect with the Black segment. It has grown into a customer and community engagement platform celebrating Black excellence where success can look like anything that can be imagined. Rooted in the intersection of technology and culture, Dream is Black celebrates the culture as well as individual definitions of success. I believe we're in the midst of a Black Renaissance that is bursting at the seams with new possibilities and opportunities. While there is a tremendously challenging road ahead, I see the voices, gifts, talent, creativity, and innovation of Black people breaking through in a way it never has before to influence the economy, society and culture.
If you could give three pieces of advice to people of any color chasing a dream, what would it be?
Success begins with a having a dream and then having the confidence to chase your dreams. It takes real action to productively chase a dream and that starts with a willingness to take risks:
looking past the negative and seeing the upside of trying something different or
stepping outside of your comfort zone.
It takes risk to believe in something you can't see, touch or experience yet.
Second, build relationships. No one succeeds alone. Understanding the value and authenticity of helping others and letting others help you is vital to realizing your dreams.
Finally, be resilient. I learned this lesson early in life through my parents and it's a powerful ally. Just keep moving forward and don't give up, or as my father would say, "keep your head up."