Music has always been an outlet for Calesha "Bre-Z" Murray, for as far back as she can remember. Beginning in high school, when she borrowed her brother's rap book to rhyme with, to competing and winning in talent shows, she knew music was it for her. What she didn't know at the time was that acting was also in the cards.
Born in the gritty streets of Philly and raised just down the street in Wilmington, Delaware, Bre-Z grew up around hustlers. She comes from a family of barbers: her mom, dad, and grandfather were all barbers. She eventually became one as well to make ends meet. However, her love of music never left her as she continued to work as a barber, and as luck would have it, some of her clients owned a studio two doors down from the barbershop she worked in. As soon as she would leave work, she would literally run to the studio to record a verse or two. She never let her dreams of pursuing a music career die.
There's a well-known saying that "dreams don't work unless you do," and for Bre-Z, once she decided it was time to step it up a notch, she moved to Los Angeles to chase her dream — with only $1 in her bank account. That's when the magic really started to happen for her. Through her barbershop connections, she was able to land an audition with the hit show "Empire," as they were looking for a rapper. Her barbershop connection was able to secure an in-person audition with both Leah Daniels and Lee Daniels. She ultimately landed the role of Freda Gatz on the show, a hard-core rapper who happens to be the daughter of the late Frank Gathers, a cannibalistic drug lord and nemesis of the Lyons. The rest is herstory. Murray's dynamic rap skills and natural acting ability skyrocketed her from being a girl in Philly with a dream to national stardom. Now, everyone knows her by her name: Bre-Z.
Bre-Z is dropping her new album, The Girl, in the first half of this year on her own independent label. The album features a hot single, "Best of Me," fashioned after Jay-Z and Mya's song of the same title. The single features Lil Mo on the hook and is sure to be a banger.
You talk about dreams. When did you initially have this dream of becoming an entertainer — whether it was music or acting?
I was probably about 5 or 6 years old when I had the thought and the actual vision that I was going to be somebody. I didn't know what it was and in what capacity I would be doing it in. But I knew that I would be right here. My mother was very involved in the entertainment business. So, I woke up to [seeing] Wu-Tang in my living room. Things like that, with my mom just constantly being in the mix. You know, I was just bright and bubbly, and talkative. It was one of those things. I knew it would happen.
When it comes to the music scene, Philly takes it very seriously. Philly is the type of city that doesn't hold back on telling you the truth. When you were out there, when did you know that you were actually good at music?
It's crazy for me because I remember being in high school and my brother used to rap. We're about two years apart, but I took his rap book one time, and I went to school and I was rapping all his s—.  And of course the content was very street, you know, drug dealers, it was that type of thing. But one thing about the culture of music in that Tri-State Area is that people want to know what you're talking about. It was very lyrical. So, I'm running around for maybe like two years, just spitting my brothers s—, until I started writing it myself. Then, once I started writing it myself, I started to get the attention.
I was maybe about 16 [when] I met Freeway. That was when State Property and Roc-A-Fella [were] having their run. It was like the mid-2000s and I was like, "This is it!" So, I mimicked a lot of stuff until I was able to get it on my own.
How did you end up getting your big break on "Empire"?
Maybe around the year 2014, I moved to L.A. from Atlanta just to change the scenery and still continue to pursue my dream and music. I was cutting hair as my occupation. With that alone, I made so many connections with people. So, once I got there, a client that I knew called me and asked me if I had heard of the show. And I was like, "Of course. Who hasn't!?" So, he was like, "Yo, they're looking for a female artist. You should send me some pictures and some songs." It was like seven in the morning, and I sent it and just didn't pay it no mind. Later on that day, he called me and said he had some good news and some bad news, and asked me which one I wanted first. I was like, "Bro, it don't matter. Just tell me whatever you're talking about." He was like, "Well, they think the music is trash, but they're willing to give it a shot. And they liked your personality. They loved your pictures." And I was like, "Whatever, bro … I know they didn't say my music was trash — like you [are] trash." No, but seriously — I get real defensive [about my music]. But after that, I went to audition the next morning for Leah Daniels, and I didn't know what I was doing. I had literally just received the script moments before I had walked in, and I just tried to wing it. I was reading off the paper. She asked me when I got the script, and I told her, "Like five minutes ago; it was on the table." Nobody had told me nothing; nobody had given me an introduction. I understand there [are] actors out here; they prep for this stuff. I didn't know what I was doing. Then, she was like, "Go study it for a few hours; then come back." Then I came back and I was able to read off the book without the script. Somebody was in the room and said "… she raps. We're focused on the music. We need the music. Let her rap." Then I rapped exactly what I had sent them via email and that was that.
Since your debut on FOX's "Empire," fans have assumed you were a lesbian, considering your character Freda Gatz is a young lesbian rapper. Why have you opted to not discuss your sexuality?
I choose not to discuss my sexuality because I've chosen to use my platform to display my art, talent, and to be of some light to those who follow me. I believe sexuality is one sure thing most young men and women struggle with at some point growing up. Freda Gatz was a visual display of a young woman determined to find her way in life. The character was never seen with a woman, she just appeared to have a harder exterior. Regardless of what you give, people will develop their own perception. For me, my role on Empire is something that people assumed to be real lol, I'm still just a woman with everyday struggles like everyone else.
As a female in the entertainment industry, how has your sexuality played a part in your interactions with men? Women?
I'm not sure that I can tell you that it has. My sexuality is not something that is a "thing" when you speak of Bre-Z. I think it varies depending on the person and what they display to the world. As a woman, I will never volunteer the things I do intimately with anyone. It's just tacky. People essentially give me exactly what I give them, which is love and respect for a shared interest.
Why do you think it was important for "Empire" to portray a presumably lesbian rapper on the show? 
"Empire" displayed what was real in our communities. A lesbian just happens to be one of them. The great thing that our creators (Lee Daniels, Danny Strong, Illene Chaiken, Sanaa Hamri) did was zero in on all walks of life in the Black community. Sexuality was one of them. I believe it was important to show that there's always more to a person. You don't have to like their choice, but we should accept and be supportive.
With the success of artists like Young M.A, AzMarie Livingston, etc., how do you think the industry is responding to increased sexual diversity?
I think the industry is just fine. Sexual diversity has always been around, they've just taken the blanket off of it. What you're seeing now is freedom of everything — in its truest form.
Let's talk about your music. You're dropping new music on your own independent label. Why the independent route? 
I chose to go the independent route because I know what I want. I know what I want to create. And I didn't want anyone to get in the way of my creativity because then it confuses me.
When will the album drop?
I'm thinking the first [half of the year]. It's called The Girl. I'm starting with my first single; it's called the "Best of Me," featuring Lil Mo. I decided to drop this one first because it's just such a representation of what I like musically. It's a play off of Jay-Z and Mya's "Best of Me," very early 2000, summertime, top-down, women can relate, men can relate and the lyrics are very unisex.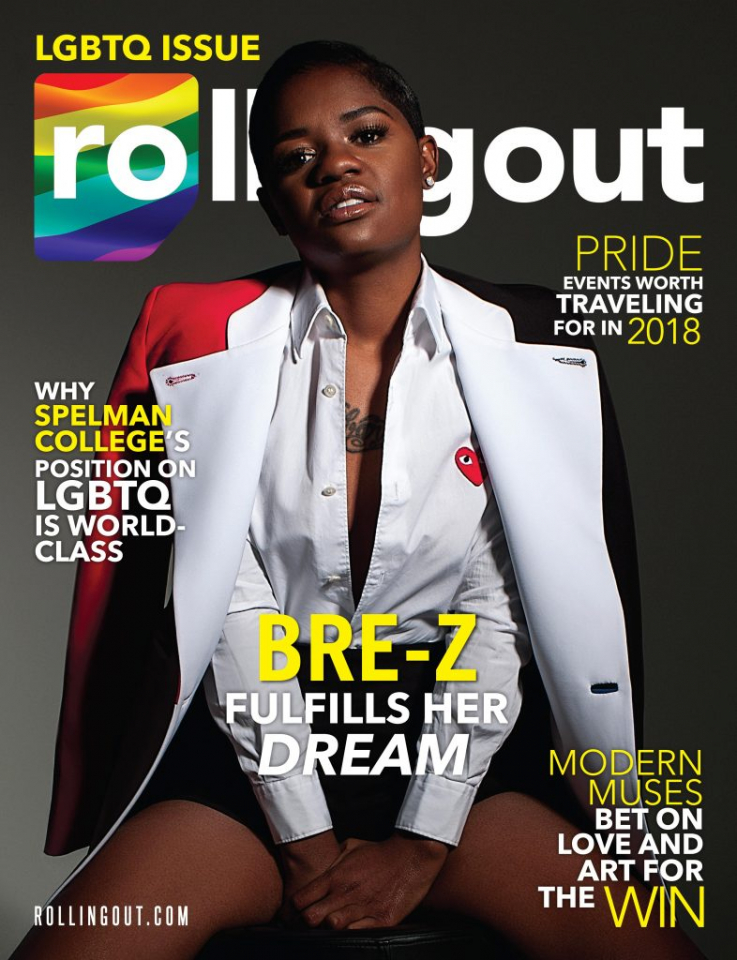 Follow Bre-Z on FaceBook @WhoIsBreZ, or on IG and Twitter @brezofficial. Catch up with some of Bre-Z's music on SoundCloud via https://soundcloud.com/brezofficial.