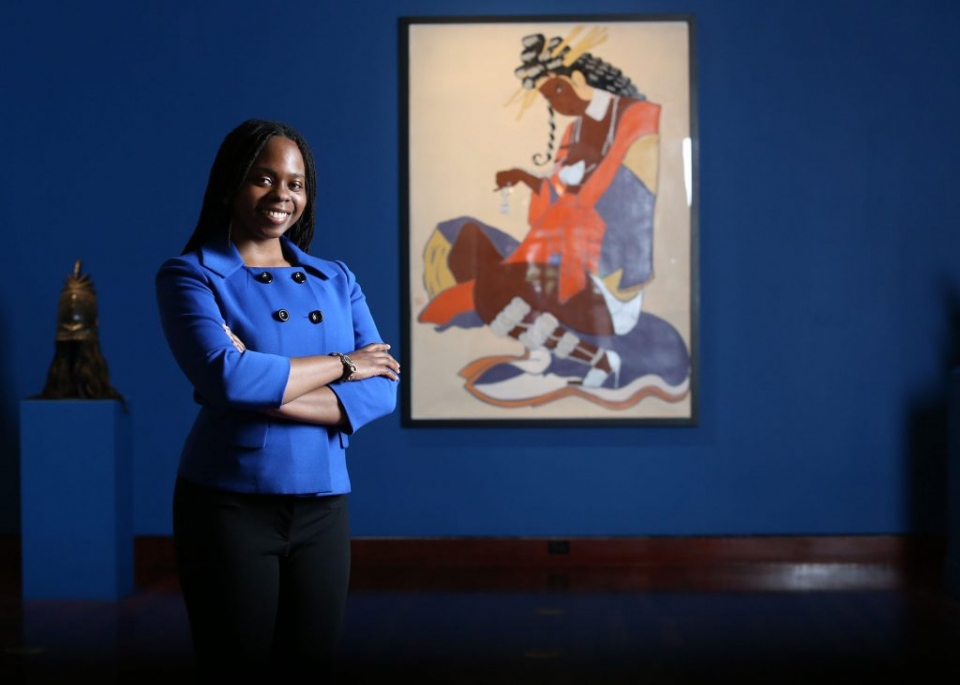 Makeba Dixon-Hill's love for museums started at a very young age when she would visit the High Museum of Fine Art and have lunch on the lawn with her mother on a monthly basis. She recalls these early experiences as being amazing. "I was spending time with one of my favorite people, surrounded by art that told stories and transported me to different places," she said.
For Dixon-Hill, this love for museums has grown into a career, as she is now the curator of education at Spelman College Museum of Fine Art, and the first employee at the college who's dedicated to programming and public engagement.
In her role, Dixon-Hill is responsible for implementing innovative ways for the museum's diverse stakeholders to engage the institution's featured exhibitions and permanent collection. She creates learning programs and customized tour experiences that include art-making workshops with students and faculty docents.
"I plan, organize, implement, and evaluate programs and contribute to increasing visibility and communicating that the Spelman College Museum of Fine Art is the only museum in the nation that emphasizes art by and about women of the African Diaspora," she says of her role.
She has also served as a liaison with the college and has developed several educational initiatives that have helped broaden the museum's impact on campus, which include, but are not limited to
Through Her Lens: A series of programs that partner with women and girls to explore topics of creativity, teamwork, self-care, and self-esteem;
Yoga in the Museum: A weekly free all levels yoga class, led by certified yogis of color in the museum.
Black Box: A presentation of in-progress works that focuses on the art and culture of the African Diaspora
Rolling out spoke with this innovative sister to find out what she considers her super power and also to glean some nuggets of wisdom and inspiration.
As a Black woman, what do you consider your super power to be?
My ability to creatively show my compassion for others by aligning their needs and desires with growth opportunities.
What thoughtful or encouraging piece of advice would you give to your younger self?
Use your words, baby girl. Express yourself verbally when you take issue with something, [or when you] are unclear about its relationship to your goals. [Express yourself] when opportunities are exactly what you want them to be and you are overjoyed that it's in front of you. Don't obsess over saying "it" right; direct your attention to saying "it" truthfully.
Why is it important for women of color to lead and/or work in leadership roles and decision making capacities?
Because it's our birthright and something we've been doing since the beginning of time. I'm particularly interested in promoting and cultivating leadership skills at all the levels of human development because leadership begins before the amazing opportunity appears and it will be there when it goes and you are preparing for the next one(s).
If you could thank any Black woman history maker for her contributions to society, who would it be and why?
I would like to thank Shirley Chisholm for being a stellar example of how to respond to a need. As the first Black woman elected to the United States Congress, the first Black candidate for a major party's nomination for President of the United States, and the first woman to run for the Democratic Party's presidential nomination, Mrs. Chisholm rejected the titles put upon her by naysayers and adversaries and embraced the strength, dignity, self-worth, charisma, and commitment to education instilled in her by her family to change the world. Her work placed our children in their rightful place: in our forethought and in the pupil of our eyes, and for that I love her.
Why is it important for the more matured, seasoned and experienced Black women to reach back and help younger women of color?
Everyone wins when you do, and collectively winning is a sweeter, more expansive feeling than being successful alone.
How do you feel about the hashtag #CollaborationOverCompetition? What qualities or values do you deem indispensable in your business partners/collaborators?
100% agree that it's time to embrace and promote working together fiercely, unapologetically, and publicly. My ideal partners/collaborators are results-driven, hardworking, [possess] follow through, possess integrity, are a joy to be around, and are good at what they do.
What are your thoughts on taking risks? Making mistakes?
These words on a greeting card were ones that I returned to over and over again at a point in my career where service, mentorship, and productivity were simultaneously at an all-time high and formally new for me:
In this house…
We are real
We do our best
We make mistakes
We say "I'm sorry"
We forgive
We have fun
We give hugs
We do loud really well
We are patient
We are creative
We love
What are three success habits you implement into your daily routine to maintain your success/sanity/peace of mind, etc.?
I prioritize my health
I pray
I listen and give my undivided attention to the people I spend time with
If you could have any person in the world become your mentor, who would it be and why?
Barbara "B." Smith for her grace, pleasant disposition, creativity, style, business acumen, longevity, and love for all people.