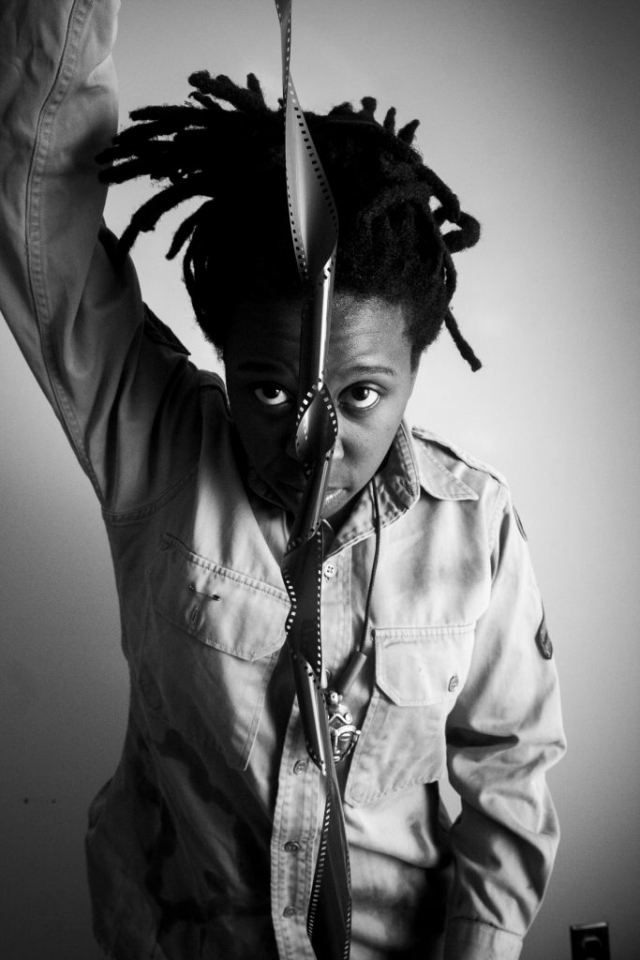 Nancy Musinguzi first picked up a camera at age 15. She started documenting her life, peers and her Somerset, New Jersey, suburb. Today, the executive director of Brick x Brick (BXB) "experiments with both traditional and emerging processes in documentary art to create visual 'living' histories of under-recognized voices and under-represented perspectives in culture that give deeper context to the contemporary American experience," she explains.
Musinguzi is a first-generation queer visual storyteller, mixed-media artist and freelance photojournalist working and living in Minneapolis. She merges her interest and passions in human rights, community organizing, music, art and history.
Read what else she has to say.
What is your company's mission?
BXB is a visual media company and online community hub for emerging visual artists built to improve and standardize hiring practices within the creative industry, while providing clients with high-quality creative production.
What is your day-to-day like at work?
No day is the same. Sometimes, I'll be freelancing solo on client work, mostly serving local non-profits or community organizations. Other times I could be collaborating with other artists on an internal creative project, or contracted to workshop with youth. Other times, I can spend an entire week not touching a camera. Or, I can spend the same amount of time dedicated to business development, networking or supporting my interns.
Freelancing has been one of those experiences in my life that has transformed my attitude about labor, both as an independent artist and small business owner, recognizing that I am the captain of my own fate. Irregardless of what I am tasked to accomplish, the work is always rooted in empowering others to do what they are most passionate about, producing real-world impact in community that serves a higher purpose than to procure profit or please clients.
What inspires you to show up at work every day?
The desire to remain independent and self-sufficient as a young professional creator, but also to open doors for other artists like myself who aspire to experience that same autonomy while navigating the balance between creativity and work ethic. Freelancing feels like true freedom because it allows me the adequate time I need to improve my individual art practice and discover new ways to engage or empower others. The inventive, spiritedness of young creators, especially Black/Brown/Indigenous/Queer/Trans creators, to use what they have to create change in their communities inspires me to be fearless and unapologetic in the mission I'm on to design a world where artists can thrive and are treated with the same esteem as social entrepreneurs. Where fairness, inclusivity, community and creative disruption remain at the core of one's work.
How did you determine your career path?
I don't think I've determined my path, I simply began to embrace the journey of it. I entered college with the rigid mindset that I would graduate with a degree in Political Science and French, go to law school and become a human rights lawyer working with NGOs to rebuild communities in post-conflict societies in West Africa. Super narrow, right? Well, the path didn't really change, just the tools and means to accomplish the goal of using my voice to advocate on the behalf of others for better treatment and support in their communities did. After switching from Political Science to Anthropology, I began to understand catalyzing social change in the world as a holistic practice in community outreach and engagement, inviting members of a community to shape that process of creating change, not simply operating within a bubble to manipulate systems to reflect one's point of view in what "acceptable" forms change looks like. Applying those principles to visual storytelling and documenting grassroots movements in communities around the country, the camera has taught me hard lessons in the distinction between the two and has improved my vocabulary with language to expand the human imagination of what the world can be rather than what it should or should not be.
Did you go to school to study photography?
I did not study or take any courses in photography with formal instruction. Documenting the streets, underground music scenes, and emerging social movements in Minneapolis, New York and Newark have functioned as my higher institutions of learning.
How long have you been a photographer?
Twelve years. Four years as a freelancer.
What or who got you started in photography?
My parents. My father from Uganda and my mother from Liberia, my family were natural storytellers, sharing experiences of growing up in Sub-Saharan Africa and moving to America in the 80s during a time of great global social, political and economic change. My father gave me his Yaschica FX-3 film camera, and two rolls of color Kodak film on my 15th birthday, and I've been relentlessly documenting my world, and other's, to develop an authentic record of lived personal history, ever since.
How would you describe your style?
Candid. Dynamic. Timely. Raw. Energetic. Transparent.
What's your specialty?
Documentary, primarily dynamic portraiture that marries subject and environment to create deeper context and reveal the invisible layers of one's humanity that the eye simply cannot recognize by glancing or gazing.
What gives you ideas and inspires you to create great imagery?
Listening. I make it a point to put down my camera to be present in my environment and fully experience a moment with all of my senses. Photography is more than just seeing. It's a careful process of unveiling what is not understood or familiar on the surface. I think it's so important, especially as a documentary artist, to be a part of what you are capturing so you can truly affirm the angle of your perspective. When documenting sensitive moments like protests or intimate rituals like prayer before convening a community meeting where cameras could possibly feel intrusive or even disrespectful to a subject, it becomes a dance of ethics, of confidence, but it eventually grows to be a natural part of you with time and experience.
What has been your most memorable assignment and why?
During my first artist residency program with Youthprise, a local nonprofit here in Minneapolis, I created an independent project called "Stories of Diaspora," where I collected multiple stories of young Liberians, immigrant residents, community leaders and organizers that shared experiences with violence and ways the state silenced their political voice during the Ebola crisis. The goal was to capture the contrasting and parallel experiences of young people and their particular relationship to silence, Diaspora, and violence, exploring ways in which communities respond to issues that impact a community both domestically and internationally. The outcome was a photo book containing individual portraits to visual documentation of the day-to-day lives of each person that captured these unique voices over the course of 11 weeks that functioned to humanize the narrative of violence and crises management from their perspective. Beyond it being incredibly fun, engaging and energizing to create work that was both personal, empowering and reflective of my own identity, the project helped me create stronger connections between older and younger generations of immigrants and make space for others to share their individual experiences to maintain that growing relationship. I accomplished my ultimate goal by acting as a living example for aspiring youth artists to build stronger senses of self by doing work that fuels their passions, to demonstrate that their voices and lives truly matter, that ideas are worth transforming into workable plans of action, and encourage young people to stand up against blatant injustice using constructive methods that both benefit themselves as well as the world they look to change.