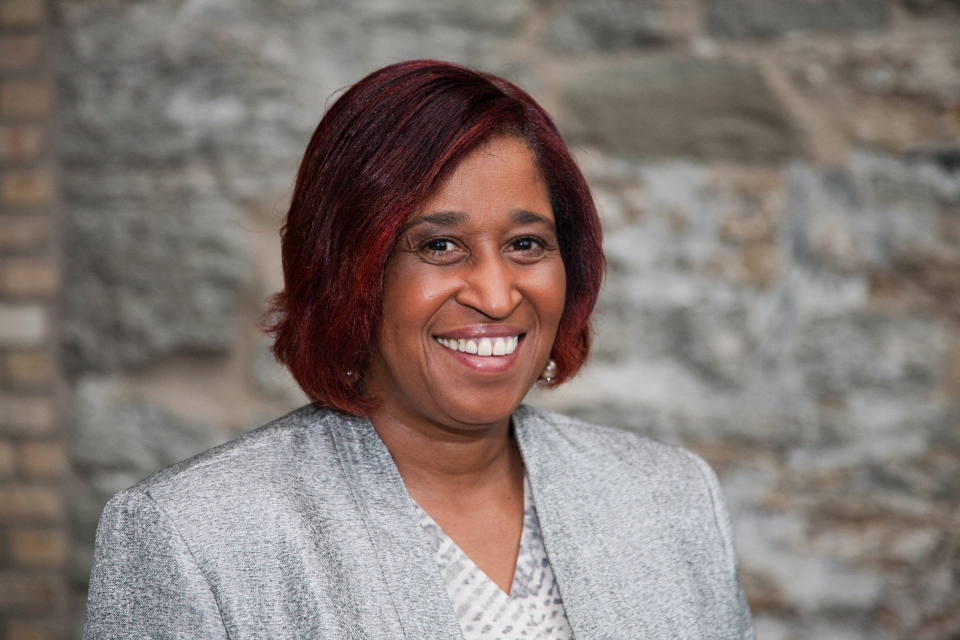 Youthprise boasts of being the only youth-centered philanthropic organization in Minnesota. A nonprofit established by the McKnight Foundation in 2011, Youthprise is committed to harnessing the collective ideas, resources and capacity of the Minnesota community — including youth — to promote more systematic approaches to delivering and supporting high quality learning opportunities beyond the classroom. The stated mission of the organization is to champion learning beyond the classroom so all Minnesota's youth thrive.
Meet the president, Wokie Weah.
Please describe your role as president of Youthprise.
Youthprise is a youth-centered philanthropic organization dedicated to reducing disparities with and for Minnesota youth. As president of Youthprise, I share leadership with the board of directors in overseeing Youthprise's programs, policies, and practices. Our board has 50% youth representation and youth/adult co-chairs, so that means I lead the organization in partnership with youth. We strive to achieve impact in three areas: learning and leadership; economic opportunity; and health and safety. Our strategies include funding, capacity building, research, and policy advocacy. We work on multiple levels supporting nonprofit organizations that serve youth, city, state, or regional initiatives, or providing support directly to young people.
You have a unique name — Wokie Weah. Based on the definitions I saw, your name fits your current role — friendly, likable nature with great persistence who hates to give up. You are a good mixer, charming, magnetic and intuitive. Would that be an accurate assessment?
Yes, flattering and accurate. The one caveat I would add is I am persistent about things I am passionate about and that includes youth leadership and racial equity, the twin engines that drive our work.
What aspects of our work particularly resonate with you?
I love that you are giving a platform to people of color in the Twin Cities and that you are encouraging networking, information sharing, and cross-sector collaboration. Your emphasis on inclusion, partnerships, and cultural identity is needed in the Twin Cities and very much appreciated. I think Minnesota is poised to be a great global powerhouse. Our diversity is our greatest strength and I am excited that rolling out is intentionally building bridges and connections between our diverse populations.
What is the mission of Youthprise?
Youthprise was established late in 2010 by the McKnight Foundation with a mission to champion learning beyond the classroom so that all Minnesota youth thrive. During the ensuing years we have focused on executing our mission with an explicit emphasis on racial equity and youth leadership, dedicated to reducing racial disparities with and for youth. We are embarking on an exciting process with our board of directors to refresh and align our mission with our current activities. Stay tuned for a refreshed mission, vision and brand that is clearly aligned with our investments and strategy.
Why should youth in the Twin Cities know about Youthprise?
They should know about Youthprise because we have awesome opportunities for young people to be authentically engaged. We actively recruit young people between the ages of 16 and 24 to serve on our Board. We are committed to ensuring that youth are part of our staffing structure. We invest in nonprofit organizations that serve youth but we also invest directly in young people who want to bring about change within their communities. We have a youth-centered Summit on an annual basis. And lastly, we have an active and vibrant social media presence that highlights issues that are of interest to young people. Right now, what is trending is a new podcast series that is powered by two young women of color and a part of a larger Youthprise Radio initiative created in partnership with KRSM Southside Media.
This month, we are celebrating Women's History Month. Who inspires you and why?
I am most inspired by my mother, who has always led by example and taught me to temper criticism with kindness. She's 96 years old, the first female bishop in her church and a fierce patriot of her country, Liberia. She's the kindest person I know. I am also very inspired by my 18-year-old daughter, Margrit, who showed at an early age that she could be the master of her own destiny. In my family, we have been blessed by generations of strong courageous women.
Young women of all ethnicities in the Twin Cities face many disparities. As a leader of color, what advice can you give to help them navigate some of these obstacles?
My advice is always threefold. 1. Always be a wise scholar of yourself. Know your strengths and build on them. 2. Don't ever underestimate the power of networking. There are many other women of color right here in the Twin Cities that would be excited to support you and broker relationships that could propel you in the direction you want to go. 3. Don't hesitate to tell your own story or else someone will tell it for you.
How does Youthprise define diversity?
At Youthprise, we believe that diversity and inclusion are key drivers of creativity and innovation. Diversity includes people from different nations, cultures, ethnic groups, generations, backgrounds, genders, skills, abilities and all the other unique differences that make each of us who we are. Inclusion means a work environment where everyone has an opportunity to fully participate in creating success and where everyone is valued.
How does Wokie Weah define diversity at work, home or within the community?
Diversity gives me a very broad spectrum to fire up my passion. Youthprise is wonderfully diverse, both in age, race, and ethnicity at both the staff and board level. That is our strength as an organization because we are constantly in learning mode. My family is also very diverse with representation from Liberia, Sweden, the U.S, Mexico, Greece and Italy. That mixture manifests itself in the strength of new generations. The communities that Wokie Weah considers her home are also rich in diversity, whether we are talking Minnesota, the Twin Cities, Woodbury, West Africa or Liberia. One of my all-time favorite sayings is "Community is not something you leave behind but something that you move towards." The most impactful lesson I learned about diversity is to consider the perspective of the other.
Finish the sentence
Racial inclusion can be accomplished … in Minneapolis when we understand that the future of this state depends on the investments we make in our youth.
Being involved in our young people's lives is important to me … because I understand true systems change will never be accomplished without them. Without my family my life would not have an anchor. I am who I am because of them.