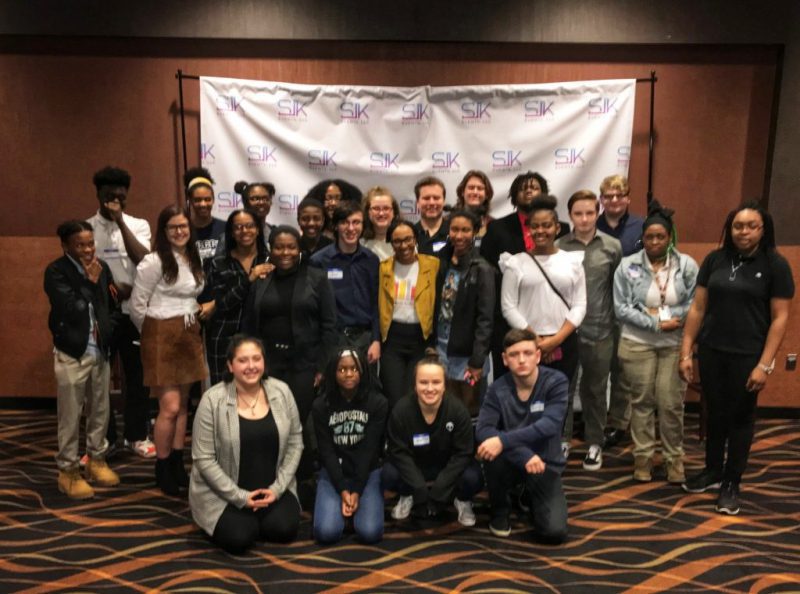 Project: L.E.A.D., a metro Detroit-based nonprofit focused on shaping tomorrow's leaders, recently gathered select high school students with a passion for the film/theater arts to engage in a film immersion day inspired by the global impact and success of Marvel's Black Panther. The youth-driven organization held an exclusive screening of the groundbreaking blockbuster in February 2018, which rallied the overwhelming support from the community to bring the Film Immersion Day to life.
"We wanted to give the guests who attended that event an opportunity to give back to the community by raising funds to help support the Film Immersion Day," SK Events owner and Project L.E.A.D. coordinator Saidah Murphy said.
The teens were treated to a one-day immersion in the world of film during which they interacted directly with local industry experts, following a private screening of both Black Panther and Ava DuVernay's A Wrinkle in Time. Project L.E.A.D. conducts conferences and workshops to help kids and adults alike develop essential leadership and character building skills that encourage them to look within to push their limits and tap into their true potential.
Both films allow young people to see themselves on the big screen in ways that are inspiring yet relatable. The parallels between the central themes of the two films weren't hard to pinpoint for this group of young aspiring filmmakers, actors and producers. They had a meaningful discussion surrounding issues the students often face such as:
–Finding the light within.
–Making the right choices to avoid going down the wrong path (like Black Panther's Erik Killmonger failed to do by seeking revenge).
–Self-love, and surrounding yourself with positive people who accept and support you (such as how the Dora Milaje in Black Panther rallied around T'Challa and how Meg's friend and little brother support her in A Wrinkle In Time).
"The students got so much from watching the two films, and engaging in the discussion afterward," Murphy shared. "They were able to talk about themes surrounding peer pressure, self-esteem, colonization, anger, representation — or lack thereof — and more."
Over the years, film incentives awarded to the state of Michigan allowed an emerging film industry to bring a piece of Hollywood to the Motor City. Guest panelists shared their experiences working in Michigan's movie scene. Local thespians Paul Dean and Natasha Anee provided insight from a performer's perspective. Producer-director of photography John Buyak of Mongoose Films; and CEO, and film festival producer Eric Kwame Wells of Lights up Entertainment and the African World Film Festival gave advice on breaking into the film industry. Oya Amakisi, executive director of Detroit Women of Color Inc. talked to the young attendees about inclusion for female filmmakers as well as getting more women involved behind the camera. While the producer-editor trio (Catherine Pink, Shane Ford and Jesse Ford) from The Work Inc. discussed how the teens could use their current platform to gain valuable experience before graduation.
"The film industry is extremely difficult and you have to network, network, network. Know when to do stuff for free and know when someone is taking advantage of you," Buyak told the eager students. "You see a lot of successful people [that seem to get there overnight but] it's like hitting the lottery. It takes a lot of hard work. "
Amakisi encouraged the kids to take a different approach to chasing their dreams by learning "to expect yes," instead of taking "no" for an answer. As the producer of a female-oriented film festival that primarily screens films directed or produced by women, she took the initiative to reach out to a now-famous Ava DuVernay and other budding filmmakers at the time to screen movies from around the world.
"Make your own opportunities for yourself. Get yourself out there. Don't be afraid to show what you're doing and say what you're dying to different people," Wells advised. "Show yourself. Honestly, you never know who you could be talking to." It's a sentiment that the creatives from The Work Inc. also echoed when they suggested the students shoot videos with their phones to hone their skills while building their portfolios.
By the end of this exciting and dynamic experience, the students left the Emagine Theater in Royal Oak, Michigan, with one foot on their chosen path in the film industry.
Now that the first of many planned Immersion Days has kicked off without a hitch, Project L.E.A.D. and SK Events will team up again in May to do another Immersion Day highlighting another industry. High school students can take the day off from school to hear from industry experts in the automotive, culinary, music, law enforcement or education fields.
To learn more about Project L.E.A.D. Film Immersion Day program or any Project: L.E.A.D. workshop or conference, please visit www.theleadersproject.com or follow them on social media at @projectlead on Facebook, @project_lead on Twitter and @project.lead on Instagram.