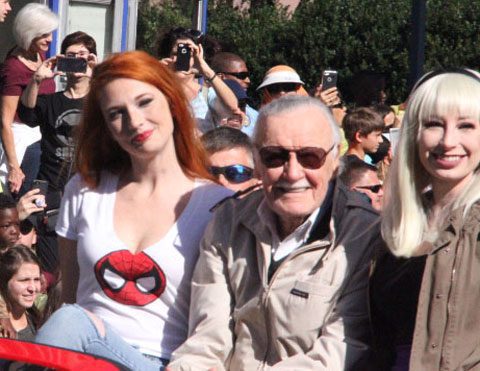 Marvel Comics co-creator and pop culture legend Stan Lee, 95, has been the target of a series of bizarre incidents. In January 2018, he suddenly found himself the target of a sexual harassment complaint. Then word came out that his blood was stolen for a twisted publicity stunt and now a person was caught breaking into his house. Lee continues to be a popular guest in the comic book and fantasy convention circuit, despite his age. Because of his age, wealth (he is worth more than $50M) and pop culture stardom, he is increasingly becoming a target.
In January of this year, it was alleged that Lee and his personal assistant and road manager Max Anderson called for a masseuse to be sent to his hotel room. When she arrived, the woman stated Lee and Anderson were highly intoxicated. She still continued with the service and Lee got naked. During the massage, she stated that Lee groped her several times and wanted a happy ending. She refused to have sex and then she claimed that Lee began to masturbate in front of her and she fled the room. Lee denies the allegation and the case is pending.
At the beginning of this month, word broke that Lee's former business partner forged a medical document that was given to his personal nurse. That document allegedly stated that blood samples needed to be taken from Lee. Reportedly, so many vials of blood were filled that the aging celebrity became dizzy. That blood was then used to make ink that was used to stamp several issues of the comic book Black Panther with Lee's signature. The comic books were sold with a certificate of authenticity that reads "Hand-Stamped Signature of STAN LEE using Stan Lee's Solvent DNA Ink."
Yesterday, the Daily Mail reported that an intruder climbed the walls of Lee's mansion and tried to break into the house. The elder Lee has 24/7 nursing staff who heard the noise and alerted a private security guard. The intruder banged on the front door and tried to kick it in before the guard confronted him with a drawn gun. The intruder ran away, hopped the fence and is on the loose. The LAPD were summoned and no arrests were made. Lee was asleep at the time and was not told until he awoke in the morning.
Earlier this week, Lee decided to clamp down on the series of rumors about his personal life that included claims of elder abuse and being scammed out of money. In a video statement, Lee says:
"Hi this is Stan Lee and I'm calling on behalf of myself and my friend Keya Morgan. Now, you people have been publishing the most hateful, harmful material about me and about my friend Keya and some others. Material which is totally incorrect, totally based on slander, totally the type of thing that I'm going to sue your ass off when I get a chance. You have been accusing me and my friends of doing things that are so unrealistic and unbelievable that I don't know what to say. It's as though you suddenly have a personal vendetta against me and against the people I work with. Well I want you to know I'm going to spend every penny I have to put a stop to this and to make you sorry that you've suddenly gone on a one-man campaign against somebody with no proof, no evidence, no anything but you've decided that people were mistreating me and therefore you are going to publish those articles. I'm going to get the best and most expensive lawyers I can and I want you to know if you don't stop these articles and publish retractions, I am going to sue your ass off."