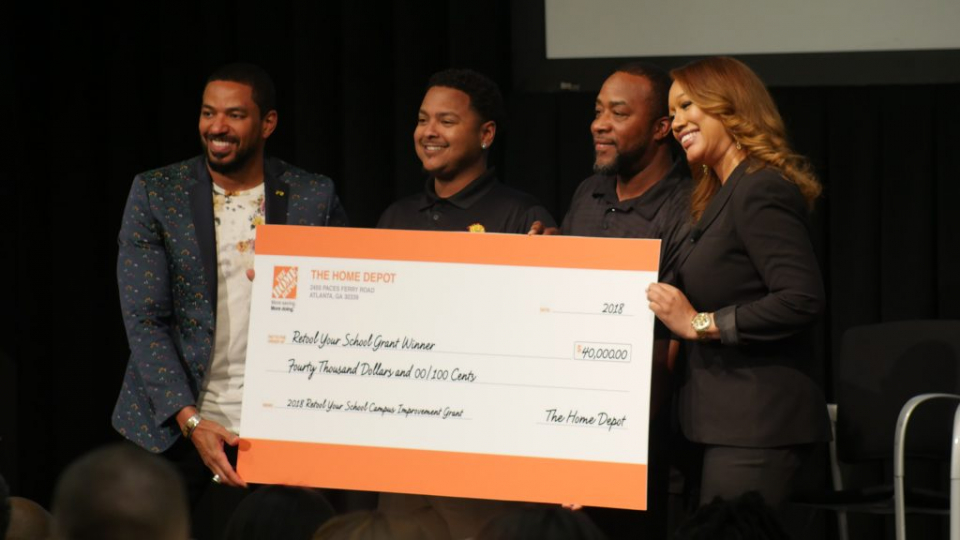 Cast members from the '90s hit show, "A Different World," joined The Home Depot for a celebration on Monday, April 30, 2018.
Jasmine Guy, Kadeem Hardison, Darryl Bell and Cree Summer reunited at The Home Depot's headquarters for the Retool Your School Campus Improvement Grants.
Show fans, i.e., The Home Depot employees and invited media guests in attendance had the pleasure of enjoying the actors they remember as Whitley Gilbert, Dwayne Wayne, Ron Johnson and Freddie Brooks when they joined together for a panel discussion.
During a red carpet interview and panel discussion, the actors explained why they support the program and their love for HBCU culture, which for them was art imitating life at a fictional HBCU, Hillman College. Their portrayals on the show led to a huge increase in enrollment at HBCUs in the '90s.
"It's so important for a student to have a beautiful and functioning campus for your well being and to feel like you have an environment that inspires you to learn. It's something that every student should be offered," Summer says.
For nine years, the company has been working through its grant program to provide funding to HBCUs for renovation. The Home Depot has made great strides beautifying 67 schools total; which is 87 percent of HBCUs; acquiring 2.3M votes and 4,418 hours of service hours worked. Melissa Brown, senior manager of marketing for The Home Depot, cultivated this program because she valued HBCUs and knew that they were in need of help. Actor Laz Alonso, an alum of Howard University, has been the brand ambassador for a few years sharing his love for HBCUs. This year, The Home Depot awarded $360K to nine historically Black colleges and universities.
"We wanted to connect with the African American community in a very authentic and genuine way. And, we had something to offer from a home improvement standpoint. So, taking a key passion of the African American community, which is HBCUs, and marrying that with what we do best, which is home improvement, from there Retool Your School was born," Brown adds.
This year's judges included: Dr. Ivory Toldson, Alonso, Natalie Wilson, Michael Tabb and Greg Moore. They judged several proposals that included issues of flooding and student safety. The schools were selected based on their need and ability to utilize the funds. The schools were broken into three clusters by size. This year's winners are listed below:
Cluster 1:
Jackson State University $50,000
Southern University $40,000
Fayetteville State University $30,000
Cluster 2:
Tuskegee University $50,000
The University of Arkansas at Pine Bluff  $40,000
Claflin University $30,000
Cluster 3:
Lane College $50,000
Livingstone College $40,000
Talladega College $30,000