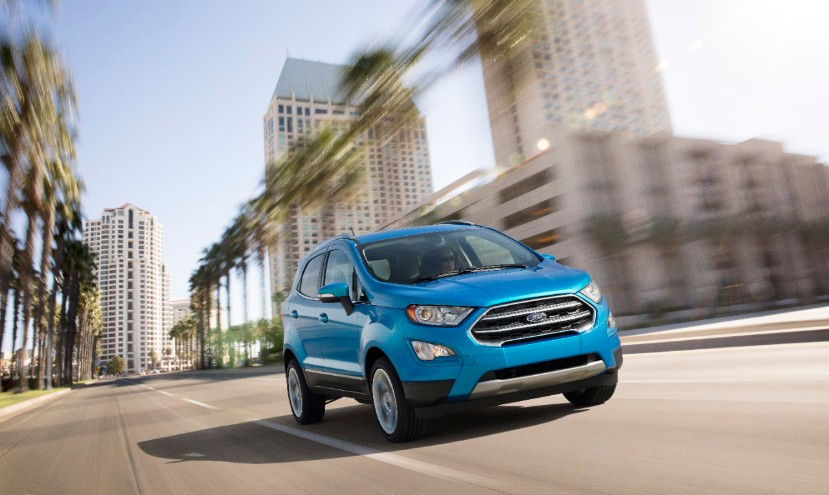 Photo Source: http://www.media.ford.com
Gen Z – people born after 1995 – helps to cultivate the fast growth of subcompact SUVs. Nearly one-third of the Gen Z generation have reached the legal driving age, and compact SUVs are proven to be an affordable car for young adults. According to a 2016 study by KBB/Autotrader, 92 percent of the Gen Z age group have plans to own their own vehicle. The appealing new-look 2018 EcoSport is becoming a hot commodity. SUVs are becoming more appealing to the younger generation while offering impressive safety and security features in an environmentally friendly vehicle. The new 2018 SUVs are expected to surpass projected sales by 2019 with more 18- to 24-year-olds planning to buy their first car.
"Baby Boomers, Gen Xers, Millennials – everybody wants their SUV, and Gen Z is no different," Erich Merkle, Ford U.S. sales analyst said. "As more new small SUVs like Ford EcoSport become available, you'll see the subcompact SUV segment continue to climb as a popular new car of choice for first-time buyers."
Rideshare apps are known to have frequent young adult users, but compact cars and SUVs are providing reasonably priced vehicles with friendly features so young drivers can get to their destination on their own time. Gen Z are fast-paced tech innovators and consumers, and the EcoSport offers a plethora of technology compatibility with products like Amazon Alexa, Apple CarPlay, and Android Auto.
"To Gen Z buyers, connectivity is everything," said Karen Sullivan, Ford's EcoSport brand marketing manager. "Their car serves as an extension of their phone and their home, and we're seeing an exciting response from these young customers to our all-new EcoSport."
The EcoSport offers great amenities as well as full cargo space and a lengthy space for the front and back row seats. Additionally, the EcoSport is available for a starting price under $20,000*, EcoSport is fortified with a 1.0-liter EcoBoost® engine and proceeds an EPA-estimated 28 mpg combined rating and a range of up to 381 miles per tankful.