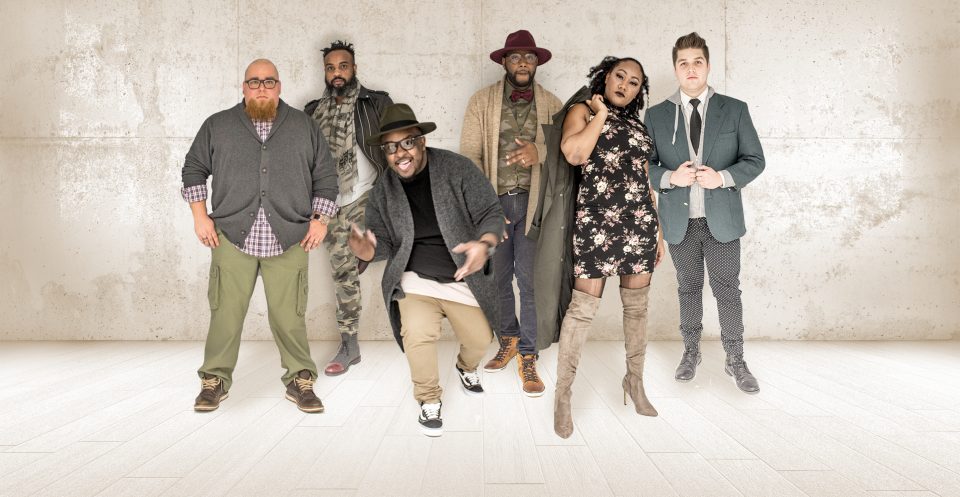 #MPLS (M-P-L-S) is a band of musicians, from different walks of life, bonded together by music. This seven-member band, based out of Minneapolis, has combined contemporary soul, R&B and hip-hop infused with the legendary sound that put the city of Minneapolis on the map — funk.
This mélange of musicians consists of seven very talented individuals: Brandon Commodore, drums; David Billingsley, keys; David Glen, rhythm guitar and vocals; Jesse Larson, lead guitar and vocals; Ashley Commodore, vocals; and Beeph, the MC. The band with multiple sounds became one in 2010. Since their inception, they have become a staple on the local music scene in Minneapolis.  
Though grateful for the Twin Cities' love, #MPLS also has sights on building their brand's awareness worldwide. Their individual talents have enabled them to play with many musical legends, including the likes of Mint Condition; the Sounds of Blackness; Stokley Williams; as well as Jesse Larson (lead guitar-vocals), who was a finalist on NBC's "The Voice."
Rolling out spoke with the band's leader, Brandon Commodore, about #MPLS and the relevance of the Minneapolis sound. Check out the rest of the story.
How would you define the band's music and style?
We just try to make music that feels good to us in the moment. With so many different musical backgrounds within the group, different styles come out at different times. Our music is soulful and funky. But we're hip-hop and pop as well. Plus, on stage, we're all playing and singing live, so that gives our live show an appealing edge. 
Is the band's music synonymous with what people call the Minneapolis sound?
The Minneapolis sound is a big influence of ours and can certainly be easily identified in our music. However, being from Minneapolis means we've also been exposed to the Minnesota rock scene, the Minnesota jazz scene, and the gospel music scene. All of that influences our own music.
What does the Minneapolis sound mean to you?
Outside of Prince, when I think of the Minneapolis sound I think of two other things. 
1. All of the R&B/funk bands that were in the Twin Cities around the '70s and '80s, the fact that Minnesota had its own scene and that so many other musicians besides just Prince were a part of that sound.  
2. Jimmy Jam and Terry Lewis. I am a fan and student of their work. In terms of being more than a musician, but a songwriter and producer, they are the role model. 
What's the history of #MPLS?
We were all a part of different bands [and] groups that were a part of the same scene. We've all worked together somehow, some way.  Brandon, David, Beeph and DG worked together pretty regularly, Ashley returned to Minnesota from college, we "found" Jesse, started a weekly house gig at Bunkers and from there we decided we really wanted to solidify ourselves as a band by writing and recording our own material. That decision was made in 2013.
You have played with some R&B legends: Mint Condition, the Sounds of Blackness and you were mentored by Michael Bland (Prince), Jellybean Johnson (The Time) and Stokley Williams (Mint Condition). Did that experience help mold and shape #MPLS?
Absolutely. I heard a saying, something to the effect of "whatever's in the cake is in its crumbs too." I'm made up of everything I've learned from all those people you mentioned. Every lesson I've learned and any knowledge I gain I pour into #MPLS. I'm tough on my bandmates in that regard, because I've seen what it actually takes. I've studied people who actually do it. With a band name like #MPLS, we can't be anything less than …
Name three things people may not know about #MPLS.
Maybe a little over a year before he passed, we did a private performance for Prince out at Paisley Park.

Top 4 finalist on "The Voice" season 12, was our very own Jesse Larson.

Some of us are currently touring with Stokley as his backing band.
Best venue to perform in Minneapolis?
There are several great venues in the Twin Cities and there are a few venues we're still waiting for the opportunity to perform in. Bunkers downtown Minneapolis, will always be home for us. It's where we started and our followers have continued to watch us grow and develop show after show on that stage. Icehouse is another great venue, the whole staff from management to the servers treat us really well when we're there. 
Best venue to see a live performance?
I would give anything, to go back 15 years or so, and be able to see a show at the Dakota when it was in St. Paul! I saw many legends there. I miss the vibe of that place.